Winners of the industry's top honours unveiled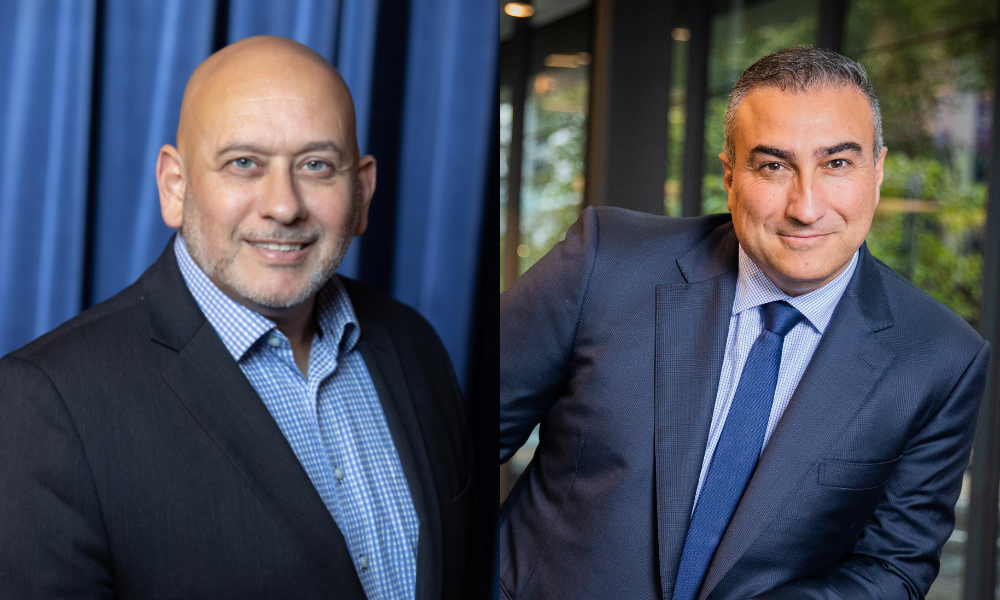 A record crowd of more than 700 people gathered on Friday night to discover the mortgage finance industry's best performers for 2022.
The 2022 Australian Mortgage Awards, the first to be held in person since the pandemic, attracted industry leaders from across Australia for a glamorous black-tie event at The Fullerton Hotel Sydney.
In the lender awards, Bankwest won MSA National Bank of the Year, while Pepper Money was named Non-Bank of the Year. Bankwest general manager third party Ian Rakhit is pictured above left and Pepper Money CEO Mario Rehayem is pictured above right.
The PropTrack Fintech Lender of the Year award went to ubank, and the Mortgage Manager of the Year award was won by Mortgage Ezy.
Read more: Revealed: Australian Mortgage Awards 2022 Excellence Awardees
Organised by Key Media, the AMAs are supported by Mortgage Professional Australia and Australian Broker. Westpac was the event partner for the 13th consecutive year.
Australian comedian and presenter Ed Kavalee, regular panellist on Have you Been Paying Attention? kept the evening on track. After the awards ceremony wrapped up, guests kicked back on the dance floor, with live entertainment from Furnace & the Fundamentals.
There were 25 award categories, and two national awards; Westpac Australian Brokerage of the Year, won by Green Finance Group director Daniel Green, and the Liberty Australian Brokerage of the Year, which went to Entourage Finance.
In the aggregator awards, Money Quest Group won the Prime Capital Aggregator of the Year (up to 500 brokers) award, and Loan Market was awarded OnDeck Aggregator of the Year (over 500 brokers).
Bankwest won the Best Industry Marketing Campaign award, and Broker Essentials received the Dye & Durham Best Industry Service award.
In the BDM awards, Haley Bellamy from AFG won the Firstmac Best Aggregator BDM award, and Murray Smith from CBA was awarded Best Major Bank BDM.
The Best Non-Major Bank BDM award went to Roohi Kumar, St. George Bank, and the Mortgage Choice Best Non-Bank BDM award was won by Maddie Matthews of Plenti.
Read more: Australian Broker of the Year on switching aggregators
Westpac Australian Broker of the Year winner Daniel Green also won the La Trobe Financial Broker of the Year - Commercial. Mhairi MacLeod of Astute Ability Finance Group won the Pepper Money Broker of the Year – Specialist Lending award.
Mortgage Professional Australia thanks Westpac as the event partner, along with award sponsors Adelaide Bank, Bankwest, BOQ, CBA, Dye & Durham, Equity-One, FBAA, Firstmac, La Trobe Financial, Liberty, MFAA, Mortgage Choice, MSA National, NextGen, OnDeck, Pepper Money, Prime Capital, PropTrack, Resimac and Trilogy Funds.
The full list of 2022 Australian Mortgage Award winners are below. You can also see the winners at the AMAs official website: Australian Mortgage Award winners 2022
National Awards
Westpac Australian Broker of the Year
Daniel Green, Green Finance Group
Liberty Australian Brokerage of the Year
Lender Awards
MSA National Bank of the Year
Non-Bank of the Year
PropTrack Fintech Lender of the Year
Mortgage Manager of the Year
Aggregator Awards
Prime Capital Aggregator of the Year (Up to 500 brokers)
OnDeck Aggregator of the Year (Over 500 brokers)
Industry Awards
Best Industry Marketing Campaign
Dye & Durham Best Industry Service
BDM Awards
Firstmac Best Aggregator BDM
Best Major Bank BDM
Best Non-Major Bank BDM
Roohi Kumar, St. George Bank
Mortgage Choice Best Non-Bank BDM
Brokerage Awards
Trilogy Funds Brokerage of the Year – Diversification
MFAA Brokerage of the Year (1-5 staff)
Resimac Brokerage of the Year (6-20 staff)
Commonwealth Bank Brokerage of the Year (>20 staff)
Brokerage of the Year – Regional
Bankwest New Brokerage of the Year
BOQ Broker Best Customer Service from an Individual Office
Broker Awards
La Trobe Financial Broker of the Year - Commercial
Daniel Green, Green Finance Group
FBAA Broker of the Year - Independent & Franchise
Josh Egan, Astute Melbourne City South and Gippsland
Pepper Money Broker of the Year – Specialist Lending
Mhairi MacLeod, Astute Ability Finance Group
Equity-One Broker of the Year - Productivity
Christian Stevens, Shore Financial
NextGen Broker of the Year – Regional
Brenden Lowbridge, Money Links
Jason Cuerel, Mortgage Innovations
Adelaide Bank Young Gun of the Year
Nick Atanasovski, Turnkey Finance