We rank the states with the most affordable housing markets in America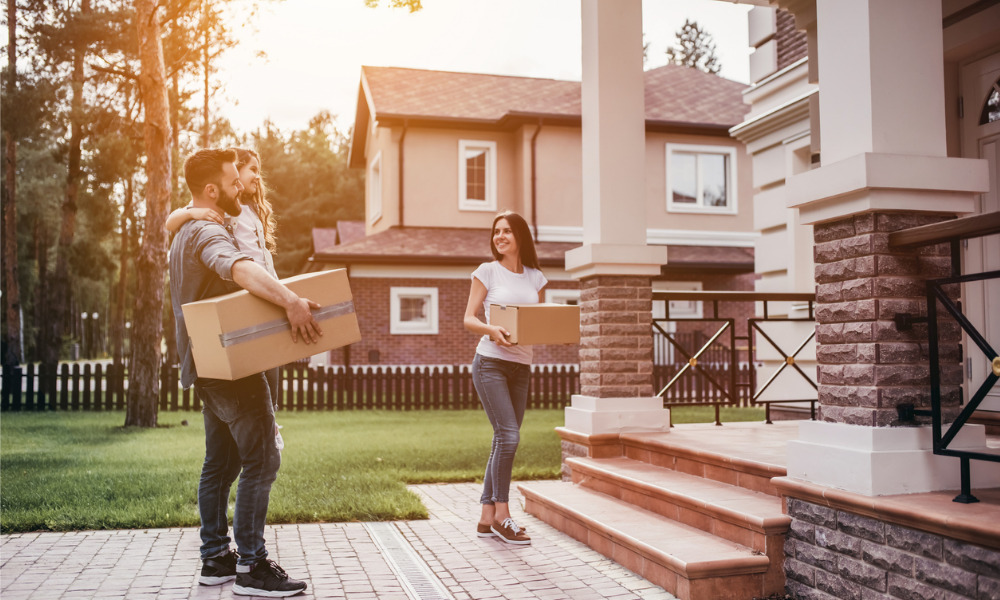 Affordability is among the biggest factors that home buyers consider when choosing when house hunting. In fact, real estate firm Rocket Homes called housing "the largest item in most Americans' budgets."
"Where you live can have a huge impact on your finances, for better or worse," says the firm.
It is therefore vital that home buyers thoroughly examine homeownership costs per state and assess whether their income can support mortgage repayments and other expenses.
Below, we look at everything buyers need to know about housing affordability and the 10 best states for buying a new home.
Read more: 7 tips for first time home buyers in 2021
How to measure affordability
The "30% rule" is a good principle to apply when researching for a new home. Basically, it means that your target housing costs should not exceed 30% of your gross monthly income.
The Department of Housing and Urban Development (HUD) classifies households that spend more than 30% of their monthly income for housing as cost-burdened.
"[Households] may have difficulty affording necessities such as food, clothing, transportation, and medical care," says HUD.
For example, the nationwide median monthly income is $5,480, and homeowners with a mortgage spend around $1,610 for monthly repayments, according to the US Bureau of Census. These result in a ratio of 29% which is just below the cost-burdened line.
As such, you can estimate the affordability of a market by comparing median home values and household incomes in each state.
It can also help to look at the cost of living (COL) index per state. This is a numerical rating from the World Population Review. It assigns scores to places in the world based on average grocery, utilities, and transportation costs.
For instance, Mississippi currently has the lowest cost of living in the US with an index of 86.1. On the other side of the spectrum, the states with the highest COL are New York (139.1), California (151.7), and Hawaii (192.9).
Using the latest census data and home values per state from Rocket Homes, we ranked the 10 states with the best affordability, with housing costs lower than the 30% threshold.
Indiana
Iowa
Ohio
West Virginia
Michigan
Wyoming
Wisconsin
Missouri
North Dakota
South Carolina
1. Indiana
Median home value: $156,000
Median annual income: $57,603
Cost of Living Index: 90.0
Home to about 6.8 million people, Indiana's economy is primarily driven by agriculture, manufacturing, and healthcare industries. Additionally, the cost of living in Indiana is about 10% lower than the national average.
In 2020, annual property taxes in Indiana averaged at $1,214, which was the eighth-lowest in the country. Mortgage closing costs ($2,627) and yearly homeowner's insurance fees ($901) were also among the lowest across all 50 states.
Indiana also has a varied geography. The northern part of the state is generally flat but the south is full of canyons and hills. It also has the largest portion of the country's interstate highway system per square mile when compared to all other states.
2. Iowa
Median home value: $159,000
Median annual income: $61,690
Cost of Living Index: 90.1
Iowa is known as the nation's biggest producer of corn, egg, pork, and dairy products.
However, the whole state isn't just one large rural farmland. It has a diverse landscape with bustling cities and suburbs for people looking for work or a friendly neighborhood to live in.
Also known as the Hawkeye State, this midwestern state is located between the Mississippi and Missouri Rivers. It features winding streams, small distinctive towns, and rolling farmlands.
Like Indiana, the cost of living in Iowa is also 10% lower than the US average. The average closing cost for home loans is $2,272 which is roughly 1.14% to 2.27% of total home prices, according to Finder.
You can also find ample economic opportunities in Iowa City and Des Moines, its capital and most populous city. Amidst COVID-19, Iowa retains a low unemployment rate of 3.8%, according to the Bureau of Labor Statistics.
Read more: Renting is more affordable than homeownership in these states
3. Ohio
Median home value: $157,200
Median annual income: $58,640
Cost of Living Index: 90.8
Known as the Buckeye State, Ohio is another midwest state that is attractive to homebuyers. It features a varied topography from Lake Erie beaches to rolling cornfields and hills.
With a population of 11.8 million, the state is the seventh most populous state in the country. It has several historically strong industries like steel production, motorized vehicle manufacturing, and banking and insurance.
The state's highest-paid workers belong in the medical and healthcare industries but it also has a rapidly developing technology sector.
Regarding home loans, you can expect a closing cost range of 1.66% to 3.32% of the total amount in Ohio.
The best places to live in Ohio include Dublin, Cincinnati, and Akron due to low costs of living, good recreational opportunities, and excellent schools.
4. West Virginia
Median home value: $124,600
Median annual income: $48,850
Cost of Living Index: 91.1
Aptly nicknamed the Mountain State, the mountainous terrain of West Virginia makes it a popular choice among nature lovers.
This is an attractive location for people who enjoy hiking, fishing, or spending time outdoors because of the vistas and humid subtropical climate present in the Appalachian Mountain range.
The state has a population of just 1.8 million and 75% of its land area is covered by forests. If you desire a job related to natural resources, coal production, or tourism, you may want to consider living in West Virginia.
For home buyers, the average closing cost in the state is $3,350 or around 1.68% to 3.35% of the property's value.
The cost of living is also 16% lower than the national average, according to the West Virginia Economic Development Authority. It is also considered one of the most affordable places to do business because of low utility costs.
5. Michigan
Median home value: $169,600
Median annual income: $59,580
Cost of Living Index: 88.9
Michigan has extremely diverse locales, from Detroit and its suburbs bustling with economic opportunities to the quiet forested areas of Upper Peninsula.
People from various fields of expertise are also likely to find a job in Michigan. The state is known for producing automobiles, information technology, robotics, furniture, military equipment, and food products.
Interestingly, Michigan is also the third biggest grower of Christmas trees next to Oregon and North Carolina, according to the US Census of Agriculture.
The average closing cost for buying a home in Michigan is $4,210 after taxes. This is about 2.11% to 4.21% of the total amount, according to real estate data company ClosingCorp.
Similar to West Virginia, it's affordable to live in Michigan due to low utility costs. For example, the average monthly energy bill in Michigan is $97, which is $14 cheaper than the national average, according to the US Energy Information Administration.
Read more: These are America's 10 best places to live
6. Wyoming
Median home value: $235,200
Median annual income: $65,000
Cost of Living Index: 89.3
Wyoming has the 10th largest land area in the country, but it has a low population of only about 580,000 people. That means there are only six people per square mile in the state, making it a good choice for people looking for a quiet, affordable home to settle down.
The state's economy is heavily tied to agriculture, tourism, and harvesting natural resources. Nicknamed as the Cowboy State, Wyoming has been a historically important region for raising livestock and marketing hog, sheep, and cattle.
It also has thousands of crop-producing farms particularly in the southeast and the basins of Big Horn and Wind River.
You should also note that Wyoming has no state income tax to make up for its taxes on natural resources. Additionally, there are no state taxes on your Social Security benefits, or 401(k) plan withdrawals when you retire. These further make living and retiring here more affordable.
Regarding home purchases, the buyer and seller split closing costs in Wyoming. You can expect it to be between $2,430 and $3,240 before taxes.
7. Wisconsin
Median home value: $197,200
Median annual income: $64,170
Cost of Living Index: 97.3
Wisconsin is another midwestern gem that's popular for its various landscapes and humid continental climate. It is bounded by the Mississippi to the west, and it has shores on both Lake Superior and Lake Michigan.
Regarding economic opportunities, Wisconsin's top enterprises are manufacturing, agriculture, tourism, health care, and education.
More than 7,700 manufacturing firms operate in the state, employing about 480,000 people or 16% of the total workforce. Its top products include food, beverage, tobacco, paper, and electronics.
Housing costs are extremely affordable in most parts of Wisconsin, particularly its northern and central parts. Prices are normally 15% lower than the national average in most areas, but housing in Appleton and Green Bay are more expensive by almost 20%.
8. Missouri
Median home value: $168,000
Median annual income: $57,410
Cost of Living Index: 87.1
Missouri is landlocked and borders eight other states. It has a varied topography with rolling hills in the north and mountainous terrains in the south due to the Ozark Plateau. The majority of its southeastern portion is flat because it's part of the Mississippi floodplain.
Regarding economic opportunities, Missouri's economy rests primarily on industry. The state's Department of Economic Development identifies transportation, aerospace technologies, military and defense, advanced manufacturing, and bioscience as its priority sectors.
The average closing costs for home buyers in the state $3,700, according to Zillow Research. It's typical for buyers to pay around 3.5% of the purchase price.
Additionally, Missouri ranks fourth in World Population Review's list of states with low cost of living. This is in part due to low utility costs and having one of the lowest fuel taxes in the country.
Read more: Top 10 most affordable metros for first-time homeowners
9. North Dakota
Median home value: $205,400
Median annual income: $64,580
Cost of Living Index: 98.8
The population of North Dakota is a little more than 760,000 – making it the fourth-smallest state. It is also ideal for home buyers who are looking for a quiet and peaceful place to settle.
The state's economy is chiefly based on farming and producing the largest volume of barley, sunflower seeds, beans, and lentils in the country. Farmlands and ranches stretch from the rugged Badlands in the west to the River Red Valley in the east.
If you are a first time homebuyer in North Dakota, you can consider qualifying for a loan backed by the US Department of Agriculture (USDA). Thirty-nine of the state's 53 countries are considered rural, so you may qualify for a zero-down payment loan if you are planning to live in one.
The average closing costs in North Dakota is around $2,430 after taxes.
10. South Carolina
Median home value: $179,800
Median annual income: $56,227
Cost of Living Index: 95.9
Aside from being a great summer vacation destination, South Carolina is also an affordable place to live. It's an excellent choice for home buyers looking for a warm climate and diverse culture.
Regarding job opportunities, it's a plus if you're interested in agriculture, healthcare, and manufacturing since these are the three largest industries in the state. You can choose to live in the suburbs of Columbia and Greenville-Anderson to be closer to economic districts.
Owning a property in South Carolina is cheap because it has the seventh-lowest effective property tax in the country. Moreover, some cities like Spartanburg, Florence, Sumter, and Columbia offer houses and rates that are much cheaper than the state average.
Home buyers in South Carolina pay an average of $3,300 in closing costs, according to Rocket Mortgage.