MFAA National Excellence Awards recipients shine light on success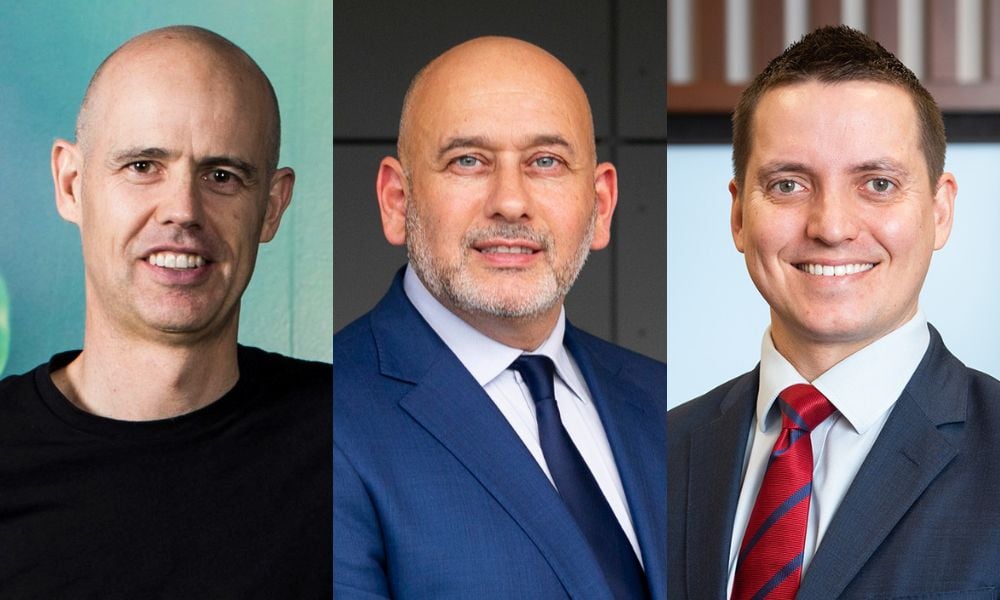 Lenders who won at the MFAA National Excellence Awards are reflecting on their success, saying that the awards recognised their relationships with brokers, and that their feedback is important.
Held on July 27 at Crown Melbourne, the MFAA National Excellence Awards recognised 24 lenders, brokers, aggregators and businesses for their achievements in the mortgage and finance industry. The awards focused on excellence in customer service, professionalism, ethics, growth and innovation.
Macquarie Bank, Bankwest and Heritage Bank were among six lenders crowned as award winners.
The Major Lender Award was won by Macquarie Bank, marking the fourth consecutive year that the bank has secured the title.
The Non-Major Lender Award, which is sponsored by MPA magazine, was won by Bankwest, its sixth consecutive win. Heritage Bank won the Mutual/Credit Union Lender Award for a second year..
Ben Perham (pictured above left), head of personal banking for Macquarie's Banking and Financial Services Group said that the award recognised the bank's commitment to providing exceptional service and support to the broker community.
Recognition is voted for by brokers every day, making it especially important to Macquarie Bank, he said. Broker feedback shapes how the bank's offering is enhanced for brokers and customers.
"Brokers are at the centre of everything we do, and our approach with their feedback is 'always on'," Perham said.
"Whether it's from a survey or through a conversation with their BDM, we make sure feedback is captured and we use this to inform what we work on next, so that we're acting on what brokers are telling us about their experience."
Bankwest general manager third party Ian Rakhit (pictured above centre) said that he was "thrilled and grateful" to the MFAA and brokers that Bankwest was formally recognised at the awards. The Non-Major Lender Award reflected Bankwest's investment and commitment to be the "number one bank for brokers in the country", he said.
Bankwest's vision is to be a "simple, easy bank" for the Australian homeowner of today and tomorrow, which Rakhit said could only be achieved by working collaboratively with brokers.
"To be awarded a sixth-consecutive national MFAA Non-Major Lender Award speaks to passion and dedication of our third party colleagues and our partnership with brokers, who continue to trust Bankwest to put a roof over the heads of their customers," Rakhit said.
For Bankwest, authentic, collaborative relationships are critical to helping the bank understand brokers' changing needs and expectations, he said. This means continually investing in its digital and broker offering to simplify the process for brokers, freeing them up to have conversations with their clients. Equally, it's important that the customer's experience with Bankwest is positive in any direct interactions, he said.
"This partnership has helped us deliver our unique case-ownership model and continues to produce innovations such as our bespoke document-sharing service DocBox, helping brokers to deliver a safe and secure experience for their customers," Rakhit said.
Heritage Bank was announced as State Winner at the Victoria and Tasmania and Queensland awards, making the bank a finalist at the MFAA National Excellence Awards.
Heritage head of broker experience Stewart Saunders (pictured above right and immediately below) described accepting the Mutual/Credit Union Lender Award on behalf of the bank as "an incredibly proud moment".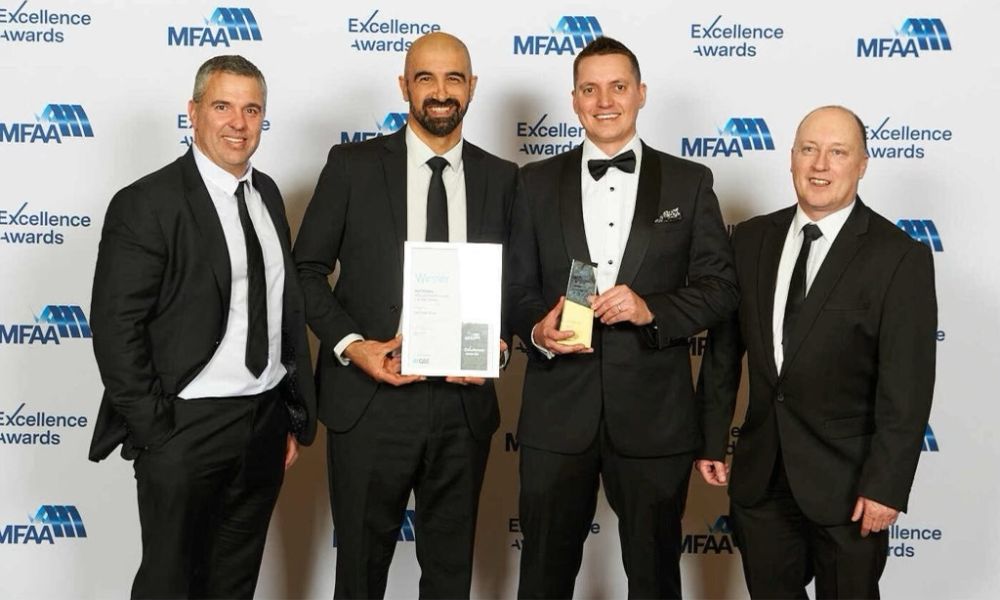 Pictured left to right: Heritage Bank business development manager Gerald Allan, state manager broker distribution Paul Moses, head of broker experience Stewart Saunders, state manager broker distribution Andrew Galloway accepting the award.
Introduced by the MFAA in 2022, Saunders said that he was pleased to see the contribution of the customer-owned sector recognised with its own category.
Mutuals offer a genuine banking alternative, and Heritage Bank's business development managers and support team works closely with broker partners to create positive experiences and great outcomes for members, he said.
"This award recognises our strong focus on service and reinforces the excellent feedback we've received from brokers over the last six months in a highly competitive environment," Saunders said.
Lenders don't rest on their laurels
Perham said that Macquarie Bank platforms were constantly evolving with new features to deliver a seamless digital experience for brokers and customers.
"We're focused on digital improvements because it gives confidence, control and more time for brokers to focus on the important things - their clients and growing their business," Perham said.
"We will continue to invest and develop these platforms further to ensure that it continues to deliver best-in-class digital functionality."
Rakhit said that Bankwest continues to invest in brokers to enable them to deliver brilliant experience for customers, providing market tools, services and processes as solutions to changing needs and expectations.
"Our self-employed lending policy is an example of how we complement digital innovation with product solutions that make brokers' lives easier, helping to deliver a simpler, easier experience for their customers through certainty and a faster time to 'yes'," Rakhit said.
Saunders said that the merger of Heritage Bank and People's Choice Credit Union amplified the value that the bank could deliver to its members. This includes enhanced products and services, digital capabilities, competitive pricing and support for community and environmental initiatives.
"We exist for the benefit of our members, not shareholders, so to receive this recognition over consecutive years is a big vote of confidence in what we're doing," Saunders said.
The 2023 MFAA National Excellence Awards are a culmination of five state MFAA Excellence Awards ceremonies held across Australia in June, attended by over 1,500 MFAA members and industry partners.
MFAA CEO Anja Pannek said that the awards "shine a spotlight" on its members and the incredible work they do with their clients every day.
She congratulated all of the winners, finalists and MFAA life member John Macalyk, who was awarded life membership at the awards ceremony, for their achievements.
In other categories, ubank won the Fintech Lender Award, Mortgage Ezy received the Mortgage Manager Award and Pepper Money won the Specialty Lender Award.
The awards were supported by a number of sponsors including ANZ, Australian Broker, BOQ, CBA CoreLogic, Helia, La Trobe Financial, Macquarie Bank, ME Bank, Mortgage Choice, NAB, Prospa, QBE, Teachers Mutual Bank Limited, and ubank.
2023 MFAA National Excellence Awards winners:
• Aggregator Award: AFG
• Business Development Manager Award – Aggregator: Shelley Tetlaw, Loan Market
• Business Development Manager Award – Lender/Support Service Provider: Sally Hillman, St. George Bank
• Commercial & Equipment Finance Broker Award: Ryan Baddock, RB Finance
• Community Champion Award: TAG Finance Australia
• Customer Service Award – Business: UFinancial
• Customer Service Award – Individual: Lee Barron, Fox Financial Solutions
• Diversified Business Award: IQ Finance for IQ Capital Group
• Diversity and Inclusion Award: Mortgage Choice
• Finance Broker Business Award: Birdie Wealth
• Fintech Lender Award: ubank
• Loan Administrator Award: Tania Richardson, Loan Market Ellenbrook
• Major Lender Award: Macquarie Bank
• Mortgage Manager Award: Mortgage Ezy
• Mutual/Credit Union Lender Award: Heritage Bank
• Newcomer Award: James Brett, Truly Finance
• Non-Major Lender Award: Bankwest
• Professional Development Award: Broker Ideas Group
• Regional Finance Broker Award: Xavier Quenon, Go Mortgage
• Residential Finance Broker Award: Mark Davis, The Australian Lending & Investment Centre
• Specialty Lender Award: Pepper Money
• Support Service Provider Award – Large Company: ALI Group
• Support Service Provider Award – Small Company: Broker Ideas Group
• Young Professional Award: Ashleigh Pakis, Panache Financial and Morgan Owen, Penny Finance