What led these mortgage professionals to make the switch?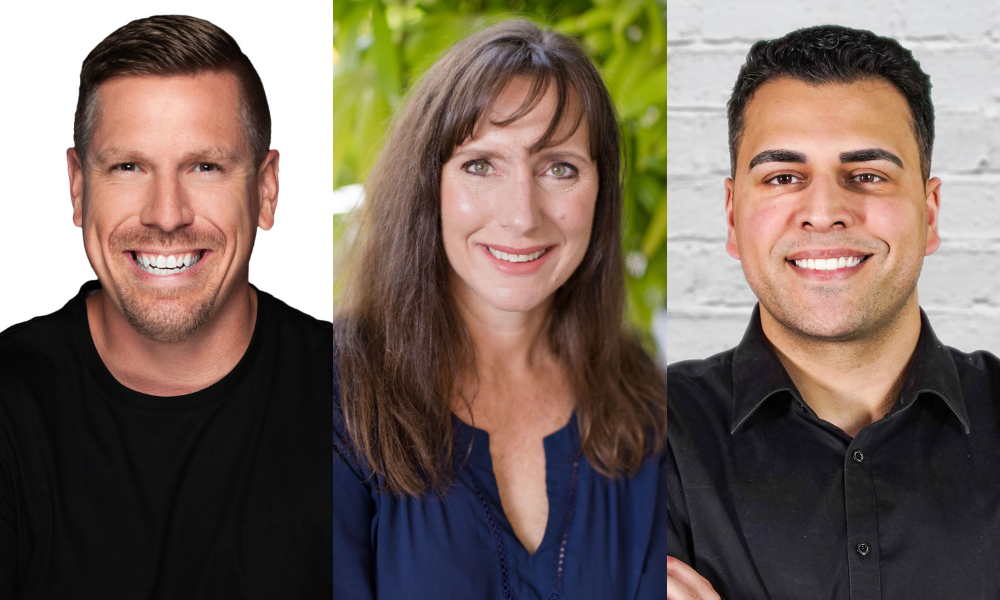 Unless one has worked both in both the retail and wholesale sides of the mortgage business, it's hard to fully understand the differences between the two. Three brokers recently described making the transition into the wholesale channel – a growing trend amid a sluggish housing market.
Andrew Cady (pictured top left), branch manager at UMortgage, Carrie Gusmus (pictured centre), president and CEO of Aslan Lending and Jonathon Haddad (pictured top right), president of Next Door Lending, detailed their experiences during the recent FUSE Conference staged by the Association of Independent Mortgage Experts (AIME) in Las Vegas.
The three spoke during a panel discussion moderated by Jamie Cavanaugh, vice president of outreach, at the sixth annual conference.
Cady spent eight years in retail until taking the leap to the broker side last December. He acknowledged having dissuaded others from making a similar leap when he worked in retail.
Broker once helped smear the broker channel
"I actually helped create this campaign called FUD --- Fear, Unrest and Doubt – about the broker channel to help retain our originators," he said. "I like to tell people I didn't just drink the Kool-Aid, I helped create the Kool-Aid. My opinion -- what I had been taught – was that you lose control of your transaction; that you can't close on time; you can't speak to an underwriter; you really have no control. Obviously, I'm under this side of it and see the error of my ways."
Even after making the leap, Cady said he had trepidation: "For the first six months of being on this side of the business, I waited for that 'oh s**t moment," he said. "This is the fatal flaw of the broker side," he remembered thinking. "I waited and waited and waited and I haven't found it. It's been refreshing not to find the fatal flaw because God know there are plenty of them where I came from."
Another broker researched herself out of the retail channel
Gusmus shared a similar story. After an 18-year career in retail, she launched Aslan Home Lending in 2018. "My impression of wholesale was very much as what Andrew just shared," she said. "That you didn't have any control, that your loans went into an abyss, that the people in the wholesale channel were practically criminal."
After losing a couple of her own people to the wholesale channel, she decided to do a deep dive into researching the sector. "Rather than determining a way that I could persuade people not to leave retail, I became convinced the wholesale channel was actually the best way to serve not only the loan officer but our clients and our communities as well.
"I ended up not only getting some friends together and starting Aslan, I wrote a whole entire class called Broker Demystified. I submitted it to the state of Colorado for continuing education for real estate agents and actually began to teach why the wholesale industry and the wholesale channel was the best channel for referral partners, clients and communities."
Quipped Cavanaugh: "You researched yourself right out of retail and into wholesale."
Broker describes what propelled him into wholesale
Haddad said he spent seven years in retail starting in 2013 as a 21-year-old, describing getting his first loan estimate. "I got the… estimate and thought, 'Man, there's no way they're doing this.' I went to my team leader at the time and said: How are they doing this? 'Oh, let's look them up,' he recalled the team leader responding.
"'Oh, it's a mortgage broker. John, just so you know that's what mortgage brokers do. They send out loan estimates like this but if you actually look them up you can see they don't do a lot of volume. And when the loan is closer to closing, they bait and switch clients. It's a super common thing for mortgage brokers.'"
He described how it was then that his faith in retail began to erode: "So I went and told my client that – unfortunately not knowing I was lying to my consumer at the time and then surely found out we were selling 4,500 BPs on the back end and realizing that I was robbing consumers blind.
"That is how I started to adjust later down the road as I learned more about the business and margins and how things are actually structured, and from there I started to make my own inclination and opened up shop – it's now been four and a half years."
Gusmus struck a similar vein in describing why she launched her wholesale firm: "I didn't have a choice," she said. "I could not stay in retail with a clean conscience and continue to lie to people and try to recruit them – much less retain my own people."
Some observers have labeled 2023 as the year of the independent broker given an exodus from retail that has been at least two years in the making. One often-cited count is that 100 loan officers a day leave retail for wholesale, a statistic often used by AIME in its pro-broker communications.
Want to make your inbox flourish with mortgage-focused news content? Get exclusive interviews, breaking news, industry events in your inbox, and always be the first to know by subscribing to our FREE daily newsletter.