A new report looks at recent office space transactions to find which areas are thriving—largely in part to the booming tech industry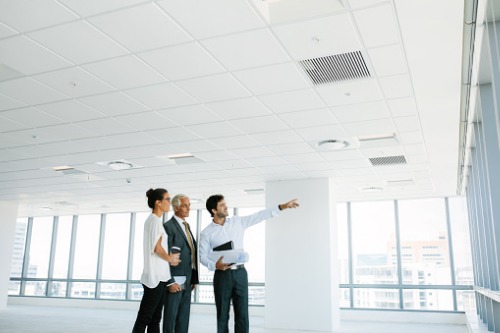 When you think of expensive office space, Manhattan is usually one of the first places that comes to mind. While that still rings true, in an era of start-ups and a wildly growing tech sector, demand for office space in other regions is on the rise. Tech companies are joining financial giants and investment funds in grabbing up commercial real estate in areas outside the traditional hubs.
In 2019, the most expensive office submarket was in California. In fact, submarkets in the Golden State made up half the of the top 10 most expensive submarkets for office space, according to a report by Commercial Café.
Mountain View, on the shoreline in Silicon Valley tops the list, according to the report. A square foot of office space raked in an average price of $1,554. This was propelled to take top spot thanks to Google's $300 million acquisition of three buildings in that area last year.
Other Californian submarkets in the top 10 include Santa Monica, North and South Financial District, and SoMa. Zooming in on Silicon Valley, Palo Alto and Sunnyvale-West were also near the top of the list, but just missed the top 10, sitting at 11th and 13th respectively.
Office space in the Mountain View was almost $300 more per square foot compared to the Plaza District in New York, which comes in second on the list. This submarket is part of Manhattan, where a square foot of office space comes with an average price tag of $1260.
The largest single-property sale took place in this submarket. The Coca-Cola Company Building's double sale was purchased by investment firm Wafra for $909 million, and then sold again weeks later for an additional $28 million, according to the report.
New York submarkets made the list three times out of the top 10, and all were in Manhattan. Another Google purchase pushed the Chelsea submarket into the top 10. The Milk Building in Manhattan sold for $591 million. Gramercy Park in New York came in at number five.
Also making the top 10 areas for the priciest office spaces were Cambridge, MA, and Lake Union, WA.
Washington is home to 10 office submarkets on the top 100 list, all in the greater Seattle area. The state is ranked behind only California with 36.
Eleven North Carolina submarkets were also on the list, however, looking statewide painted a different picture.
"North Carolina distinguished itself from other markets with its relatively affordable cost of office space statewide, the average price per square foot was $242," according to the report. That's more than five times less than some of the Silicon Valley and Manhattan submarkets.
Across the country, the average square foot of office space went for $233 last year.
"A total of 2619 deals for buildings larger than 25,000 square feet were struck in the past year," the report stated.
The Culture Café report was compiled using data provided by Yardi Matrix, which looked at office transactions over 2019. The report looked at sales of offices larger than 25,000 square feet and submarkets that registered at least three transactions.