Homeowners insurance protects your home from unforeseen events, but costs can vary widely depending on your location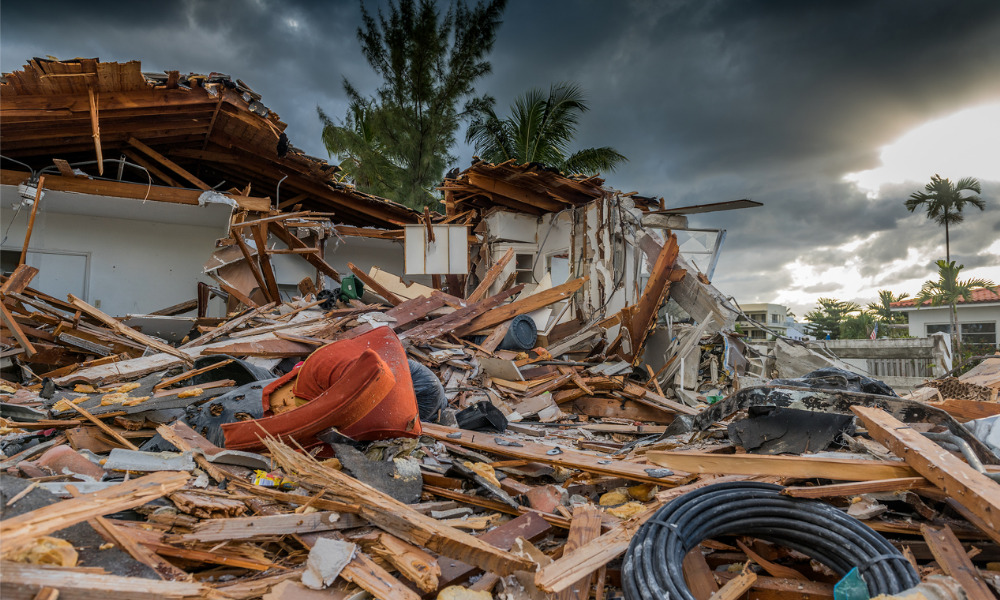 Our homes are among the most expensive things that many of us we'll ever own, so it stands to reason that we should get insurance for it.
Homeowners insurance – otherwise known as an HO-3 policy – protects your home from unforeseen events like disasters or burglary, but its cost can vary widely depending on your location.
And while no law compels you to have home insurance, mortgage lenders usually require it as a condition for your loan.
Here are essential things you should know about HO-3 as well as 10 states with the highest homeowners insurance rates in the country.
Read more: Flood Program agreement will benefit homeowners
What is covered by my homeowners insurance?
Your HO-3 policy will cover the expenses involved in rebuilding or repairing your home in case of unfortunate or catastrophic events – including fire, theft, and even vandalism.
Additionally, the policy covers possessions stored in your home like furniture or clothing and outbuildings like your garage and fences. It also provides personal liability coverage for medical expenses if a guest gets injured inside your house and legal fees if they file a lawsuit.
However, you should note that standard homeowners insurance policies have some important exclusions. For example, HO-3 does not cover vermin infestation, mold damage, and damages due to homeowner negligence.
As for natural calamities, flood and mudflow insurance must be purchased as a separate policy from the government's National Flood Insurance Program.
Similarly, your HO-3 does not cover sinkholes and earthquakes by default. You have to purchase earthquake insurance as an add-on with a separate fee.
The bottom line is that you should do ample research about home insurance before moving into a new location and buying a house.
What factors can affect my home insurance cost?
Older homes may be "more costly to insure than newer ones, particularly if they have electrical and plumbing systems that haven't been updated," according to The New York Times.
Likewise, choosing a replacement cost coverage instead of an actual cash value coverage will result in higher premiums. You'll typically pay a higher rate, but your policy will replace your lost property with new equivalent items without losses due to depreciation.
Poor credit can also cause your insurance rate to rise. Based on national averages, applicants with a credit score below 580 are likely to pay three times the home insurance rate of people with scores of 740 and above.
Read more: Many Louisiana flood victims still waiting for insurance payments
Why does home insurance cost vary widely per state?
Geography plays the largest role in influencing your home insurance cost, according to the National Association of Insurance Commissioners (NAIC).
Annual rates in calamity-prone states in particular can cost twice the national average of $1,361, according to finance company Nerdwallet.
On the other hand, states with lower risks of storms, flooding, and earthquakes are likely to have annual insurance costs that are lower than $1,000. State governments also regulate the rates, but the likelihood of disasters generally has a larger influence.
Below, we rank the 10 states with the highest annual homeowners insurance rates in the country. The rates are obtained from Nerdwallet's study on 145 insurance companies nationwide.
Kansas
Oklahoma
Texas
Nebraska
Arkansas
Kentucky
Louisiana
Alabama
Missouri
South Dakota
We also added the number of federally-declared disasters per state since 1953 according to the Federal Emergency Management Agency (FEMA).
We also computed the ratio between insurance costs and the annual median income per state based on census data.
Note that the rates on this list are based on a sample population per state and should be used only for comparative purposes. You can expect your quote to be different depending on the city and your property's specific conditions.
1. Kansas
Annual insurance cost: $3,644
Insurance vs income ratio: 6.7%
Disasters since 1953: 70
Kansas' location in the Great Plains makes it extremely vulnerable to blizzards, tornadoes, and hailstorms. That's why the average insurance cost in the Sunflower State is more than 220% of the national average.
Additionally, the state's residents have to pay the highest percentage of home insurance premiums with respect to their annual income.
The climate and topography of Kansas also make it susceptible to wildfires, such as the Bastrop County Complex Fire that happened in 2011. It raged for almost a month, destroyed more than 1,600 homes, and burned 34,000 acres of land.
Cities in Kansas with the most affordable insurance include Gardner, Olathe, Shawnee, Leawood, and Lenexa, according to the insurance comparison company The Zebra. However, these rates are still almost twice the national average.
Read more: 7 tips for first time home buyers in 2021
2. Oklahoma
Annual insurance cost: $3,548
Insurance vs income ratio: 6.11%
Disasters since 1953: 173
With 173 federally recorded disasters, Oklahoma is the third most calamity-prone state in the country next to California and Texas. Its location is susceptible to extreme weather such as flooding, tornadoes, and hail.
In fact, 52 out of its 77 counties are at risk of flooding according to the National Weather Service. These are low-lying areas that are situated mostly on the Red River and Arkansas River drainage basins.
Crime rates in Oklahoma influence insurance costs as well. For example, the median property crime rate in the state is 28 for every 1,000 residents, according to the Oklahoma State Bureau of Investigation. This is much higher than the national median of 21 per 1,000 residents.
The annual insurance cost is $3,260 in the state's capital, Oklahoma City. You are likely to find lower rates in Bartlesville, Owasso, and Claremore.
3. Texas
Annual insurance cost: $3,257
Insurance vs income ratio: 5.26%
Disasters since 1953: 255
Texas has been affected by 255 major disasters since 1953 putting it in second place next to California with 284. What makes home insurance in the Lone Star State way more expensive is the number of calamity claims per capita when compared to other states.
For instance, 1.5 million properties in Texas were affected by damaging hail storms in 2020. These accounted for almost 25% of all US properties affected and the total losses of $14.2 billion in that year, according to the Rocky Mountain Insurance Information Association.
Additionally, Texas is seasonally affected by hurricanes, tornadoes, and drought. Research by NASA also points out that utilizing the state's natural oil and gas reserves can sometimes lead to earthquakes and ground subsidence.
You may be able to find home insurance rates of less than $2,000 in Austin, Biggs Field, Fort Bliss, El Paso, Clint, and Fabens.
4. Nebraska
Annual insurance cost: $3,201
Insurance vs income ratio: 5.21%
Disasters since 1953: 62
Like the three previous states, Nebraska is located along the Tornado Alley that's susceptible to extreme weather disturbances.
There were 45 tornadoes in the state in 2016 and 33 tornadoes in 2017. In 2019, the Mississippi River and Missouri River flooded, resulting in $6.2 billion and $10.7 billion in damages, according to finance company Bankrate.
If you are buying a house in Nebraska, you should check if it's located within the Papillion Creek Watershed, which is one of the most flood-prone zones in the region. These include Sarpy and Douglas Counties.
You can find the lowest homeowners insurance costs in Papillion, La Vista, Bellevue, and the state's capital, Lincoln. However, the rates in these cities are still almost twice the national average.
5. Arkansas
Annual insurance cost: $2,684
Insurance vs income ratio: 5.64%
Disasters since 1953: 71
Due to its proximity to the Tornado Alley and the Gulf of Mexico, Arkansas is highly susceptible to extreme weather conditions. The state encounters an average of 33 tornadoes per year, making wind damage one of the most common insurance claims by its residents.
Furthermore, the region is at risk of earthquakes due to its proximity to the New Madrid Seismic Zone. This is a major fault system that causes strong earthquakes in the Southern and Midwestern United States.
Lastly, Arkansas is statistically above the median property crime rates, according to Bankrate.
The cities in Arkansas with the most affordable home insurance are Bella Vista, Bentonville, Fayetteville, Rogers, and Maumelle. Their average prices range from $1,900 to $2,100 a year.
Read more: Is your market the most hazardous in America?
6. Kentucky
Annual insurance cost: $2,614
Insurance vs income ratio: 5.17%
Disasters since 1953: 74
Kentucky is not a coastal state, but it's still exposed to the effects of extreme weather year-round. The state is also along the pathway of hurricanes and tornadoes.
The last time the state experienced an extreme weather event was when Hurricane Harvey ravaged the southeast in 2017. The storm caused the Kentucky River and connected creeks to swell, leading to more than 76,000 paid losses and about $9 million in damages.
You should also properly insulate and maintain your pipes if you own a home in Kentucky. Otherwise, ice storms and extreme cold during winters can cause your water pipes to freeze and burst.
Insurance rates in Fort Thomas, Independence, Florence, Lexington, and Covington are much lower than the statewide average, according to The Zebra.
7. Louisiana
Annual insurance cost: $2,531
Insurance vs income ratio: 5.12%
Disasters since 1953: 79
Louisiana's location on the Gulf Coast makes it particularly vulnerable to hurricanes – a big reason why the most common home insurance claims in the area are often related to windstorms, water damages, and flooding.
Moreover, southeastern Louisiana is susceptible to storm surges due to hurricanes and windstorms. Since Hurricane Katrina in 2005, the state has been struck by four Category 3 hurricanes causing millions in damages.
Plaquemines, Tangipahoa, St. Bernard, Orleans, St. Tammany, and other low-lying areas near the Pearl River are also vulnerable to floods.
You can find the most affordable insurance rates in Bethany, Keithville, Mooringsport, Greenwood, and Eastwood. The average annual cost in these areas is $1,600, which is $900 cheaper than the statewide average.
8. Alabama
Annual insurance cost: $2,330
Insurance vs income ratio: 4.61%
Disasters since 1953: 82
Alabama is a southeastern state that's along the path of tornadoes and hurricanes. Because of its location along the Gulf Coast, more than 51,000 single-family residences are exposed to possible hurricane damages, according to the Insurance Information Institute (III).
Moreover, around 44 tornadoes visit or form within the state each year, according to research by the University of Alabama. Seventy-three tornadoes hit the state in 2020 alone, causing significant damages to homes and other infrastructure.
Insurance claims also frequently include flooded basements due to frequent storms and hurricanes.
You can find the lowest insurance costs in Helena, Alabaster, Chelsea, Maylene, and Montevallo. The rates here are about a thousand cheaper than the statewide average.
Read more: Where can raising insurance deductibles save homeowners the most?
9. Missouri
Annual insurance cost: $2,281
Insurance vs income ratio: 4.11%
Disasters since 1953: 69
Missouri is similar to Alabama in terms of the number of tornadoes per year. In 2019 alone, 98 tornadoes hit the state resulting in casualties and millions in damages, according to the III.
Moreover, the state is situated in multiple floodplains, including the basins of the Mississippi River at the east and the Missouri River at its center. Severe storms and flooding called for seven federal disaster declarations just in the past 10 years.
The state also has one of the highest crime rates in the country, according to FBI data. This translates to a higher risk of crime-related claims.
Homeowners insurance is generally uniform across Missouri. You can find the cheapest, which is still around $2,000, in Ballwin, Wildwood, Chesterfield, Jefferson City, and Florissant.
10. South Dakota
Annual insurance cost: $2,230
Insurance vs income ratio: 3.83%
Disasters since 1953: 64
Just north of Nebraska, South Dakota is an expansive Midwestern state with rolling prairies. Its geography makes it susceptible to tornadoes and windstorms.
A case in point is the South Dakota tornado outbreak in 2003 that lasted for more than three days and nine hours. Two F4-category tornadoes and 123 others ravaged the state's southeastern and east-central parts, resulting in $13.5 million in damages.
Furthermore, large open areas and gusts of wind increase the risks of spreading wildfire.
In March 2021, several wildfires in the Black Hills forced more than 400 households to evacuate, according to USA Today. The fires burned more than 2,000 acres near Rapid City. No casualties were reported, but several houses and outbuildings were damaged before the fire was declared under control.
On average, home insurance premiums are $200 cheaper in Brandon, Huron, Mobridge, Milbank, and Aberdeen than the rest of South Dakota.