Report sifts through homicide and COVID rates, unemployment, foreclosures and personal bankruptcy filings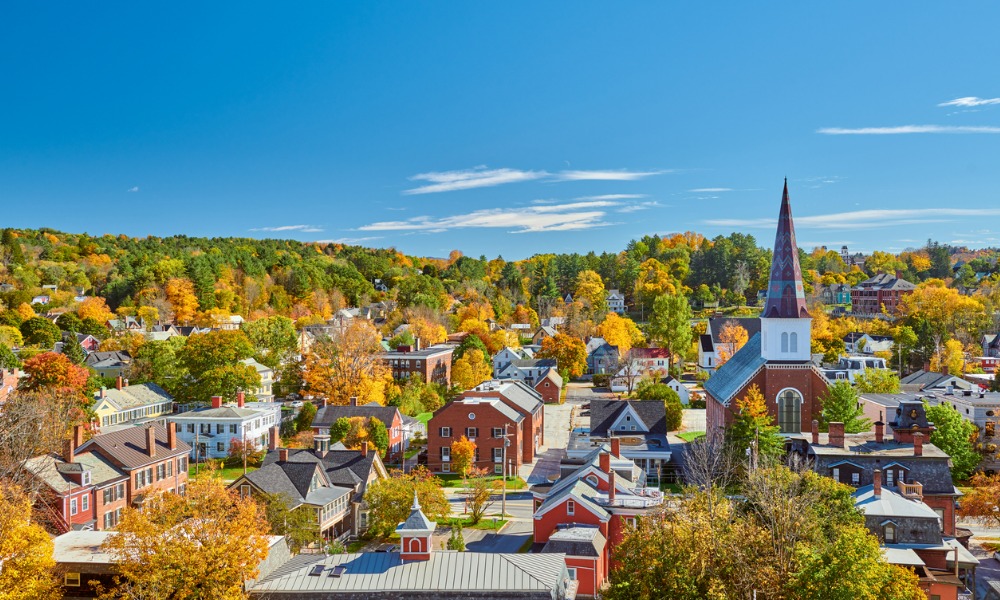 Vermont, Maine and New Hampshire are the three safest states in the US, according to a new report by personal finance website, WalletHub.
The report, released last week, compiled such diverse data as the number of mass shootings, hate crimes, COVID-19 death rates and natural disasters.
To determine the safest states in which to live, WalletHub compared all 50 states across five key areas, namely personal and residential safety, which included the percentage of fully vaccinated residents, homicides and assaults; financial safety, which covered among other factors unemployment and foreclosure rates, debt per income and personal bankruptcy filings per capita; road and workplace safety, including fatalities and DUIs; and emergency preparedness for climate disasters.
Each state was graded on a 100-point scale, with the highest score representing the safest.
Read more: Revealed - 2021's best small US cities to live in
Vermont came top with a total score of 69.49, followed by Maine (66.24) - down one place from last year - and New Hampshire (65.35) in third, while at the other end of the spectrum, Louisiana came bottom, amassing a score of 33.18, with Mississippi and Texas trailing close behind.
A striking aspect of the report shows that all of the three best scoring states are located to the extreme north-east of the country and border each other, while the bottom three are clustered in the south, also adjacent to each other.
California, the 21st safest state, improved considerably in relation to its 2020 ranking, when it trailed in 46th place.
Broken down into categories, Hawaii, New York and Massachusetts contained the highest percentage of adults "with rainy-day funds", in contrast to the lowest in Oklahoma, Tennessee and West Virginia.
Texas, Oklahoma and Alaska also had the highest share of uninsured population compared to the highest in Massachusetts, Hawaii and Vermont.
WalletHub revealed that the pandemic was still one of the biggest safety concerns on the minds of US citizens, pointing out that the virus had caused about 375,000 deaths in the country last year.
It added: "To put that in perspective, last year 42,000 people died in car crashes and there were around 13,600 gun-related deaths (non-suicide)."
The report stressed that no state was "immune to danger of any form", adding that some "simply deal with safety issues better than others".
The report included the views of a panel of experts who responded to a number of key questions, such as giving consumers advice on how to improve their financial safety, as well as offering suggestions on what states could do to reduce crime in their communities and provide a strategy for managing personal finances during the pandemic.
Read more: Broking in America's "best cities" to live in
Professor Roman Weil, from the University of Chicago, strongly advised consumers to pay off all credit card debts. "That is it. No one step will get you more financial safety than getting out of credit card debt—paying off your credit cards in full each month, carrying no balances.
"If you can get to the stage where you are out of credit card debt and can pay your credit card charges in full every month, then stop using debit cards. Using credit cards and paying off the balances each month increases your credit score. Using a debit card does nothing for your credit score," he added.
On the same question, Kareem Tannous, assistant professor at Cabrini University, suggested spreading the risk and investing wisely. He said: "An investor should consider risk diversification in different financial assets, such as real estate, equities, bonds, and commodities."
Over the issue of crime, Lynn Tankersley, associate professor of criminal justice at Mercer University, said that policymakers at state and local level had a greater likelihood of reducing crime and improving perceptions regarding public safety than those at the federal level.
To reduce crime in their communities, policymakers should address the root causes of crime "unique to their constituents", she added.
Douglas Babcock, consulting and associate director of safety and security at Dartmouth College, suggested assessing possible risks "like not living in a flood zone or having a storm cellar if you live in a tornado-prone area".
Regarding crime, he said "the real path toward a safe society is better socioeconomic and educational opportunities".
He added: "While that answer does not address issues that occur today, it is the key to reducing or preventing crime in the future. Educated and economically stable people engage in crime at lower rates than people in failing schools, blighted neighborhoods, and nutrition deserts."