Brokers claim it will radically change the underwriting process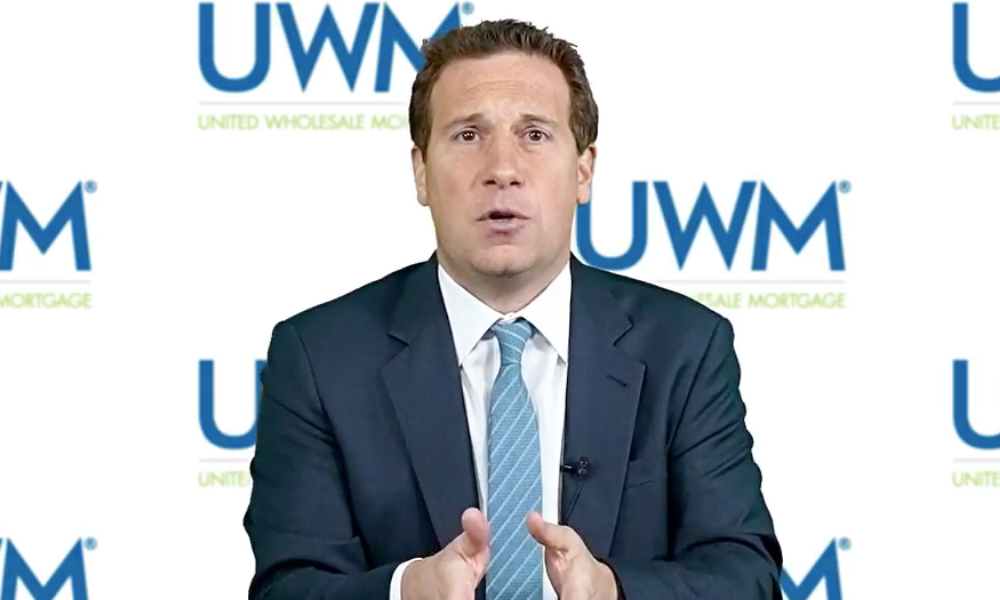 Wholesale lender UWM has launched a new, potentially game-changing platform aimed at achieving 15-minute initial approval for qualified borrowers.
Hailed as a "revolutionary tool" by the Pontiac-based company, 'Bolt' is intended to provide faster loan approvals with fewer touches, allowing initial approval of the file to be completed in minutes instead of hours.
The firm's president and CEO, Mat Ishbia, unveiled the product at the Association of Independent Mortgage Experts (AIME) live Fuse event in Las Vegas at the weekend – AIME's first 'in person' get-together since the pandemic.
Bolt handles data extraction, automatic document recognition and smart technology to input information from such items as driver's licenses, income statements and county records.
The platform also provides brokers with access to the same income calculator used by UWM underwriters while notifying the user of potential discrepancies.
Read more: United Wholesale Mortgage's Mat Ishbia to test water with cryptocurrency
According to a company statement, the new feature can be accessed in UWM's loan origination system, Ease. Brokers can then elect to use Bolt when they upload a loan application with required documentation.
This will provide them with a step-by-step process that will allow them to complete the initial approval when needed, reputedly creating a faster experience and fewer underwriting touches.
In a statement, Ishbia said Bolt will "forever" change the way underwriting is done.
Speaking on Monday to MPA, Ishbia said: "There's nothing like it in the industry. It gives brokers an advantage because they can get the response to realtors and consumers within minutes - speed solves everything, doing things fast and efficiently is important now."
He described Bolt as "a huge technology lift", adding that it would take the competition "probably three years, maybe even longer" to catch up.
"Bolt is lightyears ahead because it's much more complex in underwriting than it is in closing," he said.
At Saturday's event, UWM also took the opportunity to launch 'The Source', a new customizable search engine for brokers.
But probably of even greater significance will be the October 01 launch of Appraisal Direct, which UWM is hoping will address a bugbear of brokers and customers alike – appraisal costs and times.
Ishbia claimed the program will allow "the best appraisers in the country" to bypass AMCs and work directly with UWM.
He said: "The biggest concern for every loan officer in the country is that appraisals have been taking a very long time.
"At the same time appraisers aren't getting paid what they think they should be getting paid, because AMCs and other entities are taking their cut. With us they know they're going to get paid the next day, instead of waiting for up to six weeks."
Asked if this would result in a head-to-head confrontation with AMCs, he said: "I hope this raises their game. We still have a lot of AMCs that we're partnering with, but if they're not doing a good enough job, I have to step in."
Read more: United Wholesale Mortgage's broker bombshell sinks in
Initial broker reaction to Bolt has been unanimously favorable, with mortgage professionals consulted by MPA hailing UWM's proprietary platform as a "game changer".
Daniel Casasnovas, loan specialist at HQM, said he had not yet used the system but thought Bolt was "revolutionary" and "nothing short of extraordinary".
He said: "They (UWM) have been putting out initial approvals in two to three hours, which is really unheard of in the industry, now they are allowing us to do it ourselves and get it in 15 minutes.
"This will allow us to close more loans and service our clients faster – and that helps the consumer, our realtors and brokers. I'm sure with everything that is new there is a learning curve, but I envision this will be another step for brokers and UWM to dominate the market."
Whitney Bulbrook, the president of Carolina Ventures Mortgage, was equally effusive. She said: "Initial approval in 15 minutes is a game changer. This automation of the lending process puts the broker in the driver's seat.
"I've been originating loans since 2005 and the last six years working with UWM has revolutionized my field."
Yury Shraybman, broker at Innovative Mortgage Brokers, said brokers could save between two and three days for initial underwriting, which meant closing loans "10%-15% faster".
He said: "When the initial loan is submitted to underwriting, the borrower is extremely nervous until the approval is received. If, as brokers, we can help to alleviate that stress for them, I think that's tremendous.
"The only downside I see, is if the technology is not working correctly; if the conditions will be missed from the original approval and then added later on manually by the underwriters – that would negatively impact the process."