"They are both powerhouses within the industry"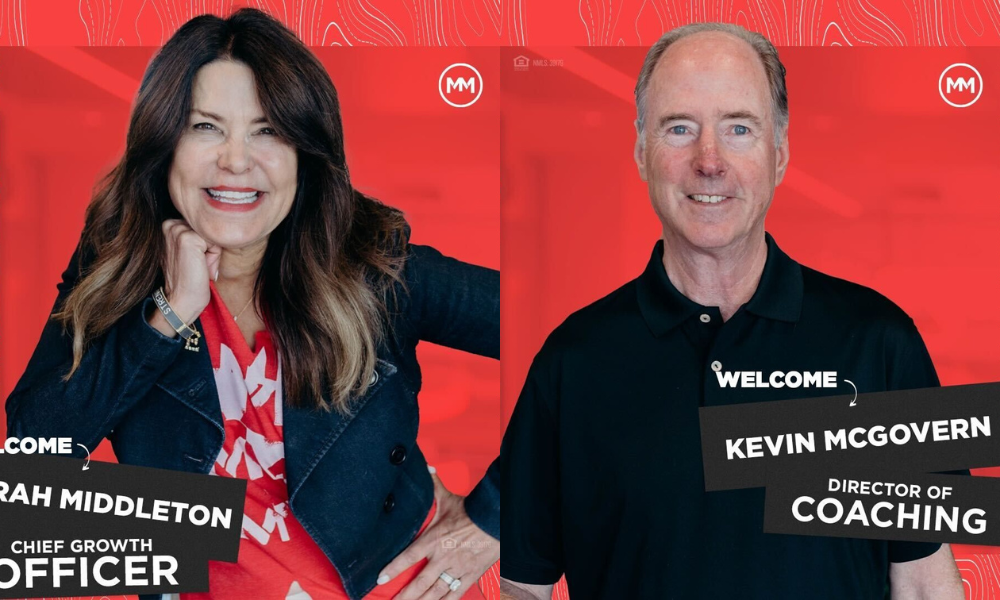 Movement Mortgage has expanded its C-suite team with two newly created roles focused on growth and development of the company's sales team nationwide.
Sarah Middleton (pictured left) and Kevin McGovern (pictured right) joined Movement as chief growth officer and director of coaching, respectively. In her new role, Middleton will spearhead the lender's efforts to attract, onboard, and develop sales leaders across the country. Meanwhile, McGovern will lead Movement's coaching team and create a coaching platform.
"We could not be more thrilled to welcome Sarah and Kevin to the Movement team," said Movement president Mike Brennan. "They are both powerhouses within the industry and just what we need to take Movement to the next level. Their collective experience and knowledge of the mortgage industry and coaching will make an exponential impact not just within our company, but in the lives of our teammates as well, for years to come."
Most recently, Middleton served as president of sales development and recruiting at Fairway Independent Mortgage and chief executive officer of Fairway's internal coaching platform, Fairway Ignite. The 34-year mortgage veteran has also held leadership positions at Guild Mortgage and Liberty Financial Group.
"I'm thrilled to join Movement to help the organization grow. I'm here to do more and give more and to live a life of significance," Middleton said.
McGovern also joined Movement from Fairway, where he served as executive vice president and chief operations officer for Fairway Ignite. He brings over three decades of sales and mortgage experience, including 16 years as a full-time coach.
"This industry has changed the total trajectory of my life," McGovern said. "I feel called to give back and develop others, and I'm grateful to join a company whose mission and values align so closely with mine. I saw an opportunity at Movement to build on something special, and I'm excited to play a role in the growth that's to come."
Read next: Fairway Independent COO on why customer service is a never-ending quest
"We hold a deep respect for what Sarah and Steve Jacobson built at Fairway," said Movement Mortgage CEO Casey Crawford. "Sarah exemplifies everything we look for in a leader at Movement; excellence in our profession with an unrivaled passion for loving and serving people. Our entire community is better today with Sarah on our team."