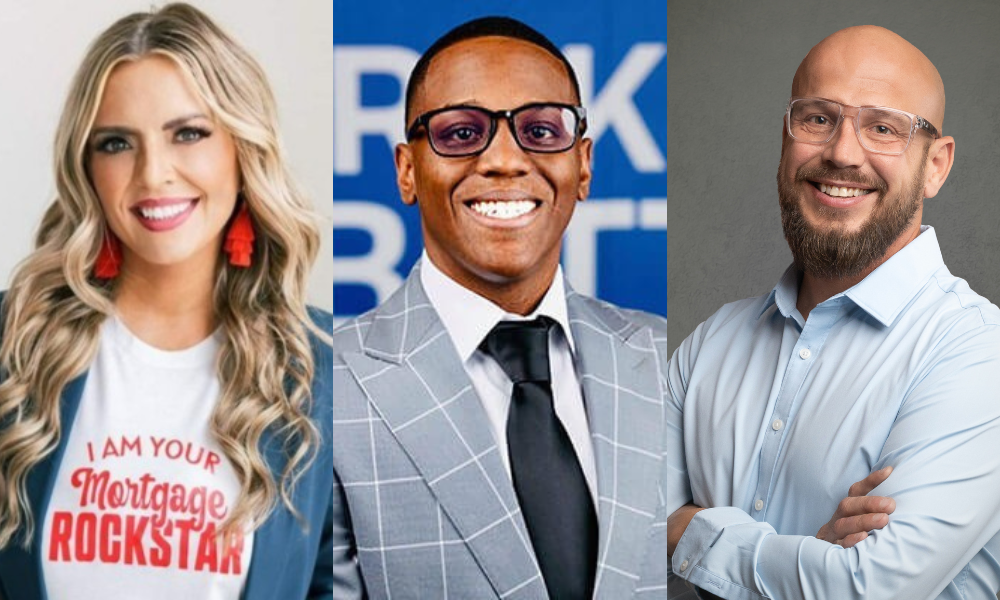 In an age of increased competition for mortgage brokers amid a market slowed by rising rates and inflation, the need to stand out takes on heightened importance.
From community works to sartorial choices, special characteristics that keep a broker in the mind of a customer or prospective increasingly matter. That was the theme of a panel discussion during the recent Fuse convention – the fifth annual iteration of the gathering – organized by the Association of Independent Mortgage Experts (AIME) that took place in Las Vegas from Sept. 29-Oct. 1. The host of the discussion titled "Standing Out From the Crowd" was Nathan Knottingham, COO at Vetted VA.
"This is not a marketing panel," Knottingham stated up front. "This is not 'look what I do.' This is about 'why'. This is about finding a reason and then understanding how to take that to your community, out and about."
Panelist Melissa Nelson (pictured top left), senior loan originator at Barrett Financial Group, invoked no less a figure than Mat Ishbia – chairman and CEO of Michigan-based mortgage lender United Wholesale Mortgage – with providing her with an example as she entered the mortgage industry nine years ago.
"I used to watch Mat Ishbia on video and used to think: 'Oh my gosh. I wish I loved mortgages that much!' I say that because you can see the passion that he has. When you can find and live whatever you're supposed to live here for, live it and drive it."
Ishbia is known for his enthusiastic messaging, speaking with a cadence not too far apart from that of an auctioneer, when he gets revved up on his company's goals. Decidedly more low-key, Nelson described her own calling card of sorts – the Community Kindness Movement she created in her community some seven years ago to thwart bullying and avert suicide among students. She described how the project began with the delivery of 26 yellow roses sent to schools as an act of peace and harmony. Since then, the initiative has sprouted across various campuses, each beneficiaries of a $1,000 donation that corporations and individuals subsequently match.
Read more: CEO's meteoric rise to the top
Like Ishbia, she suggested she's also taken by mortgage. But since those early days of philanthropy that pre=dated her career, she is well-known as the originator of acts of kindness in her community when people see her other identify as a loan originator. At times growing emotional in describing her journey, Nelson received spontaneous applause from the audience as she described the impact she's made in her community.
Knottingham noted the authentic nature of Nelson's identity – both in the community and with prospective customers: "This didn't start from marketing," he observed. "It started from serving your community from a place you saw and has been something you have able to lead and show compassion to people."
For Nelson's fellow panelist, Mike Cox (pictured right), his identity is suffused with education – particularly given his role as vice president of education for AIME. He's also not ashamed to describe himself as a nerd – with eye-catching brand awareness that has all but made his Mortgage Nerds a household name in some parts. Cox has been in the wholesale channel for more than a year. He transitioned to the broker channel to become broker owner of Mortgage Nerds after years in the retail channel at GSF Corp.
While acknowledging the power of his own branding, Cox stressed aligned dynamics have to be reflected in a company's mission statement – "not what is your selling proposition," he said. "For our company, we spent money and time trying to figure out why we do what we do. Our mission statement is to make the mortgage experience the best part of buying a home. It all comes together with vision," he noted, adding that his borrowers are able to count on his firm's guidance and expertise. "Everything flows from your vision, your values," he said. Absent such a credo, one cannot stand, he suggested: "You cannot build a longstanding business without them."
Read next: Try a little kindness, broker says
For Porch Point Mortgage president and CEO Darius James (pictured center), personal branding comes down to the first impression in the way he dressed. Without hesitation, he said a "nice flashy suit" is part of his brand. Indeed, on the second day of the conference, James walked with a confident gait at the makeshift networking center at the exhibition hall set up at the Paris hotel and casino with his equally resplendently dressed wife and trusty assistant at his side. He wore an elegant yet modern-cut, three-piece suit of a blue hue that bordered on electric.
"That's part of my branding," he said. "Everything you do connects – the way you speak, the way you dress," he said, noting that he's aware once he leaves a room that folks remember the suit he wore. "Your personal brand is your voice when you're not in the room," he said.
Read next: Mortgage Nerds poised to expand into five states
James also believes in a sort of karma: "You get out of the universe what you put out in the universe," he said. "I truly believe that."
James also made a point to identify himself as the youngest African American person to ever become CEO and president of his own mortgage company – a trait he mentioned in introducing himself to the crowd and interspersed in his talking points. His remarkable trajectory is as much a part of his branding as the choices he makes in dressing for his workday, he suggested.
But it's got to be real, he added, and it better not be fake: "If your personal brand isn't authentic, it isn't going to cut it."