This dorm-like community living model is becoming increasingly popular in markets around the world, where incomes are not keeping pace with rising rent costs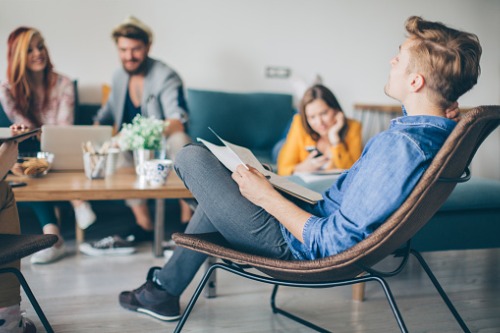 With the affordable housing crisis growing in major cities across the US, dorm-like community living is on the rise.
Co-living, similar to the idea of co-working, is a modern housing model where a resident can rent their own bedroom and bathroom but share common areas like kitchens and living spaces with others.
Common is a Brooklyn-born co-living company founded in 2015. After almost five years in the space, Common's senior real estate director Brian Lee said with incomes generally not keeping pace with rising rents, young people in big cities are becoming more interested in these co-living options.
"The smallest apartment that you can rent is generally a studio unit and those are getting more expensive. With co-living, you give up a little bit of private space, but the price point is reduced, it's typically in a better location and there are services and experiences to gain," he said.
At Common, co-living prices are about 20% less than comparable studios in the same area. Their buildings are home to 1,500 people in six cities, with New York being their largest market. The company has plans to expand across 20 cities in North America, increasing their beds by ten-fold and even crossing the border into two Canadian cities, Toronto and Ottawa.
"From the demand side, the story is very clear, and the rest of the housing industry is starting to take notice. From developers, real estate institutions and governments, everyone is recognizing that co-living is a creative solution," said Lee.
Global funding in the co-living space has increased by more than 210% annually since 2015, totaling more than $3.2 billion, according to commercial real estate firm JLL. With co-living, Lee said it's about developing a healthy eco-system that has benefits for renters, builders and investors—and investors are starting to take notice.
"With co-living, you can fit more renters into a building compared to traditional multifamily so rent per square foot is significantly higher."
These units come furnished, and include amenities like Wi-Fi, weekly cleaning, laundry, utilities and basic household supplies like hand soap and toilet paper. Tenants have proven they are willing to pay for things like flexible lease terms, furnished units, and added perks. According to an annual report by NMHC, the majority of renters view high speed internet as a non-negotiable "must have" when ranking in-unit features.
"People pay a flat rate, it's cheaper, more convenient, and you don't have to spend the day at IKEA buying furniture that you know you'll have to throw out in two years. Plus, there's a promise of community," said Lee. A lot of tenants who renew are those that have made a bond with others in the building, he added.
Co-living is a natural next step for introducing more affordable housing into some of the larger US cities and follows a trend that's already thriving in other markets like Germany, the UK, Hong and India, according to JLL.
"It's creating an attainable price point for a lot of people and filling a gap in the housing market, somewhere between traditional multifamily and capital A affordable housing," said Lee.