Chief economists break down the challenges and demand drivers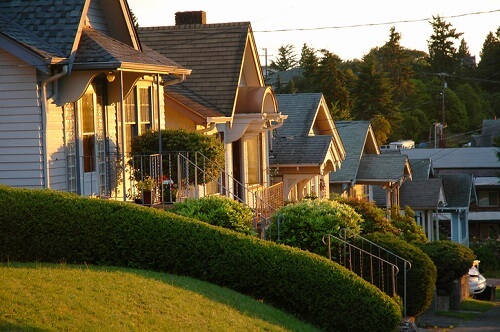 Homebuilding enjoyed one of its strongest years in recent memory in 2020. Skyrocketing demand among homebuyers, especially for single-family units outside of urban cores, drove significant outperformance in housing starts, well above what experts had predicted at the start of the year. While those same forces that drove record housing starts last year have continued into 2021, some ongoing challenges persist in the economy and key sectors driving housing development.
At the National Association of Home Builders' (NAHB) International Builders' Show (IBSx), a panel of experts dissected the year that was and offered their outlooks for the year ahead. Robert Dietz, SVP and chief economist at the NAHB, as well as David Berson, SVP and chief economist at Nationwide Mutual Insurance, and Frank Northam, SVP and chief economist at CoreLogic, shared their outlooks for housing construction this year. Their broad view was one of cautious optimism, with some signs pointing in positive directions, and a few persistent headwinds presenting challenges.
"We continue to see housing growth continuing into 2021, but we are concerned about rising headwinds, particularly on the cost side," said Rob Dietz. "At the [NAHB] we're very focused on building, supply, inventory and the cost of construction. That is an area where we see rising concerns going into this year."
Read more: Is the mortgage industry "screwing" veterans?
Affordability declining while input costs rise
Dietz noted that home affordability has steadily declined since the 2008 financial crisis. According to the NAHB/Wells Fargo housing opportunity index, around 80% of homes were affordable for a household in the middle of local income distribution in 2008. Today, that number is around 58%, something Dietz attributes to a broad lack of inventory.
As builders try to redress that imbalance and bring new inventory online, they're being met by another key headwind: lumber prices. Through 2020, lumber prices have shot up twice, going from lows of around $350 per 1,000 board feet, to $950 per 1,000 board feet. That's adding nearly $16,000 to the cost of a typical newly built single-family home, according to Dietz.
NAHB surveys of builders also found frustration with a lack of skilled labor and difficulty obtaining timely permits. Without key workers and local permissions to build, builders' projects are often delayed, increasing the cost of construction.
Growth despite challenge
In the face of these cost increases and frustrations, the NAHB is still projecting a 5% gain in single-family housing starts this year, taking the nationwide number to over one million for the year. Dietz noted that the NAHB's projection is actually relatively conservative, and builders could very easily exceed those expectations.
Read more: Top 10 most affordable metros for first-time homeowners
Frank Northam noted some data from CoreLogic that points to 2020 as one of the biggest years on record for home improvement spending. That spending, he explained, is being driven by an average home equity gain of $5,300 nationwide last year. That equity is allowing homeowners to cash out and improve their homes, building an office, gym, or recreational space that's become utterly crucial in the pandemic. Northam expects 2021 to follow suit and see even stronger home improvement spending.
Demand is growing for new homes, especially in suburban and ex-urban areas. Easily one of the top stories of the housing market for the past year has been a consumer shift in preference to larger homes further away from city centers. NAHB data further backs that up. Demand in ex-urbs, in particular, could be positive news for buyers as builders are finding cheap land easy to develop on, offsetting the rising costs of inputs like lumber.
"People aren't going back into the office anytime soon, so the demand for space is going to stay there," said David Berson. "The factors that kept demand strong are going to remain in place and builders on the supply side will probably build more homes than last year, the most since 2006."