Supply chain issues and cost spikes are especially problematic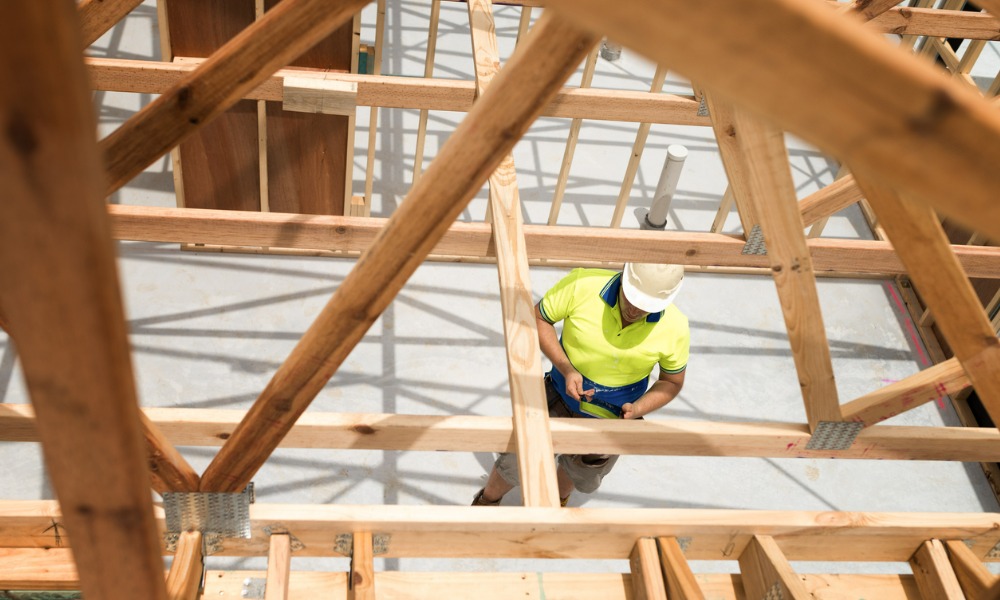 Unless one is in the process of building a home, the effects that supply chain issues and inflation have on homebuilders can be viewed as an abstraction. But to builders themselves, the issue is hardly conceptual but one dramatically affecting business.
Just ask Ernie Hofmann, president of New Jersey-based Hofmann Design Build Inc. – a full line design/build firm specializing in residential remodeling, custom home construction, historic restoration and light commercial remodeling – who's also a member of the National Association of Home Builders. In a recent interview, he gave Mortgage Professional America an insider's look at the real-world impact market changes are having on his industry.
For instance, take lacquer – the liquid made of shellac that's dissolved in alcohol or of synthetic substances that dries to form a hard, protective coating for wood, metal and other materials. "Kitchen cabinets and cabinetry in general has gone up 30 percent in the past year and continues to go up on a monthly basis," he said during a recent interview, as if setting up for the zinger. "The lacquer finish that my cabinet maker uses was 90 bucks a gallon two years ago, and now it's $400 a gallon."
Read more: Lumber industry reps plead for tariffs relief – reaction
Having worked in the construction industry for 43 years – starting as an apprentice carpenter before working in the field for ten years prior to earning his degree in civil engineering technology – there's not much Hoffman hasn't seen. But the current situation has been eye-opening for even this seasoned industry veteran.
"The supply chain [issues] are significantly delaying our projects," he said, citing a two-year period beginning in 2020 when delays began occurring in earnest until today. Last year, his firm had a project for which interior doors were needed. What would've have taken a week to secure in the past instead took three and a half months, he said.
Exacerbating the problem is the sheer randomness of shortages, with one never knowing what specific items will be delayed and which won't. "It was not quite as random," he said of times past. "Probably the biggest issue is the long lead time on things. Kitchen cabinets went from four to six weeks in June 2021 to 14 to 18 weeks in August 2021, and it hasn't changed since.
"It only takes about six weeks to renovate a kitchen, and we're waiting on cabinets. Windows are a 14-week lead time. That's really hurting cash flow in a big way."
Read next: Here's how much lumber costs have added to new home prices
Labor shortages aren't an issue, he said, but those shortages put things on hold: "We don't necessarily have a labor shortage, but we can't start because of potential delays." Sub-zero refrigerators and Viking ranges are all the rage among luxury supplies, but are hard to come by as well, he noted. "There are alternatives, but still months and months away."
And that's not even mentioning supply costs.
"Another big factor is several of our projects are canceled because of the astronomical building material costs," Hofmann said. Take cedar shingles: "They're practically the cost of gold these days. I think it's $450 to cover 20 square feet with cedar siding, which is just ridiculous. That project was postponed because from when we started this design to when it was ready for construction, the building materials costs jacked up the price by $30,000."
Lumber costs continue to rise as well – if one can even secure it, he said. "We can't order that in advance, and there's no lead time." Back in the day, he said, one could call the lumber yard and get what's needed in a matter of a couple of days. Today, it takes two to three weeks. Lately, more substitutions are being made with three0inch flooring in lieu of the 2 ¼-inch variety given the latter's shortage amid high demand, he said.
Clients sometimes postpone projects given such spiraling costs, hurting builders' cash flow and revenue in the process. "We've had at least four projects in the past year that have been canceled because the costs have escalated so much," Hofmann said, invoking the example of a $400,000 project upon which his firm was ready to embark. "The owner said 'We want to do this, but can't bring ourselves to spending that kind of money right now with building materials so out of control.'"
So, homebuyer, next time you start to write a negative online review for a builder or fire off a nasty email, think of their woes amid this changing market. And maybe think more along the lines of a sympathetic hug.