NAHB members sign letter to Biden pleading for end to figurative logjam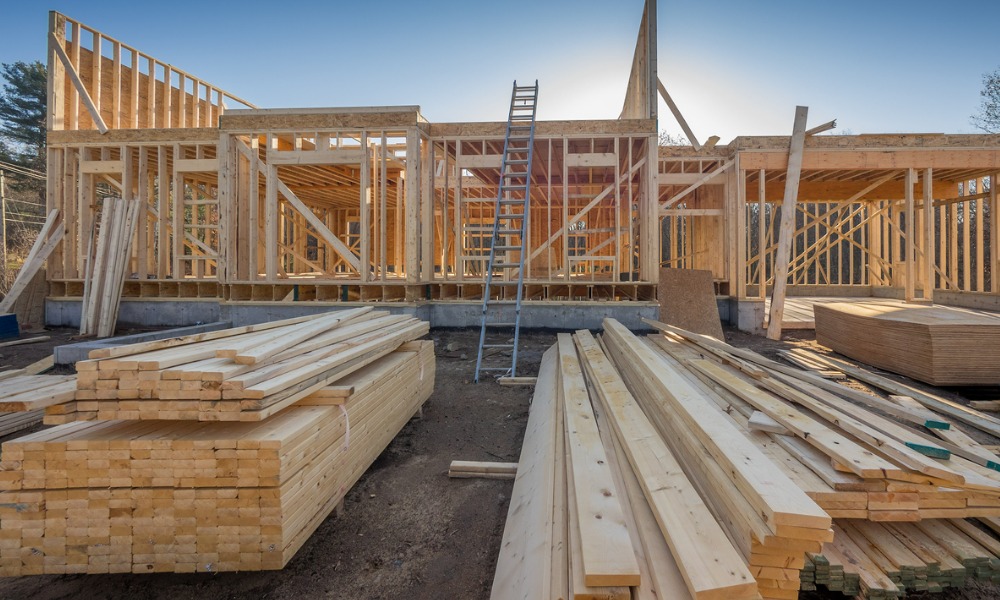 More than 10,000 housing industry representatives on Wednesday sent a letter to President Biden warning of the growing housing affordability crisis they say threatens the economy.
Those signing the letter are members of the National Association of Home Builders (NAHB), calling on the White House to take immediate action as the growing housing affordability crisis is pushing the housing market to an inflection point that threatens to derail the current housing and economic expansion, according to the correspondence.
The housing industry has been hard hit by a confluence of forces, including rising costs stemming from historically high price levels for lumber and other building materials, supply chain bottlenecks, surging interest rates, allegedly excessive regulation and a persistent lack of construction workers – all impacting housing affordability conditions, particularly for entry-level buyers and renters.
"Our members in every state across the land are clearly concerned that growing supply chain disruptions and worsening affordability conditions that are harming demand are weakening the housing market," NAHB chairman Jerry Konter, a home builder and developer from Savannah, Ga. wrote. "The industry believes these challenges will grow worse if meaningful steps are not taken to allow builders to increase the supply of affordable single-family and multifamily for-sale and for-rent housing. If the housing sector falters, the economy will surely follow."
Further exacerbating affordability woes is the unprecedented price volatility in lumber prices that has raised the cost of a typical single-family home by more than $18,600 and added approximately $10,000 to the cost of a typical apartment since last August, according to the letter. Tariffs on Canadian lumber shipments into the US are further fueling price volatility, "acting as a tax on American home buyers at a time when housing affordability is already at a more than 10-year low," officials wrote, citing the latest data from the NAHB/Wells Fargo Housing Opportunity Index.
Read more: Lumber prices 2022 – soaring and adding to housing market woes
"An important first step to address housing affordability challenges in this current high-inflation environment would be to immediately suspend tariffs on softwood lumber imports from Canada and to move quickly to enter into negotiations with Canada to pursue a new, long-term softwood lumber agreement," the letter reads.
Mortgage Professional America reached out to one of those signing the letter, Ernie Hofmann, president of New Jersey-based Hofmann Design Build Inc. for additional insight. One of Hofmann's biggest points of contention are tariffs that are currently in place for imported lumber despite the industry logjam.
"What makes absolutely no sense at all is that the Department of Commerce doubled the tariff on soft lumber imports from Canada, which is framing lumber," Hofmann said. "Framing lumber a year ago in May was five times what it was the year before – the highest in history. In July, it went down to pre-COVID prices for July-August, and then it started to creep up in September. And in November – for God only knows what reason – the Commerce Department doubled the tariff on soft lumber imports. Why would they do that?"
He expounded on the point: "Why in the time of crisis like this would they double the tariff? They made it 18%. Fortunately, through lobbying, the builders' association got that tariff reduced by 7% the end of January. Why in the hell do we need a tariff on soft lumber imports when there is an incredibly critical shortage of materials that's driving the cost of homeownership up and there's a shortage of houses? The government is literally playing into the hands of the lumber mills."
Read next: NAHB: Flood insurance reforms will impact new home affordability
Builders also called on the White House to address federal regulatory reform to reduce upward pressure on housing costs. "Reducing burdensome regulations that account for nearly 25% of the price of building a single-family home and more than 30% of the cost of a typical multifamily development will provide more homeownership and rental housing opportunities for all Americans," the letter reads.
The National Association of Home Builders is a Washington-based trade association representing more than 140,000 members involved in home building, remodeling, multifamily construction, property management, subcontracting, design, housing finance, building product manufacturing and other aspects of residential and light commercial construction. NAHB is affiliated with 700 state and local home builders' associations around the country. According to the association, its members will construct some 80% of the new housing units projected for this year.