The US economy shrank for the second quarter in a row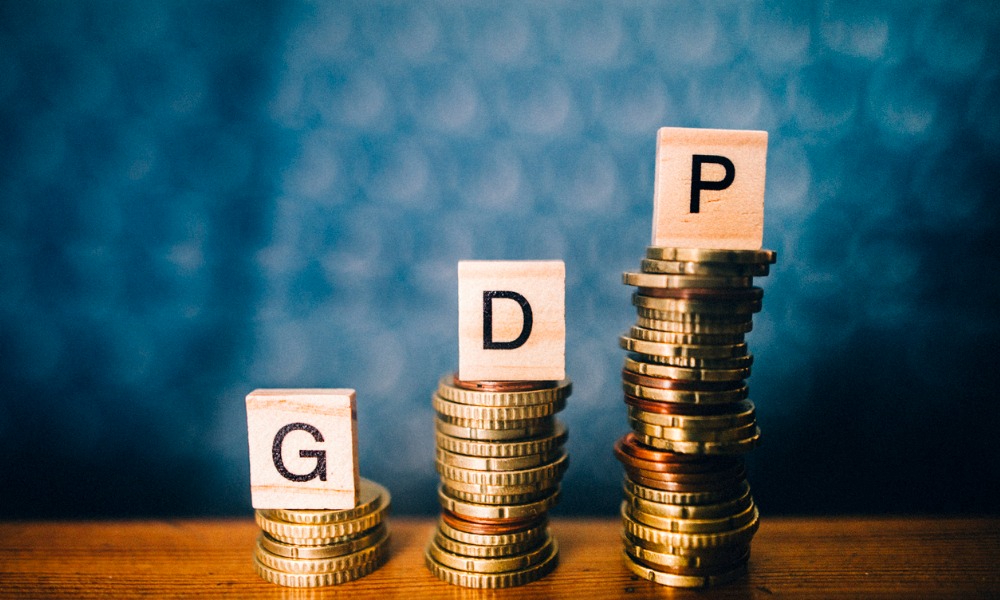 The US economy contracted again in the second quarter, prompting the dreaded question: Are we headed for a recession? And how will this impact the housing market?
After sliding at an annual rate of 1.6% in the first quarter, the nation's GDP fell 0.9% from April through June, new figures released Thursday by the Commerce Department revealed. Consecutive quarters of declining GDP unofficially signal the start of a recession.
The report comes against the backdrop of higher loan costs and raging inflation, which accelerated to 9.1% in June – the highest since November 1981 and above market forecasts of 8.8%. In an effort to tame inflation, the Federal Reserve on Wednesday raised its benchmark rate by 75 basis points for the second straight time.
Fed chair Jerome Powell and many economists do not believe that the US economy has entered a recession yet despite these signs of weakening.
Read more: Odds of recession near 50% - what does it mean for the housing market?
"The back-to-back contraction of GDP will feed the debate about whether the US is in, or soon headed for, a recession," said Sal Guatieri, senior economist for BMO Capital Markets. "The fact that the economy created 2.7 million payrolls in the first half of the year would seem to argue against an official recession call for now."
Treasury Secretary Janet Yellen also added to the chorus, pointing to a still-strong labor market, with 11 million job openings and a 3.6% unemployment rate.
Recession, she insisted during a news conference, is a "broad-based weakening of our economy" that includes substantial layoffs, business closures, strains in household finances and a slowdown in private sector activity.
"That is not what we are seeing right now. When you look at the economy, job creation is continuing, household finances remain strong, consumers are spending, and businesses are growing."
Still, Americans are growing weary. According to a Conference Board press release, "Consumer pessimism about future business conditions, moderating labor market conditions, falling stock prices, and weaker manufacturing new orders drove the LEI's decline in June."
Richard Goyette, associate at Fannie Mae's Economic and Strategic Research Group, said a recession would likely begin in the first quarter of 2023 as inflation and rising interest rates increasingly weigh on consumer sentiment and spending.
"Furthermore, the increase in initial unemployment claims to the highest reading in eight months suggests that the labor market is beginning to loosen," he added.
"If we aren't yet in a recession, we soon will be," said Joshua Shapiro, chief US economist at Maria Fiorini Ramirez Inc. "An economy rapidly losing momentum combined with aggressive monetary tightening is not a recipe for a soft landing or any other type of happy ending."
The recent Fed interest rate hike has already led to a doubling of the 30-year fixed mortgage rate in the past year, averaging 5.5%. Consequently, home sales have tumbled.
"Housing data this week continued to show that activity is slowing," Goyette said. "Existing home sales fell in June as we expected, though the decline was modestly less than our Q2 expectation, which will likely lead to a small upward revision to our Q3 home sales forecast. However, we continue to expect sales to decline into 2023 as affordability remains stretched. Worsening affordability will also drag on single-family construction, as evidenced by the declines in housing starts in June.
Read next: US builders poised for recession success
"Additionally, many existing homeowners with current mortgages that have rates lower than today's market rate likely will be dissuaded from moving up to a new home. Homebuilder sentiment continues to fall as these dynamics begin weighing on the demand for new construction. While we expect multifamily construction to soften as the year progresses, we believe this segment of housing will remain comparatively resilient as demand remains strong because rents are attractive relative to principal and interest payments on a mortgage at current rates."