California has called for homes to include solar panels by 2020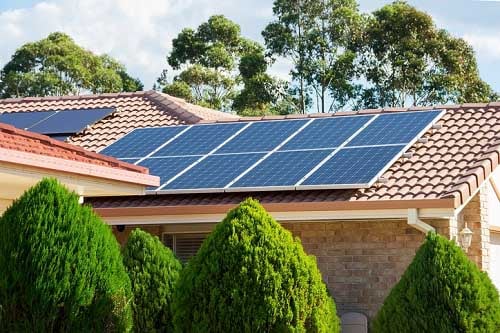 In the wake of unprecedented wildfires, California has called for homes and multi-family residential buildings to include solar panels starting in 2020. De Young Properties, an environmentally friendly homebuilding company, has continued to build zero-energy homes in accordance with California's renewable energy mandate in an effort to be more environmentally conscious.
The company has constructed more than 140 energy-efficient, single-family homes in three communities in the state. The cost of each home is reportedly between $350,000 and $450,000, with an additional $10,000 for the cost of De Young's comparable non-zero energy properties.
"Energy bills tend to be pretty high and onerous, and you usually have to sacrifice comfort for your energy bill or your energy bill for comfort, and we saw an opportunity to advance in this realm and become a leader," said Executive Vice President Brandon De Young in an interview with CNBC.
There are only 5,000 net-zero energy single-family homes and more than 7,000 net-zero multifamily homes in the US, according to the Net-Zero Energy Coalition. It has the potential, however, to expand to over 100,000 net-zero energy homes by 2020, based on the average annual home constructions in California.
"California by itself is one of the largest economies in the world," said Jacob Corvidae, a principal at the Rocky Mountain Institute. "What happens there has some impact, and it's going to be an impact that has an effect on the rest of the country because they're going to be figuring out ways to make solar cheaper, and that scale will help bring down the cost."
Net-zero energy and zero energy-ready homes are designed to be more energy efficient than standard homes. When optimized with extra insulation, high-quality windows, LED lighting, low-flow water fixtures, heat-reflecting roof tiles and energy-efficient appliances, the amount of energy the house consumes can be reduced significantly.
California commissioners expect the requirement will increase the average monthly mortgage payment by $40, but will shave off $80 monthly on heating, cooling and lighting over a 30-year term. The upfront coast to a single-family house will reportedly be around $9,500, with savings of $19,000 over 30 years.
"It's the same thing as asking for a roof rack on your car. You're going to pay extra. The efficiency side is pretty dialed in so that if someone felt like being zero-net energy by placing solar panels on their roof they probably would be pretty close to being zero-net energy," said Ann Edminster, a board member of the Net-Zero Energy Coalition and a green building consultant.
"What we really want is at the level of the social fabric to have our energy consumption to be met by renewable sources," she said. "That's the big goal."