Office buildings, as well as retail and hospitality, are poised to benefit from this technology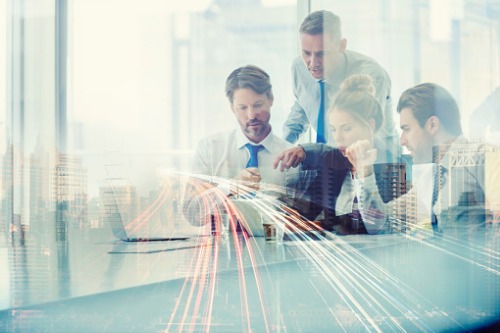 In the wake of the COVID-19 pandemic, a technology originally developed for the aerospace industry in the 1960s is on the rise. JLL, a commercial real estate firm, says the digital twin market is gaining traction fast. A digital twin is a virtual copy of an actual physical building, process, or ecosystem that combines with 3D modeling. It can be used to run simulations to reflect real world changes and as a result, organizations will be able to make more rapid and flexible decisions.
The real estate industry is one area where digital twin technology is becoming increasingly popular. A digital twin uses technology to allow building owners to plan and test strategies without having to employ expensive tactics on the actual real-world property. JLL points to Zeller Realty, which employed the technology to explore potential problems in a Chicago skyscraper's HVAC systems.
Research by analysts MarketsAndMarkets indicates that the digital twin market is expected to grow from $3.8 billion in 2019 to $35.8 billion by 2025, with improvements to Internet of Things (IoT) sensors, modeling and other technologies. Some of the largest adopters are expected to be in healthcare and defense, but a few sectors in commercial real estate are particularly well-positioned to benefit from the technology.
Even when it comes to organizations who are maintaining a work-from-home model, many organizations are using digital twins to help owners keep tabs on their vacant space using "IoT sensors, gateways and remote monitoring software applications to reduce the need for on-site staff or truck rolls at sites," according to Jim Whittaker, engineering services lead at JLL.
For the organizations planning their return to the office, digital twins can help with monitoring building occupancy, modifying space, furniture and workstations and ensuring employees maintain these regulations. According to Whittaker, one of the most pronounced impacts digital twins have had is in supporting social distancing software applications and analytics, through virtually analyzing employee and occupant traffic patterns and consequently adjusting workplace designs and protocols to better manage social distancing. In days of restricted travel, social distancing and remote work, digital twins can save time and resources in property management and operations.
"In the digital twin, every decision that was made during the design can be recorded," wrote Mitch Hughes, founder and CEO of ViZZ, in a contributed propmodo article. "The date of equipment installation, the provider, model number, installer, warranties, and service requirements are all stored inside the equipment itself. As history unfolds, maintenance is performed, copy toner runs low, spaces are remodeled, and all of this can be managed and recorded in the digital twin."
In a Forbes article, tech advisor Bernard Marr says digital twins will be especially beneficial in retail and hospitality environments going forward, particularly when it comes to modeling customer behavior in stores. In what is being called Retail 4.0, Marr points to analytics company Pygmalios that is highlighting digital twin technology in retail as an approach that "gathers granular, real-time data from physical retail environments and uses that data to improve awareness of customer activity and behavior."
Digital twin technology can also be used to simulate real-life events which can greatly benefit the hospitality sector as they look to redesign seating plans and kitchen configurations to help reduce traffic and improve the customer environment. While this technology isn't new, JLL says digital twins in the built environment is a fairly recent development, with the pandemic truly highlighting its importance.