Want to become a mortgage loan officer? Here is everything you need to know, as well as the perks and downsides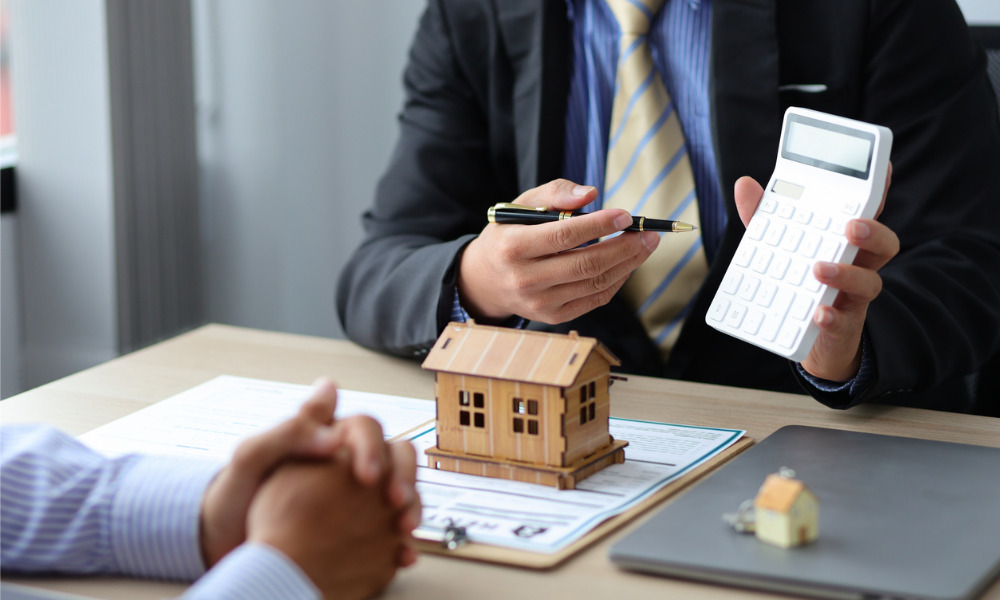 When you become a mortgage loan officer, you can help clients along their way to purchasing real estate, which has the potential to be life changing. It means families can buy homes or small business owners can make their dreams become a reality.
There are many people involved in the home loan process, but mortgage loan officers initiate fee-based mortgage loans that generate revenue for financial institutions and help potential borrowers get the funds they need.
There are also many benefits for the mortgage loan officers themselves, from a steady demand for their services to lucrative pay, especially if you make commission-based earnings and are good at your job. However, there are downsides. In this article, we will explore how to become a mortgage loan officer, plus the upsides and the downsides.
A mortgage loan officer is a financial professional who helps clients get loans to purchase real estate. One of the more significant roles a mortgage loan officer plays is to review the credit of their clients to determine how much money they may be eligible to borrow. For instance, many first-time homebuyers will consult a mortgage loan officer prior to submitting an offer on a property.
Mortgage loan officers also provide information on the different types of loans available, as well as interest rates. These financial professionals, who usually work for banks and mortgage companies, essentially provide guidance and advice on home loans.
What does a mortgage loan officer do?
Mortgage loan officers focus almost exclusively on real estate loans for people and businesses. Usually working for mortgage brokers, credit unions, commercial banks, or mortgage companies, mortgage loan officers typically work in an office and travel to meet clients.
The primary responsibilities of a mortgage loan officer include the following:
Nurture relationships with real estate companies
Assess the credit of potential borrowers
Review loan options with potential borrowers
Ensure that loan agreements meet state and federal regulations
Keep records of loan applications and mortgage deals
Work with underwriters to determine risks to potential borrowers
Coordinate with appraisers to get an accurate market value for a home
To become a mortgage loan officer, you will first need to be registered with the National Mortgage Licensing System and Registry, or NMLS, successfully complete 20 hours of pre-licensure education courses, and pass the NMLS mortgage license exam. Beyond these basic steps, you may have to complete other requirements, depending on which state you live in.
After fulfilling these requirements for licensure, you will often gain expertise while on the job. One way that most successful brokers find success is to join an independent mortgage broker shop. Another way is to find employment as a loan officer assistance (LOA) to learn origination processes and gain experience before finishing your license requirements.
Let's take a quick look at the basic steps you will need to take to become a mortgage loan officer:
Meet basic requirements
Finish pre-licensure courses
Research the licensure requirements in your state
Pass the SAFE test
Meet NMLS requirements
Maintain active licensure
Continue your education
Gain experience
Here is a closer look at each of the basic steps to becoming a mortgage loan officer:
1. Meet basic requirements
By basic requirements, we mean that you need to be at least 18 years of age and have either a high school diploma or a GED to become a mortgage loan officer. Taking math- and finance-based classes while in school is a great way to gain the basic knowledge and skills required to start becoming a mortgage loan officer.
2. Finish pre-licensure courses
To ensure that you understand what the career entails, the National Mortgage Licensing Service, or NMLS, will require that you take certain pre-licensure courses. The courses take 20 hours to finish and cover the following topics:
Federal regulations and law
Ethics, such as fraud, fair lending, and issues surrounding consumer protection
Lending standards in the non-traditional mortgage product market
Instruction on mortgage origination
This course component also includes learning about mortgage lending laws in your state and other topics specific to your state.
3. Research the licensure requirements in your state
After finishing the pre-licensure courses, you will have to get a valid mortgage origination license, which are issued by state agencies, with each state having its own guidelines. You will also have to pay fees to get a mortgage loan officer licensure, which is different in each state.
I passed the National test to become a Mortgage Loan Officer pic.twitter.com/hgpSFNkBmw

— John Miner Sr. (@bigjohnintampa) February 28, 2022
4. Pass the SAFE test
You will also have to pass the Secure and Fair Enforcement Act (SAFE) test with a 75% score on your way to becoming a mortgage loan officer. The SAFE test measures your knowledge of state and federal mortgage lending laws. While it is possible to retake the exam, you will also have to wait 30 days to do so. If you have to take the SAFE test three times, you will have to wait 180 days to retake it.
Here is a checklist of what the SAFE Act and the NMLS requires of mortgage loan officers:
Register with the NMLS
Give authorization for a credit report
Provide fingerprints for a background check
Verify the information provided
Disclose charges from financial regulatory agencies
Give 10 years of financial services employment history
Give numerous kinds of ID info
5. Meet NMLS requirements
It is important that you ensure your employer sponsors and supervises your mortgage loan officer duties. The regulatory body in your state also has to approve your sponsorships. You will also need to get a NMLS unique identifier, which is a permanent number that every officer, real estate company, and branch of an NMLS account has. This helps track licensees and companies and are also listed on all ads for mortgage origination services.
6. Maintain active licensure
After getting your license, you will have to remain active by meeting requirements such as keeping your information up to date. If you start work for a company, for instance, you have to notify the NMLS to update your unique identifier.
7. Continue your education
To be eligible for license renewal, you will have to finish eight hours of continuing course work each year that is approved by NMLS. The continued education includes:
Federal law and regulations
Ethics course work on consumer protection and fraud
Lending standards for non-traditional mortgage product market
Mortgage origination services
8. Gain experience
You will want to gain experience working as a mortgage loan officer after you have completed all of your education and licensure requirements. You can either work independently or with a bank or credit union. For your first job as a mortgage loan officer, however, you may want to gain employment at an established mortgage lending company.
Yes, being a mortgage loan officer can be hard. You will see deals fall through, which may leave you feeling with a sense of lost time, not to mention loans that slip through your fingers and brokers and real estate agents all feeling the strain on deadlines.
However, if you can handle the difficult aspects of the job, being a mortgage loan officer can be lucrative. It is also relatively easy to get yourself organized and educated on mortgages, as well as the many loan options available to homeowners.
Mortgage loan officer salaries
Many mortgage loan officers work exclusively on commission, while others earn flat salaries or earn a mix of a small commission and a salary. But don't worry; while there are risks associated with commission-based pay, many mortgage loan officers make a good living that way.
The median mortgage loan officer salary is just over $66,000 per year, according to data compiled from Monster.com. The lowest-earning mortgage loan officers, meanwhile, average roughly $42,500 per year and the highest-earning officers make upwards of $89,000 per year. Your salary will largely depend on the number of fee-based loans you are able to close. This will give you greater incentive to market yourself to potential clients.
Yes—being a mortgage loan officer can be stressful, mainly due to the variables that go into your decision making. Mortgage underwriters consider the different levels of risk involved in the borrower's credit profile, but a mortgage loan officer has to verify all the information and documentation that the borrower has submitted. Not only to mortgage loan officers ensure everything submitted is accurate, but they must ensure all necessary appraisals and inspections have been finished.
These various factors can combine to make the job of mortgage loan officer somewhat stressful. You are also required to be flexible, meaning you often have to rearrange your schedule to prioritize certain pieces of paperwork and deadlines.
Mortgage loan officers are essential to the mortgage industry, helping families and business owners along their way to purchasing the property that will make their dreams come true. Not to mention initiating fee-based mortgages that earn significant revenue for financial institutions. While there are stresses that come with the job, there are also many perks and benefits.
If you're truly interested in becoming a mortgage loan officer, take the time to look at the mortgage professionals we highlight in our Best of Mortgage section. Here you will find the top performing mortgage professionals, including mortgage loan officers, across USA.
Have experience becoming a mortgage loan officer? Let us know in the comment section below.