Jump to winners | Jump to methodology | View PDF
SETTING THE STANDARD
Throughout a barnstorming year for the Canadian mortgage industry – one in which the task of handling record mortgage volume has collided with the ongoing challenges of the pandemic – the performance of its top female members has been nothing short of extraordinary.

The new reality foisted upon mortgage professionals required them to adjust to digital interactions with clients and colleagues while also navigating an increasingly complex landscape of house price increases, tightening lending restrictions and higher qualifying rates.
Yet the 82 women who made this year's Women of Influence list rose to those challenges, continuing to set a strong example for their counterparts in the industry by excelling in such a frenzied market.
Not only that, but many of these women have distinguished themselves over the past year through superb management and stewardship of their companies in such a trying time, making sure that the well-being of employees and colleagues was top of mind during a gruelling pandemic.
The mortgage industry is strongest when it's diverse, inclusive and welcoming, and the achievements of the leading women in this space over the past year are clear proof of why it's so important to have as many influential female voices at the table as possible. By rising to the top and providing a shining example for colleagues and clients alike, this year's Women of Influence have demonstrated that the industry is home to plenty of strong, motivated and inspirational women – and that it's all the richer for it.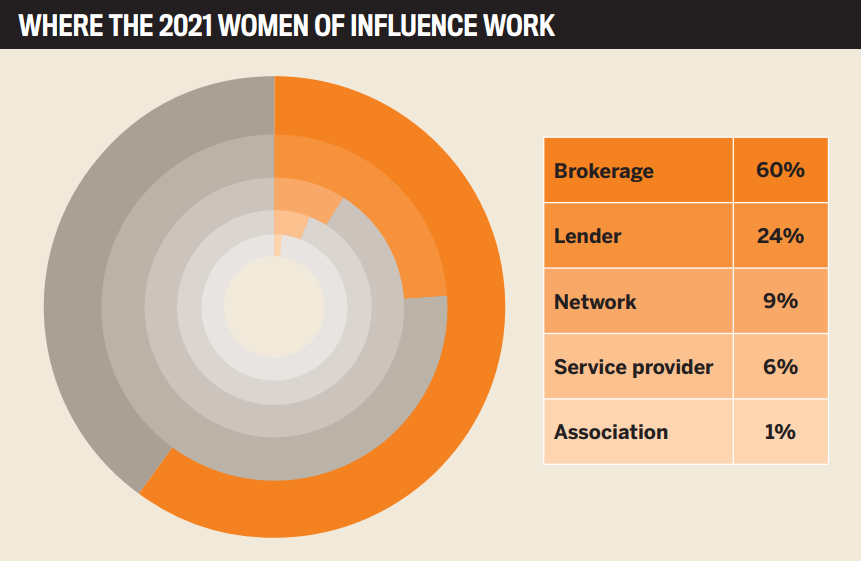 Leading by example
Across the 2021 Women of Influence, one of the most common qualities was strong leadership – particularly during a year that presented more than its fair share of challenges. That leadership often took the form of providing exceptional support, guidance and mentorship to colleagues and clients when it was needed most.
"I haven't been in this industry a full year, after switching [from] a 22-year-long career. Sometimes I feel, 'Can I really do this?' and then I talk to Carmell and I know I can," said a colleague who nominated TMG Saskatoon's Carmell Jorgensen. "With her positive attitude, friendly demeanour and helping hand, she's the go-to for everyone, as her door is always open."
Community Trust's Tanya Lucente was also praised for being a constant inspiration to colleagues. "[She's] a leader at her job, and all her peers look up to her for guidance and referral," her nominator said. "She takes initiative in completing all her tasks and takes the extra step in ensuring client needs are met and delivered."
Rakhee Dhingra, CEO and broker at Mortgage Savvy and a member of the judging panel for this year's Women of Influence list, says the strong guidance and mentorship displayed by the women on the list is an indication of their innate leadership qualities.
"Women are natural leaders due to their empathy and resilience and naturally have the ability to build meaningful connections," Dhingra says. "They're strong and can adapt quickly to any situation. It's so great to see so many powerful and influential female leaders in our industry who can continue to inspire future female leaders."
Michelle Campbell, principal broker and owner at Mortgage District, says support and guidance from fellow women is essential to inspire and encourage future generations of female leaders in the mortgage industry.
"There is benefit from collaboration," she says. "It's paramount for women to support one another as the next generation of female mortgage professionals have a point of reference. Being an established pillar within the industry allows for continued guidance and mentorship for all women."
Campbell recommends that women seek out other women in leadership and ask to be mentored to maximize their potential for career advancement in the industry. She also advises women to make the most of networking opportunities.
"Get involved in industry associations so that [your] voice can be heard – and continue to create platforms within the industry that support and provide advancement of women," she says.
Taking the plunge
Exceptional entrepreneurship was another common thread among this year's Women of Influence. Brite Mortgage's Leah Zlatkin was lauded for "building a brokerage from the ground up in less than 12 months" – no small feat during the COVID-19 pandemic. Multiple survey respondents highlighted the massive amount of work Zlatkin put into that achievement.
"When she told me she was creating a brokerage, I wasn't surprised," one of her nominators said. "She is motivated, organized and loves helping others reach their potential." Another described Zlatkin as an "amazing educator and coach" who provides mentorship and constant emotional support for her team.
For women in the mortgage industry, taking the plunge and establishing a thriving business can be a daunting task – but it can also be a hugely rewarding one.
"Take the risk," advises Carmen Costa, team lead and mortgage broker at Axiom Mortgage Solutions. "It's very important to never be intimidated and to just go for it. You set the example for others who are entering the industry. It's key to do that – for all of us to take the risks that we need to take."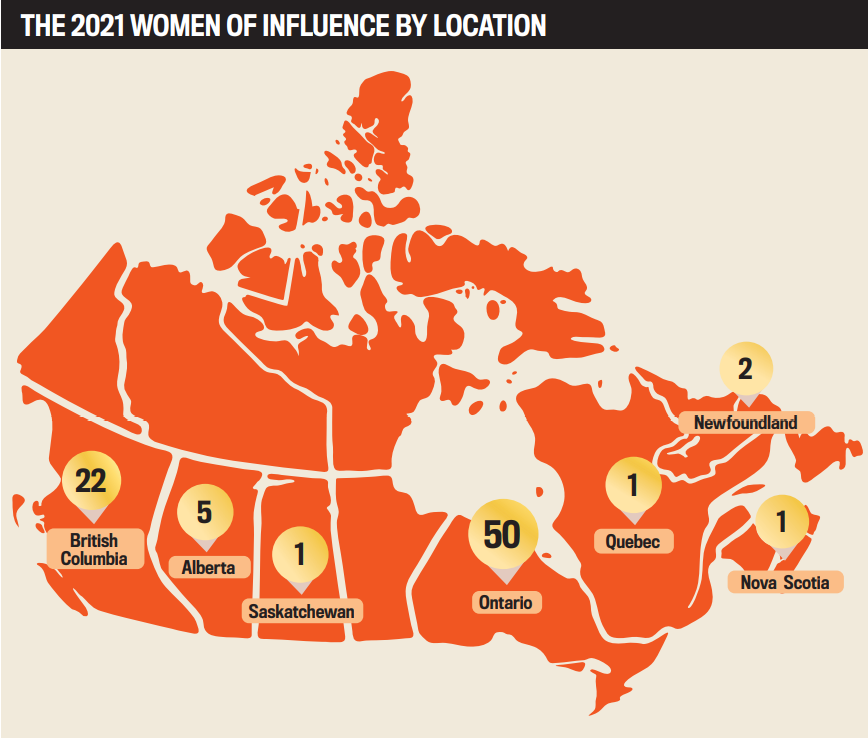 Agents of change
A commitment to diversity and inclusion is another hallmark of this year's Women of Influence. Many winners have been drivers of positive change in the mortgage industry, helping to deliver a more representative, equitable landscape for all.
"As a woman of colour, she has never been afraid to push boundaries," one respondent said of First National's Anne Regan. "Her own career is a testament to her ability to trailblaze and inspire other women to achieve their best. She's a firm believer in fairness and equity and has openly advocated for equity within hiring practices and maternity policies."
Costa believes the diversity of the winners, and the number of outstanding female executives and entrepreneurs in the industry, is a sign that the stereotype of the mortgage industry as a typically male-dominated arena is rapidly transforming.
"I think it's time to embrace change," she says. "There are going to be a lot of changes in the next couple of years – and whether you're male or female, you need to embrace it in a positive manner."
Amanda Magee


Director of Business Development, Western Canada, Stewart Title

Ana Inacio


Regional Sales Manager, Ontario & Atlantic Provinces, First National Financial

Angela Calla


Mortgage Professional, The Angela Calla Mortgage Team

Ann Marie Drohan


Mortgage Broker, East Coast Mortgage Brokers

Anna Gomes
Senior Director of Underwriting, MCAP
Anne Regan


Senior Manager, Excalibur, First National Financial

Barbara Cook
VP, Franchise Development, Mortgage Centre Canada
Bernadette Laxamana


President and CEO, Karista Mortgage

Cait Holmes
Mortgage Agent, Mortgage Architects
Carmell Jorgenson


Mortgage Broker, TMG Saskatoon

Carmen Costa


Mortgage Broker, Axiom Mortgage Solutions

Catherine Ellis


Mortgage Professional, VERICO Xeva Mortgage

Christelle Mwamba


Mortgage Agent, Mortgage Scout

Christianne Saab


Vice-President, Operations, MCommercial

Christine Xu


President and CEO, Moneybroker Canada – Mortgage Architects

Cindy Freiman


President and Word Wizard, Creative Soul Communications

Crystal Mamchur


Broker/Owner, Flare Mortgage Group

Danielle Hill
Mortgage Broker, Neighbourhood Dominion Lending Centres
Debbie Macedo
Director, Compliance, Invis Mortgage Intelligence
Debbie Thomas


Founder, TMG The Mortgage Group

Deenie Stuebing


Mortgage Broker, Mortgage Intelligence

Denise Carroll-McLean


Mortgage Broker, The Collective Mortgage Group

Diana Lee


Owner and Senior Mortgage Consultant, The Mortgage Minds

Eden Simari


Mortgage Broker, Salveo Mortgage & Financial Wellness – Quantus Mortgage Solutions

Elena Robinson


National Director, Sales, First National Financial

Gita Cartwright


Senior Manager, Broker Relations, RPS

Heather Cermak


Director of Training, Alberta, Manitoba and Saskatchewan, Dominion Lending Centres

Inna Bogdanov


Mortgage Agent, Co-Founder, IK Financial

Janna Dawdy


Mortgage Broker and Owner, JCMortgages.ca

Josie Milanetti


Director of Underwriting, Canadian Mortgages Inc.

Kari Gares


Broker/Co-Owner, VERICO Mortgage House Corp

Kate Brady


Vice-President, Marketing, Dominion Lending Centres

Katerina Markevich


Mortgage Agent, Co-Founder, IK Financial

Keena Brash


Senior Underwriter, Westboro Mortgage Investment Corporation

Kerri McAlister
Mortgage Agent, Team Farhan – DLC Affinity Mortgage Solutions
Kim Lambert


Mortgage Agent, Capital Home Lending

Kyra Wong


District Vice-President, National Mortgage Broker Sales, Manulife

Laura Morgan


Vice-President, Team Recruitment, Training and Retention, Rock Capital Investments

Lea Billard
Director, CMLS Financial
Leah Zlatkin


Principal Broker, Brite Mortgage

Leanne Conroy


Business Development Manager, XMC Mortgage Corp.

Lindsay Jurek


Vice-President, National Sales, Paradigm Quest

Lisa Amor


Creative Director, Dominion Lending Centres

Lisa Johnston


Mortgage Compliance Coordinator, Oppono Lending

Lysa Fitzgerald


Vice-President, Sales, Manulife Bank of Canada

Meaghan Hastings


Founder, CEO, Principal Broker, The Mortgage Coach

Michele Steko


Vice-President of Sales, Ontario, Mortgage Architects

Michelle Campbell


Principal Broker/Owner, Mortgage District

Michelle Drover


Vice-President, Atlantic Canada, Premiere Mortgage Centre

Michelle Farrugia


Mortgage Agent, Mortgage Outlet

Nicole Farrugia


Director of Operations, Mortgage Agent, Mortgage Savvy

Nikki Carew


Mortgage Broker, East Coast Mortgage Brokers

Pamela Verma


Vice-President, CFO and Mortgage Broker, Lend At Ease

Petra Keller


Executive Director, CMBA

Prera Bhatia


Human Resources and Payroll Manager, DLC Elite Lending Corp.

Rakhee Dhingra


CEO, Mortgage Broker, Mortgage Savvy

Rakhi Madan


Mortgage Broker, Key Mortgage Partners – Mortgage Intelligence

Rena Malkah


President, CFO, CEO and Broker of Record, CYR Funding

Rose Butera
Director, Sales, Home Trust Company
Sabeena Bubber


Mortgage Professional, VERICO Xeva Mortgage

Sarah Makhomet


Mortgage Broker, DLC Forest City Funding

Shannon Dolphin


CEO, Dolphin Enterprises

Sharon Vander Duim


Mortgage Agent, Neighbourhood Dominion Lending Centres

Sheri Creese


President, Mortgage Brokers Ottawa

Sherry Cooper


Chief Economist, Dominion Lending Centres

Stephanie Gagnon-Hume


Mortgage Broker and Team Leader, KeyRate Mortgage

Susan Thomas


Vice-President, Eastern Canada, Invis Mortgage Intelligence

Suzanne Fleur de Lys-Aujla


Vice-President, Growth, Strategy and Operations, Valko Financial

Tammy Poirier


Manager, Broker Relations, TMG The Mortgage Group

Tracy Valko


Broker, Owner and Chief Visionary Officer, Valko Financial

Ut Yue


Associate Vice-President, AVEO, CMLS Financial

Varsha Sharma


Senior Partner, Syndicate Lending Corporation

Vesna Vasic


Senior Director, Product and Channel Development, MCAP
The final Women of Influence list was selected by a judging panel made up of industry leaders and previous Women of Influence, including:
To avoid any potential conflicts of interest, self-voting and votes for a judge's own organization were voided by the CMP team.