Honorary and life memberships for strong supporters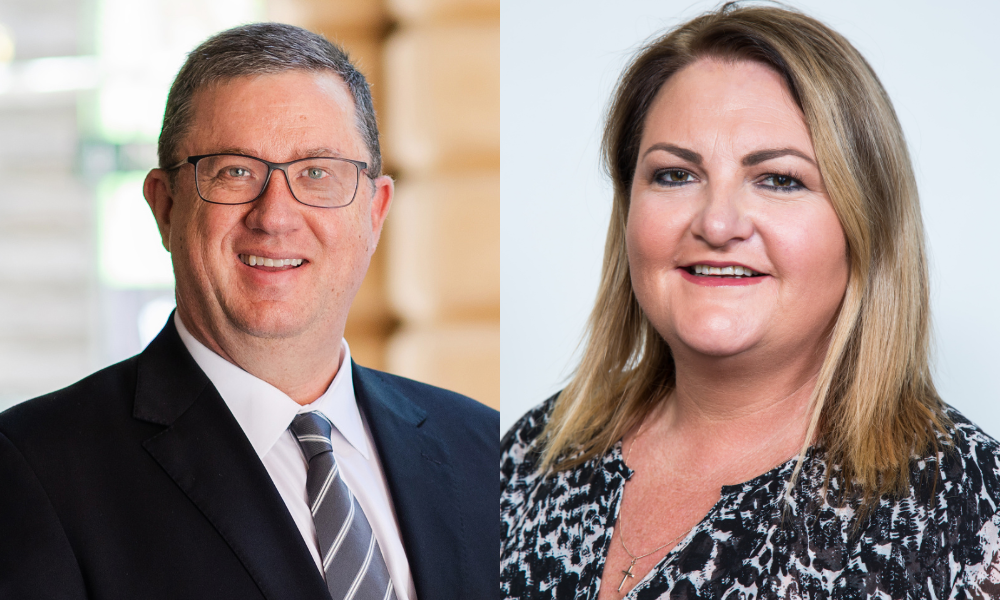 The MFAA has awarded memberships to outgoing CEO Mike Felton and retired board member Donna Beazley, in recognition of their service and impact on the mortgage finance industry.
Felton was given an honorary membership, while Donna Beazley was awarded life membership, at the MFAA National Excellence Awards held in Sydney on Wednesday.
MFAA board chair Rose De Rossi said both had given "outstanding service" to the MFAA and the wider industry, particularly through the scrutiny of various regulatory reviews.
Read more: Industry leaders applaud government move to halt commission review
Having joined the MFAA in late 2016, throughout his tenure Felton (pictured above left) focused heavily on leading industry advocacy. This started with the ASIC review of mortgage broker remuneration in 2016, culminating in advocacy surrounding the planned 2022 review, which ultimately proved successful.
His "steady hand and strong resolve" was one of the only constants during this period, De Rossi said. Felton had "consistently advocated" on behalf of the industry, "leaving no stone unturned in his defence of the MFAA's members".
"And what we are today is an industry that has put in the hard work, with Mike leading from the front. We are well and truly on our journey from an industry under pressure from all sides to a profession that has respect from government, regulators and stakeholders, and loyalty from our customers," De Rossi said.
Addressing the audience at the awards night, Felton thanked the MFAA board for their backing through "some of the difficult decisions that had to be made over the years, through some extremely challenging times for our industry".
"I am truly honoured to be recognised as an honorary member of this quality association that has led the way for our industry for more than 40 years with the highest professional standards and a number of incredible outcomes for our members and for the industry as a whole," Felton said.
"I also want to thank all our members for their continued trust and tremendous hard work in implementing changes that have strengthened and grown our industry whilst ensuring its sustainability and that the value of each of your businesses is protected."
Having announced his retirement at the 2022 National Conference in May, Felton will leave the MFAA in September.
Read more: Thousands tune in to MFAA 2022 conference for major announcement
After seven years of service, including four as chair, Beazley (pictured above right) retired from the MFAA board at the end of 2021. She was also a councillor of the NSW/ACT State Council for many years, serving two terms as vice president, MFAA said.
"Donna always had the interests of brokers at the core of everything she did as chair," De Rossi said.
"She was instrumental in guiding the association through a period of great uncertainty, disruption and scrutiny for the industry – this was a period where many tough decisions had to be made and Donna never avoided her responsibility as chair," De Rossi said.
"We are indebted to her for her incredible dedication and leadership as the MFAA has continued to strengthen and defend the industry."
Accepting her life membership, Beazley said she was filled with "immense pride".
"My time on the MFAA Board included many periods of great uncertainty and disruption, and I can safely say that I have felt great empathy with my fellow brokers during this time," Beazley said.
"But what I love about this industry is that we navigated these periods together, and none of what we have achieved could have occurred without the support and great work of our members."
The MFAA National Excellence Awards 2022, announced at The Star on Wednesday night, celebrate brokers, businesses and industry professionals who are the best of the best and have demonstrated exceptional customer service, professionalism, ethics, growth and innovation.
The winners were as follows:
Aggregator Award – AFG
Business Development Manager Award – Aggregator – Shelley Tetlaw, Loan Market
Business Development Manager Award – Lender/Support Service Provider – Chris Tilley, Nodifi
Commercial & Equipment Finance Broker Award – Ryan Baddock, RB Finance
Community Champion Award – Nani Johnston, Rise High Financial Solutions
Customer Service Award – Business – Cornerstone Home Loans
Customer Service Award – Individual – Alycia Inglis, Stoneturn
Major Lender Award – Macquarie Bank
Mortgage Manager Award – Rate Money
Mutual/Credit Union Lender Award – Heritage Bank
Newcomer Award – Logan Stanford, Stanford Financial
Non-Major Lender Award – Bankwest
Professional Development Award – Connective
Regional Finance Broker Award – Jason Cuerel, Mortgage Innovations
Residential Finance Broker Award – Helen Avis
Specialist Mortgage Specialty Lender Award – Pepper Money
Support Service Provider Award – Large Company – Allianz
Support Service Provider Award – Small Company – Nodifi
Young Professional Award – Melissa Wright, Zest Mortgage Solutions