Mike Felton retires, brokers share successes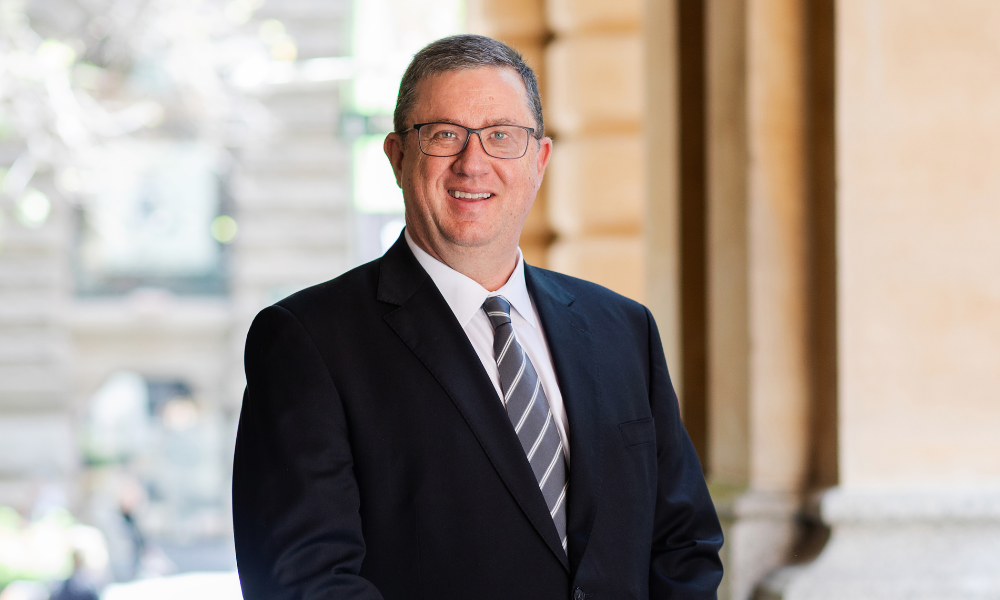 Brokers attending the 2022 MFAA conference celebrated the opportunity to move forward with confidence, following six years of scrutiny and reform.
Held in Melbourne on Tuesday, about 2,800 delegates took part in the event, which was live streamed. Almost 1,000 attended in-person.
Read more: What does the future hold for the broking industry?
In his opening address, MFAA CEO Mike Felton (pictured) said the industry was "well progressed" towards becoming a profession that had the respect of government, regulators and stakeholders, and the trust and loyalty of customers.
The conference theme, "Look up. Look ahead", was an opportunity for brokers to focus on new opportunities. It was a useful segway for Felton to make a personal announcement, in which he told delegates the time was right for him to "look up and look ahead" to his future horizon.
After five-and-a-half years in the role, Felton said he had informed the MFAA board of his decision to retire as CEO of MFAA.
"With the finalisation of an extremely successful regulatory reform agenda, the conclusion of a period of ongoing reviews and the resultant strength of the mortgage broking industry, I believe that now is the time for me to announce my retirement as CEO of the MFAA," Felton said.
Read more: Cancelled remuneration review a vote of confidence for Brokers, says MFAA
Reflecting on his time as CEO, Felton said he focused on doing "what's right" rather than what was "simply popular". Despite some trying circumstances, Felton described the last five-and-a-half years as the "pinnacle" and "highlight" of his working career.
"In representing you all, I can honestly say I have given 1000% to this role and treated it as my own business," Felton said.
"The industry is now in the strongest position it's ever been and, more importantly, it's in a sustainable position, which is a tremendous testament to everybody in this room today (and [zooming] in from your offices) and to the amazing work you do for the communities you serve," he said.
Felton said he planned to retire in spring. He will work with the board over the following months during the search for his replacement, to ensure a smooth transition.
What makes a great leader?
Event MC Holly Ransom (pictured) introduced the afternoon segment, "Stories from the frontline panel", focusing on leadership. The session was split into two sessions: leading self and leading others.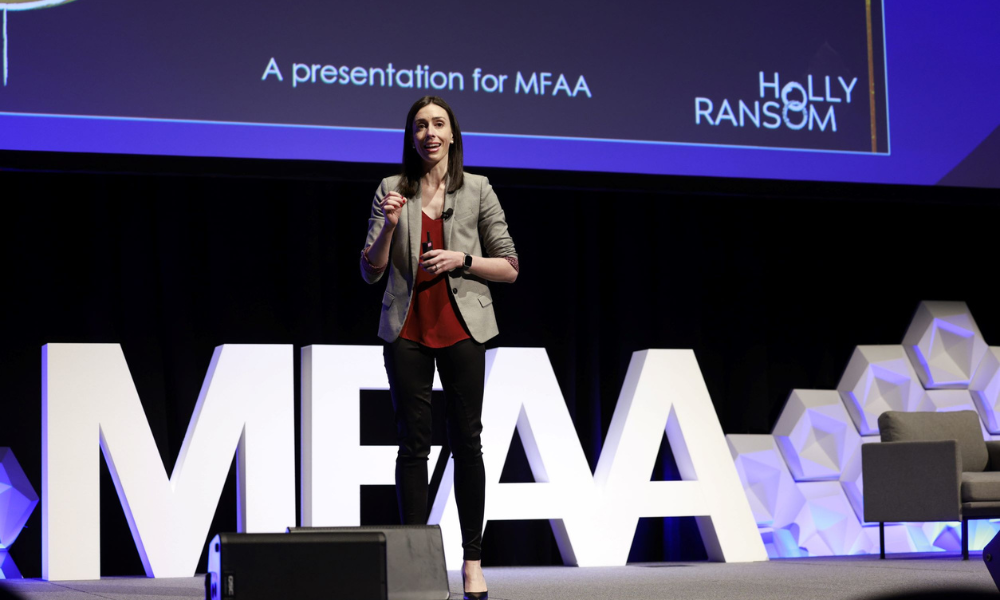 Breaking the first session down into mindset, method, and mastery, Ransom talked about the importance of vision – before a person could "be" something, they had to think it. She also spoke of the difference between a "fixed" and a "growth mindset" – increasingly important for innovation, and to adapt to change.
Within the broking industry, one of the areas a growth mindset could apply to was lifelong learning.
"[It's] this notion of 'what am I learning, what am I working on, there's always an opportunity to grow and be developed, who am I imparting my learning to, but also, who am I sitting at the feet of'," Ransom said.
An attitude of continuous improvement was a key factor to sustained success, Ransom said. Brokers were encouraged to look at areas outside of their "courage zone", to "get comfortable with being uncomfortable", and to start small and gradually increase.
"You've got to have a 'why' that's bigger than your 'why not': a reason to push and go beyond," Ransom said.
"Start at what is feeling comfortable and then gradually increase once you've done it enough times."
Ransom also spoke about the power of managing energy rather than time, encouraging brokers to look at their high-energy moments of the day and how they were used. She also suggested how "microbreaks" could be used to reset and accomplish additional tasks.
Brokers share thoughts on key questions
In the second half of the session, business owners and brokers from Penny Finance, Long Property and Premier Financial Advocates, responded to questions about opportunities, putting the customer at the centre of everything they do, recruitment and retention and work-life balance.
MPA shares a response from each of the three brokers on the panel.
Asked about new initiatives used to build a stronger business over the last few years and what they'd done to continue to challenge and push, the brokers said they used the pandemic to create communication opportunities, increase their staff base and build the customer experience online.
Founder at Premier Financial Advocates, Sadish Visvalingam said as his business focused on the medical sector, there was an opportunity to break into the market.
He identified three simple ways to grow his customer base. A thank you card was sent to all local doctors to thank them for their service, targeted marketing was conducted through LinkedIn and Facebook, and the business signed up to several live events.
"Because we were signing up to live events during the pandemic, I was able to get a really good gauge on these roadshows," Visvalingam said.
He said this taught him where the business needed to be, to better target doctors.
In response to how they were putting the customer at the centre of everything they do, the panel said they focused on sharing their knowledge through education, staying true to their word, and managing customer expectations.
Daniel Gold, principal and mortgage broker at Long Property, said from a cultural perspective, being customer-centric meant "staying true to our word".
"So many times, in our business we're making commitments to clients around getting back to them with a response," Gold said.
"Culturally, we've instilled within our staff never to let anyone down in those regards, whether it's staying back to apologise to say we don't have the answer yet [but we're still responding, and we'll get back to them the following day or week] and being informed enough and educated enough so we can confidently advise on the financial metrics that we're discussing in meetings."
Leading by example had flowed down the business, Gold said. If someone was unable to get back to a client in time, the team worked together to assist.
"It's like a conscious thing that we're never going to let anyone down."
Asked what they were doing amid industry changes to make sure they were ready for what's around the corner, the panel members said they were prepared to introduce other brokers and generate new lead sources through referral partners. They would also invest in mentoring and company data to identify sales opportunities and build the team capability to fill any gaps.
Founder and director at Penny Finance, Morgan Owen said there were certain things she loved doing but there were also areas in the business where there was a need to diversify.
"I'll bring the best and the brightest people so we can do that to the best of our ability … as the director or owner of the business, you can't do it all," Owen said.
"I'm passionate about being online because I can reach a really wide audience – in mortgage broking, we don't have to just work in [one state], we can write mortgages all over the country."
Asked about their top tips and learnings on how to attract and retain staff, the panel said it was important to show appreciation, to ensure people were a good cultural fit, and to consider transferable skills rather than just direct experience.
"The majority of my clients are young women, and we need a team of people who understand their problems and what it is they're trying to do," Owen said.
Having joined the mortgage broking industry from a fitness background, Owen said she's passionate about the fact that staff don't need to have finance experience.
"For me, it's all about transferable skills, hiring people that you like spending time with, but also who want to work really hard and be on the same journey with you," Owen said.
Asked how they manage the work/life juggle, brokers suggested adapting to changing priorities and to not try to do everything, to review the day with young family members and to consciously block out time on the calendar for fitness and other personal pursuits.