The group has two simple rules: No solicitations, no cursing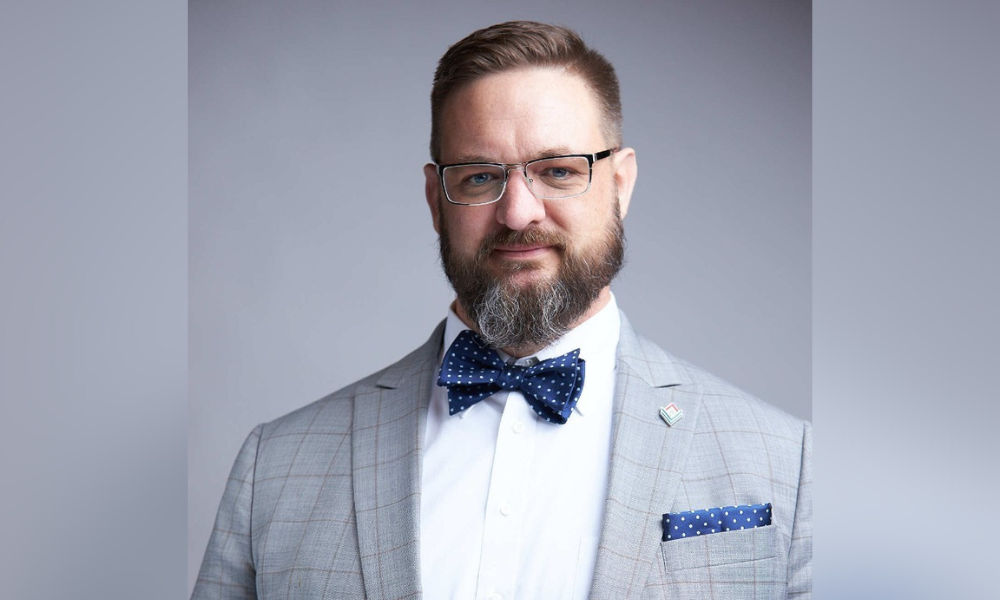 Nathan Knottingham (pictured), COO of Vetted VA, has two simple rules for members of his group: No solicitations and no cussing. Other than that, the association – which was sprung from a Facebook page three years ago – is designed to educate military personnel and their spouses on the mortgage industry so they're able to make the best choices.
"It started as a Facebook group with the whole idea that people could come in and be able to ask questions," Knottingham told Mortgage Professional America in a recent interview. "When I say people, I mean veterans, active service members, spouses – those who are VA home loan eligible – for them to have a safe space to go ask a question without getting a solicitation or being made to feel stupid for asking a question that professionals or others would say is a 'dumb question'."
Knottingham took time to chat with MPA during the annual Fuse conference staged by the Association of Independent Mortgage Experts (AIME) that took place this fall in Las Vegas. His presence as a panel moderator illustrated the growing ranks of veterans-focused brokerages at the gathering of some 3,500 registrants.
The growing ranks also illustrated the importance of having brokers with military backgrounds to serve a group that is particularly vulnerable to scams from unsavory providers. The Consumer Financial Protection Bureau recently reported that many service members, veterans and military spouses have been receiving fraudulent calls and mailers from companies claiming to be affiliated with the government, VA or their home loan servicer. "These calls or mailers often try to sway you to refinance your home, agree to a loan medication or pay your loan via purchased money orders," the bureau wrote in an advisory. "They may also try to convince you that your home if facing foreclosure."
Read more: Brokers on how to stand out from the crowd
Such exploitative practices partially inspired the formation of Vetted VA, Knottingham suggested. Despite his palpable affection and respect for those who have served their country, Knottingham insisted on the no cursing rule for Vetted VA members – many of whom are fluent in the salty language often endemic to their military culture.
"So, we had two rules – no solicitations and no cussing," he reiterated. "I don't know if you've had a chance to be in another veterans group, but they tend to use very colorful language. It's OK; it's part of the culture. But what is colorful language other than just usually an emotional trigger? They're trying to get someone to respond emotionally or broadcast their emotion."
In implementing the rule, he thought of his grandmother and that of Vetted VA colleague and CEO Christopher Griffith – himself a veteran of the US Marine Corp. "I brought my grandma in, Chris brought his grandma in," he said. "If our grandmas call and say 'I just saw something on Facebook…' You better believe I love my grandmother more than anyone else in this world besides my wife. So, I'm going to make sure the group stays open and careful for the community so it doesn't ostracize somebody because of language."
Read next: How a US Marine is thriving in the world of mortgage
Other than that proviso, all are welcome to join and learn: "Vetted VA is founded on the core of 'come in, ask a question, receive education, receive insights' and our goal is to empower every VA-eligible borrower with the information, the education, the support for them to be their own best advocate with whomever they choose to work with. That's the core of it."
VA News, the online 'zine of the US Department of Veterans Affairs, advises borrowers to be wary of any individual or lender making contacting and doing the following:
Asks the person contacted to pay fees upfront before receiving any services.
Tells the person contacted to cancel their mortgage payment and resend the funds elsewhere.
Asks to make a mortgage payment via money order or gift cards.
Tells the person to make mortgage payments to someone other than your current loan servicer.
Asks those contacted to stop making mortgage payments altogether.
Represents they are calling on behalf of VA or another agency of the US government.
Guarantees to secure a loan modification or stop the foreclosure process.
Asks those contacted to sign over the title to their properties.
Pressures for signatures on documents that have scarcely been read or that a veteran or military member doesn't fully understand.
Makes other unusual offers or requests.
"Never give out personal information to a lender or servicer who contacts you out of the blue," VA News urges borrowers. "Scammers can spoof phone numbers, so you can't rely on caller identification. If you're unsure, it's always safer to hang up and call your loan servicer directly at the number on your mortgage statement."
Those suspecting fraud are urged to first file a complaint with their state Attorney General's Office . Suspected scams should also be reported to the Federal Trade Commission at ftc.gov/complaint .