Record origination volume for indirect parent of United Wholesale Mortgage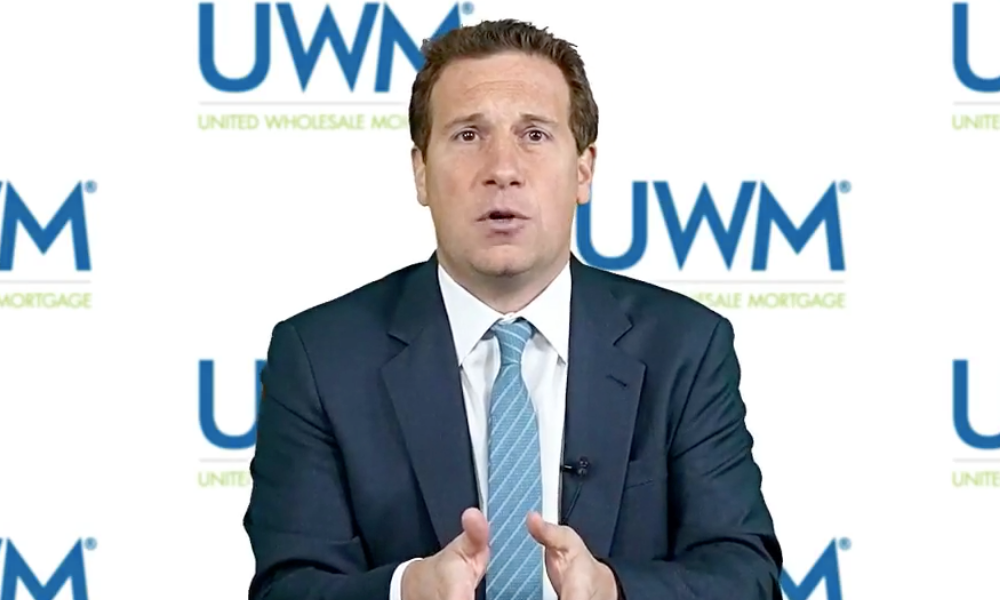 UWM Holdings Corp. (UWMC), the publicly traded indirect parent of wholesale lender UWM, has announced a record loan origination volume of $63 billion for the third quarter, $26.5 billion of which was purchase volume.
Figures released Tuesday show there was a 16% increase from $54.3 billion in last year's third quarter and a 6% increase from $59.2 billion in Q2 this year.
UWM also posted $329.9 million in net profit, a 137.8% increase compared to the $138.7 million of net income for 2Q21.
The $26.5 billion in purchase origination also represented a 119% increase compared to the same period last year, UWMC said, and a 10% increase from $24.1 billion in Q2.
The company said in a separate statement that UWM demonstrated "significant growth momentum in 2021, growing 28.3% in Q3 compared to Q1".
Read more: United Wholesale Mortgage announces Q2 financial results
Mat Ishbia (pictured), chairman and CEO of the Pontiac-based company, said: "UWM broke company records yet again in Q3 for overall originations and purchase originations, demonstrating continued momentum for both UWM and the broker channel."
He added that he was "proud of our newest technology launches, BOLT, The Source, and UWM Appraisal Direct".
"These enhancements are just another in a long line of technology initiatives that UWM has pioneered over the years for the benefit of independent mortgage brokers, and, by extension, consumers that are wise enough to use them rather than our retail competitors. Now more than ever, the broker channel is the fastest, easiest and cheapest way for a consumer to get a mortgage," he added.
As MPA went online with the story, the mortgage industry had yet to comment on the earnings results, but the positive figures come on the back of the company's September launch of its new platform 'Bolt', aimed at achieving 15-minute initial approval for qualified borrowers.
The product was also designed to unlock underwriter capacity and ostensibly drive down UWM's cost-per-loan.
At the same time, the lender announced two other innovations - 'Appraisal Direct', designed to streamline the appraisal process by delivering faster appraisals and 'The Source', a customizable search engine for brokers that learns from past searches.
Read more: United Wholesale Mortgage's Mat Ishbia to test water with cryptocurrency
Ishbia said: "As the mortgage market shifts from heavy refinance to more purchase, UWM and the wholesale channel are uniquely positioned to best serve the needs of the American consumer as a team.
"Brokers, by nature, are embedded in their local housing markets and UWM provides them elite technology, speed, and service, especially on purchase loans. Technologies like BOLT and UWM Appraisal Direct will continue to fuel broker channel growth for years to come."
The company added that it had maintained an average application to clear to close time of approximately 19 days in Q3, in contrast to UWM's own industry estimates of 43 days on average during the same period.
UWM also claimed that its delinquency and forbearance rates were "significantly better than the industry averages" of 3.91% and 2.62%, respectively, highlighting "our strong credit quality".
UWM said it anticipated fourth quarter production to be in the $52-$60 billion range, with expected gain margin of between 85 and 105 basis points.
In addition, the UWMC board of directors declared a cash dividend of $0.10 per share on the outstanding shares of Class A common stock.
The only fly in the ointment for the wholesale lender during the third quarter was the decision last month to ditch a pilot scheme to use Bitcoin and other cryptocurrencies as payment for a mortgage.
The company accepted six crypto mortgage payment transactions in total during this period – one in September and five in October - before deciding to scrap the scheme.
Although hailed as a first in the industry by UWM, the scheme failed to take off and was quietly dropped soon afterwards, with Ishbia citing "incremental costs and regulatory uncertainty" surrounding cryptocurrencies.
For UWM, the self-styled "number one wholesale mortgage lender in America", 2021 will also be remembered for a very public spat involving its biggest direct competitor Rocket Mortgage, after Ishbia issued an ultimatum back in March, saying the company would no longer work with brokers who did business with that company and Fairway Independent.