The brokerage is team-member-owned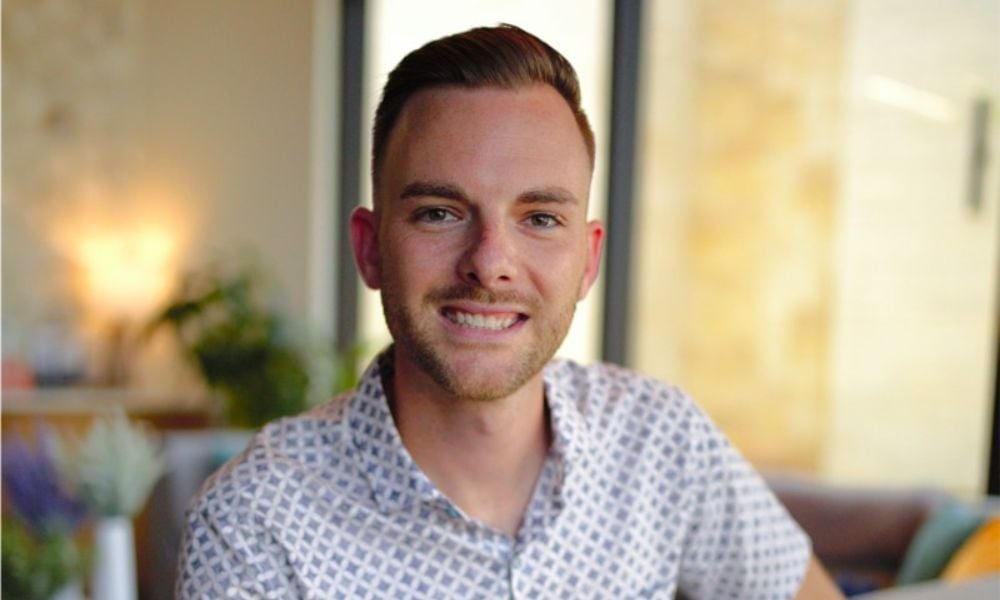 Texas-based NXT Mortgage likes to call itself "a different breed of mortgage company." It's part of its corporate identity, the slogan slashed across its corporate literature.
"We're team-member-owned," Tyler Hodgson (pictured), broker owner at NXT Mortgage, told Mortgage Professional America with palpable pride. "We have a company stock plan. One of my philosophies was I don't want the company to make the most money possible for Tyler to have a private jet. I want to be able to share that growth and ownership with the people who are contributing to it the most."
MPA ran into Hodgson at the fifth annual Fuse convention staged by the Association of Independent Mortgage Experts in Las Vegas last week. MPA asked how the company achieves such a high Google rating – a 4.9 score across 100 reviews. "We train a lot about client communication – overcommunicating," he said.
To ensure a steady community presence, the firm utilizes video to communicate with its clientele and would-be customers, he said. The company also stages community events as forms of client appreciation – including renting out a couple of theaters to stage a movie night just for NXT clients and their families.
Asked about the state of the industry, Hodgson expressed optimism: "We're definitely seeing broker share is increasing this year and is going to be higher at the end of the year than it was at the beginning of the year," he said. "So even though the overall pie market is shrinking, we're getting a larger portion of that."
Read more: "I can do it better"
Hodgson then provided an inside-the-ballpark view on his firm's roadmap for success: "A lot of NXT's growth this year, and being able to stabilize and not be down on production, is because we've been seen a lot of retail LOs coming over to the broker side. They're noticing our rates are lower, our margins are better. They can make more money. They still have all the high-level service technology – everything they get at their retail lender they can get on the broker side, and more, because they've got those options of flexibility, obviously an organization like AIME and more product options – some of those non-QM and CSCR and bank statement loans. So, they have more when it comes time to close a loan. We have focused really heavily the last few months on attracting and retaining retail LOs to come over to the broker side because we truly believe in the broker model."
He expounded on the model: "I think it's the best model for most people," he said. "I think every model has its place. Certain individuals might be better in one model or the other. But I think the broker model is a great place and seeing the growth of the broker community the last couple of years has been awesome. I think that's going to continue into the rest of this year, and into 2023 and so on."
He credited AIME for helping guide his career as well. Chiefly, his growing role as a speaker at such conventions – particularly given his past as a founding member of AIME – has given him greater confidence in heading his own firm, he said.
Read more: CEO of AIME on event's youthful vibe
"Personally and professionally, getting me connected with other brokers around the country – high level brokers and getting to know people on an individual level – has allowed me to have conversations with them. If I have a question or something I'm trying to learn, just being able to leverage those relationships that I've made at AIME events and in the AIME community has been very helpful and powerful. I think it's given me more confidence as an owner of my own company. Me being involved in AIME and the support that AIME has given me, has helped me be more confident in what I'm doing."
He offered an example: "I was on stage presenting yesterday and being involved in some of that stuff has helped me grow as an individual and as a leader," he said. "I think everything they do is great – full support of the broker community. They have a lot of moving pieces and a lot of different things they need to navigate. So being able to consistently provide value, and every year I feel that AIME is providing more and giving more, and finding ways to support the broker channel has been really great."