Labeling postcards is as important a job as running the office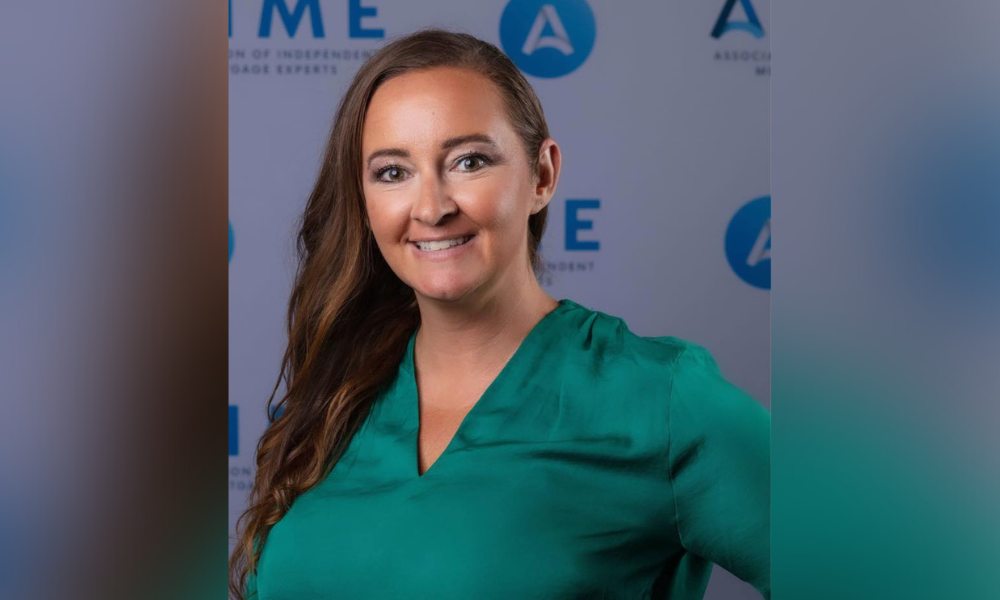 It seems nobody ever plans to enter the mortgage industry but rather they stumble into it before embarking on a rewarding career.
Elena Boland (pictured) is the embodiment of that ideal, coming up on 18 years at Nevada-based Wholesale Mortgage Services LLC. During a recent interview with Mortgage Professional America, she chuckled when told that – to a person – none of the profile subjects detailing their personal narratives entered the mortgage industry right off the bat.
Neither did she: "Nobody gets into this industry on purpose. It's always fate, or you know someone, and that was certainly the case for me. I had an accounting degree, and I was working in an office doing accounting and tax preparation," she said of her stint at Paragon Accounting Services.
A single mother finds a home
It was 2005 when the single mother of 25 contemplated the move, the prospect of which appealed to her for familial reasons – chiefly that she would be able to bring her baby to work. "I'd practically work for free to do that," she said. Sweetening the pot further was that relatives had already moved to Nevada when a family friend coaxed her to do the same.
She was sold, moving to Reno from Los Angeles to take the job at Wholesale Mortgage Services LLC. "I took the job and moved here to be able to bring my son with me to work, and started off as a receptionist. And that's how I ended up here."
She recalled the economic climate of 2005. "There was a big real estate and economic boom, which of course created a building boom," she said. "All the men in my family are all electricians, and were offered jobs in northern Nevada. So they came here first, and had just been asking around if anyone knew if anybody was hiring because they were trying to get me to move here as well."
Her first year at Wholesale Mortgage Services, she worked the phones as the office receptionist and labeled postcards the loan officers would send to prospective clients. The tasks may sound banal to some, but to Boland it was important work that made her feel like a key cog in the organization, she suggested.
"It was great because it felt good to me whenever someone would call and said 'I got your postcard and would like to talk to one of your loan officers.' I'd say: 'Hey, I got a loan for you because I labeled your postcard!' It was good to see the correlation between the small work you can do to help bring revenue into the mortgage company."
It was that attention to detail and work ethic that would fuel her rise. "Over time, I worked my way through every position in the brokerage," she said. "My broker actually ended up moving into politics and retired, so I took it over from him."
But she had to go through the ranks gradually: "After about three years of moving through smaller operations roles, I went ahead and got licensed. I loved originating, and then took over ownership about 10 years into my start there." She posted an impressive $85 million in volume last year.
It never gets old
She's a broker to be sure, but her heart is in originating: "My favorite part of it is I get to literally help my neighbors move into homeownership when most of us are never taught how to do that," she said. "The high schools don't provide people that education, neither do the colleges. So it feels good to help provide them with information to prepare themselves and eventually move into homeownership."
Now 42, Boland said she never tires of seeing families clutch the keys to their new homes she helped them achieve: "It feels good every time," she said. "Every new family that I see getting their keys – it's incredibly rewarding, and I get to see after some tenure here in the local market people's kids doing the same thing and their aunts and uncles."
Rewards both tangible and intangible
Such intangible rewards abound. But Boland has also received tangible awards along the way, most recently at the Hall of AIME gathering in Naples, Fla., that took place from Jan. 26-28. Staged by the Association of Independent Mortgage Experts, the event showcased the group's top producers. Boland received a so-called Impact award for her efforts in bringing more women into the mortgage industry fold.
And she practices what she preaches: She told MPA she encourages the women in her office – comprising 90% of the entire staff – to bring their children to work, just as she was allowed to when she first entered the industry. The office has 11 people on staff along with 15 loan officers, she noted.
Group AIMEs for the heart
As for AIME, she described what the group has meant for her: "Although I feel connected to my community, I never had anything in the way of backup," she began. "When you're a small business owner, sometimes you can feel very alone, very overwhelmed, as you learn the ropes of being a business owner. When AIME was created, I literally was brought to tears knowing there were so many other brokers out there just like me who felt alone and were able to connect together. And not just connect because we're similar, but connect in ways of helping each other out with things that we may have been lacking. Some of us were able to help each other with technology; some of us were able to help each other with recruiting; simple things like software; others with technology. It's been endless."
And it's not all business, but personal: "I have honestly created lifelong friendships with other brokers all across the country since AIME was started," Boland said.