Emphasis readjusted on overall housing industry beyond mortgages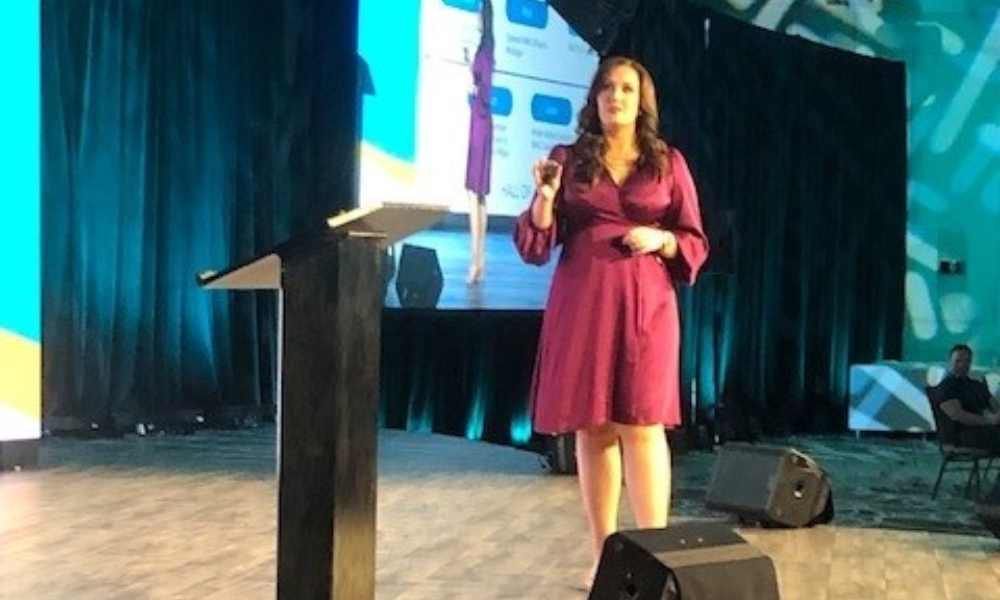 The focus this year for the Association of Independent Mortgage Experts is on storytelling, the group's top executive said at a recent gathering. She began by telling of the group's own origins, with an eye toward future growth.
Katie Sweeney, the CEO of AIME, spoke to members during the recent Hall of AIME event that took place in Naples, Fla., from Jan. 26-28. She compared the story of the group's beginnings to nothing short of the founding of the United States itself – with a screen backdrop of the famous painting by American artist John Turnbull depicting the presentation of the draft of the Declaration of Independence to Congress for added dramatic effect.
AIME's growth mirrors that of nation, CEO says
This year's focus on storytelling is to broadcast the impact independent brokers are having across the US, Sweeney noted. The event at which she spoke – the second of its kind since its launch last year – sought to showcase the group's top producers.
"At the beginning of the year, we had our first AIME Team town hall," Sweeney explained. "We try to pick a focus. For me, that's a singular word. We've had 'sustainability', 'stability', but this year focuses on 'storytelling'. We have so many people that are part of our community and channel that are doing so many interesting but more importantly impactful things across the country, and we want to make sure everyone knows about them."
She then compared the founding of AIME to the nation's: "Our story started not dissimilar to one I'm sure you're very familiar with – the United States. We've all taken government affairs classes and understand the history of where we came from, but the United States started as a group of people who needed representation and didn't understand how to get it, what to say, how to organize themselves. We're not different from that. We have a lot of people with a lot of things to say and some very loud voices, but not a lot of thoughts on how we needed to progress forward over time."
Titled "The Power of Us," Sweeney's talk offered something of a personal history lesson: "We started in Humble, New Jersey, very quickly moved to downtown Philadelphia, and today we have offices in Kansas City, metro Detroit and we have plans to open an office in [Washington] DC over the next 12 months. We're making an impact not in one region, but every region across the country, and it's because we've come together."
Seeking to be heard and seen
The first few years of the organization largely were occupied with the nascent formation of its own storytelling, Sweeney suggested: "We spent the first three years of our organization's history just trying to get people to listen, to pay attention to who we were, to take us seriously and to say that we're here, and we deserve to be heard," Sweeney said.
"The next three years were very different and that brings us to where we are today," she continued. "We fought and fought, we've grown every year – we've grown over 100% every year for the past two and a half years. We've won national recognition, we've opened offices across the country, we've launched educational initiatives that allowed everybody from every background to have access to resources they didn't have previously. We've launched a PAC [political action committee] that got picked up in national coverage and got picked up in local circles in DC because of how quickly we got people's attention – over $350,000 in one week," she said. "That's impressive," she said as the audience spontaneously applauded the milestone.
AIME is now covered by media outlets like never before, she noted, and other housing-related groups reach out for insight: "We sought for media attention and got it," she said. "We're now on the receiving end of questions about what's going on in the industry. We're getting phone calls from Fannie and Freddie. We're getting conversations in place with the MBA [Mortgage Bankers Association], with the National Association of Realtors, with the homebuilders, with the people who have influence and have had influence for decades. They now want to talk to us."
The upshot: "We've created real change for originators across the country, starting in Maryland, soon to be in Michigan, Utah, Colorado, Arizona, California, Virginia, Kentucky and most importantly, Florida, with our recent win with down payment assistance."
She took stock of the difference one year had made: "I stood on a stage similar to this not that long ago," she said. "My very first FUSE [another annual AIME event] on stage was 2021. And I said at the time it was time for us to be finished looking at ourselves as underdogs – we're not. We're powerhouses people need to be listening to.
"We're maturing and growing every single day, but most importantly we're now not just being heard but influencing decisions from people who have the ability to make a big difference. We're making our own history."
Vision, mission statements updated
The list of accomplishments belies the group's humble beginnings: "We started with a very humble vision statement not that long ago," she said, noting it's since been updated. "Our initial vision said we aim to contribute to the overall growth of broker market share to above 20% in 2022," she said before taking a dramatic pause. "We did it," she added to applause from those gathered to hear her speak. "But where are we going now? A vision can't expire after five years. A vision has to be something we keep trekking towards over the next two decades. Our new vision statement is to be the gold standard of trade organizations within the housing industry – not the mortgage industry but with the housing industry. We want to be the best of the best when it comes to representing the interests of both consumers and brokers from coast to coast."
The mission statement also started humbly, Sweeney added: "AIME is committed to fostering an inclusive environment to support and protect independent mortgage brokers across the country," Sweeney conveyed. "It's good," she added of the original mission statement. "It's not great. We can be great. We're now on a mission to protect and support and grow the community of independent mortgage experts through intentional and thoughtful outreach, advocacy, and education."
She made clear: "We're not an events company, we're not a marketing firm. We're a trade organization that represents independent mortgage experts across the United States. We're here to provide the best resources, the most thoughtful efforts and intentional outreach in DC to make sure we are never in a position to be left out of a meaningful conversation again."