Pets can be dirty and destructive, but four-legged, furry, or feathered friends may actually benefit landlords when it comes to attracting potential tenants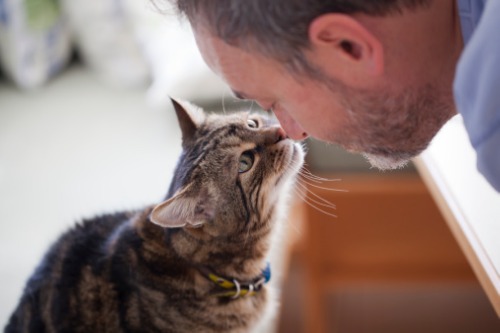 With the number of U.S. households that rent rather than own at a 50-year high, landlords of single-family rentals or multi-family units have the pick of tenants. But one question still comes up for most landlords: should you exclude people with pets or should you welcome animals into your property? Understanding the benefits of permitting pet owners in your rental could help attract valuable tenants.
"As the rental market continues to grow, you may be able to increase profits by permitting pet owners in your properties when appropriate," reads a blog post by 5arch Funding.
By simply allowing pets and pet owners, it provides the opportunity to raise rent without more work or capital improvement. Pet owners already pay a surcharge for apartments, and increasing the overall cost of a rental unit to accommodate pets is something that renting pet owners have come to expect. Tenants are happy when they have well-kept places to entertain pets, and this allows you to collect more rent without expensive upgrades to your building or property. Benefits increase as you consider pet owners while offering amenities within multi-unit properties or gated communities to attract pet owners. A fenced-in yard, easy-to-clean ceramic tile floors, or even a dog park in common areas increases the value of your property and allows pet owners the ease of taking care of their pets responsibly.
Many landlords shy away from pets or at least place severe restrictions on the kind of pets allowed in order to manage the risk of housing a potentially dirty, smelly, or even dangerous animal. The truth is, however, most pet owners tend to be more stable and responsible tenants. Multiple pets or large animals make it difficult to rent an apartment for many pet owners, so once pet owners find an apartment or single-family rental they like, they are not inclined to move on a whim, according to 5arch. People with higher maintenance animals tend to be more responsible as well since they are used to having to accommodate the needs of their pets. Even if the property shows a little more wear when the tenants and their pet(s) eventually vacate the property, the extra money that you will have received in rent may be worth the extra work necessary in order to prepare the apartment for the next tenant.
5arch also recommends that landlords "consider increasing the security deposit, in addition to charging more rent for pet owners, to cover any damage that may have to be repaired when they move out."
Apart from the extra income in your pocket, there are other benefits to renting to pet owners as well.
Having dogs on the property, for example, could be a valuable theft deterrent. The sound of a dog barking could be enough to keep thieves away in some cases. Former burglars consulted by Co-Op Insurance said that barking dogs are one of the top two deterrents to breaking into a home (the other being CCTV cameras). People with pets are also less inclined to leave their homes unattended for extended lengths of time. "If tenants leave their dog home alone while they go away, they will often have a friend or neighbor come by to feed and walk the dog, which means the house is not left vacant for days, decreasing the risk of theft," reads the post by 5arch.
This decision on whether or not to allow pets in a rental property ultimately depends on the circumstance of a renter and the constraints of the property itself. If you decide to allow pets in your rentals, be sure to check with an insurance broker for a list of animals that could cause insurance premiums to rise.
Pets don't have to be an automatic no-go for landlords. Learning how to attract responsible pet owners and make slight modifications to make a property pet-friendly can keep everyone happy, and result in bigger profits.