Formerly known as Newmark Realty, San Francisco based loan servicer Gantry is changing its identity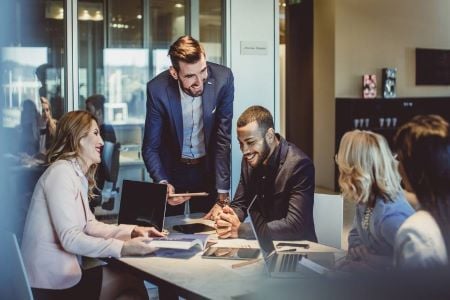 It's a 'new year, new me' moment for one of the country's largest private commercial mortgage and loan servicing firms.
Gantry, formerly known as Newmark Realty, recently announced a change in identity, which was largely motivated by steady growth over the years. Gantry is defined as the scaffolding that supports a rocket before take-off, which is in line with the company's mission to support the success of their borrowers, lenders and staff.
"We started back in 1991 with the organizers of the firm also being producers and doing loans. Fast forward to today and we have many owners now at the company, everyone is a stakeholder in the work we do, and I think both our borrowers and lenders have benefitted from that model," said Mitchell Zeemont, principal at Gantry. "This is an intentional restart and an opportunity to reconnect with everyone we work with."
The company boasts $2.5 billion in annual production last year across 270 transactions and a $13 billion servicing portfolio. It's the seventh year the firm has exceeded $2 billion in production. Gantry is also one of the few non-bank/insurance companies that are S&P rated. The success didn't come overnight and without effort, according to Zeemont.
"It's a result of a combination of good markets and deep relationships. We've had some really good years recently, but we couldn't have done it without really strong, long-term relationships with both our borrowers and lenders" he said.
Along with the new name, Gantry also launched a new website. Zeemont said a lot of work went into modernizing the company's online presence.
"It's intended the reflect the personal touch you get in working with us, but the vibrancy of the firm as well," he said. "I feel rejuvenated coming to work here, even as a veteran. We truly do have a team approach here and a camaraderie that's great, and we want to communicate that through our website."
Based in San Francisco, Gantry is home to a growing team of 75 mortgage professionals who are based in regional offices across the country. The company most recently opened a new office in Buffalo, NY. Zeemont said the company has attracted talented staff that has excelled through the years and developed a commercial mortgage practice that has stood the test of time and economic cycles. "We've always been committed to providing quality, due diligence and offering credible quotes and great financing, and we have made our mark by delivering on that," he said.
Zeemont added their expecting another robust year in 2020, similar to the past few years.
"We are continuously reinventing ourselves, so in 2020 it's to get even more dynamic in what we're doing and keep working with our borrowers to figure out the best solutions for what they need."