Despite slight pickup in consumer spending in August, investors are looking for versatility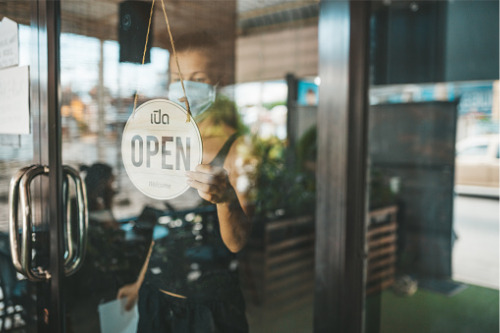 American consumer spending was up slightly in August, at $537.5 billion. This reflects a slight uptick of 0.6% over July, according to the U.S. Census Bureau, which announced their advanced estimates of retail and food services. Total sales for June through August this year was also up 2.4% compared to the same period in 2019.
Retail spending habits have managed to remain stable over the past few months, supported by online activity. The report says non-store retailers were up 22.4% compared to last year, while clothing stores saw a 20.4% decline.
"Some consumers likely reduced their spending with the end of the $600 supplemental unemployment benefits for those out of work, but a building-up of savings from that and other government cash helped support spending," stated Jack Kleinhenz, chief economist at the National Retail Federation, in a release. "At this juncture, it is difficult to sort out how much economic activity is due to government support and how much is evidence of hardcore demand due to recent job gains. August numbers might have been higher if not for small businesses struggling with reopening and the return to full operations."
From a commercial real estate perspective, confidence in the retail sector has been shaky, as e-commerce trends continue to accelerate and expand, and many brick-and-mortar retailers struggle to recover, despite the slow reopening of the economy.
"We are seeing a decline in valuations across retail properties," said Rich Kalvoda, executive vice president at Altus Group. "The declines aren't major, but rather a continuation of trends we've been seeing over the past two years; and while it's good to see the numbers increasing slightly, it's partly just due to pent up demand, low interest rates, and government stimulus."
Kalvoda adds it's likely we will see ups and downs in sectors like retail and office, until there is more certainty around the pandemic. To no one's surprise, e-commerce is expected to continue to thrive, as more consumers have gotten comfortable with an online experience. Kalvoda compares the accelerated transition in retail to webinars, virtual events, and online meetings.
"When you are forced to do something, there is more focus, more effort, and more investment, which results in a better experience. People get comfortable faster and adoption increases, and we've seen that with grocery e-commerce specifically," he said.
Online grocery sales are expected to grow more than 60% from pre-pandemic levels to an estimated $250 billion in 2025, accounting for 21.5% of the industry's total, according to a new study by Mercatus. Online grocery's growth has rapidly accelerated during the pandemic with 43% of surveyed shoppers ordering groceries online in the last six months compared to 24% just two years ago.
While Kalvoda doesn't expect brick and mortar retail to cease to exist, he says there will be a fine balance that retailers, investors, and landlords will have to find.
"There will also be a lot of repurposing and blending. It's not going to be all brick and mortar and it won't be all e-commerce. Those that can adapt to the change will come out on top," he said. "Even Amazon bought Whole Foods to start that integration and are opening convenience stores in high foot traffic areas."
Commercial real estate firm JLL says retail owners are increasingly looking at micro-fulfillment centers and logistics nodes that can sit right behind stores, putting the click and collect model, in-store shopping and the fulfillment of online purchases all in one convenient place. According to Naveen Jaggi, president, retail advisory services at JLL Americas, these micro-fulfillment centres help landlords fill empty retail space, while helping retailers meet customer expectations when it comes to online orders. With shopping centers already located where people live, with parking and other facilities, Jaggi said they can become an essential part of the supply chain.
Retail investors are still in a holding pattern right now, says Kalvoda, with a lot riding on when things go back to 'normal.'
"There aren't a lot of transactions going on, but just by virtue of retail values going down and industrial values increasing, we are seeing a reallocation of investor interest," he said. "We're also seeing diversification of investor interest in non-traditional sectors like self-storage and data centers, and away from traditional sectors like retail and office."