Fannie Mae, Freddie Mac won't do business with those on 'unavailable' list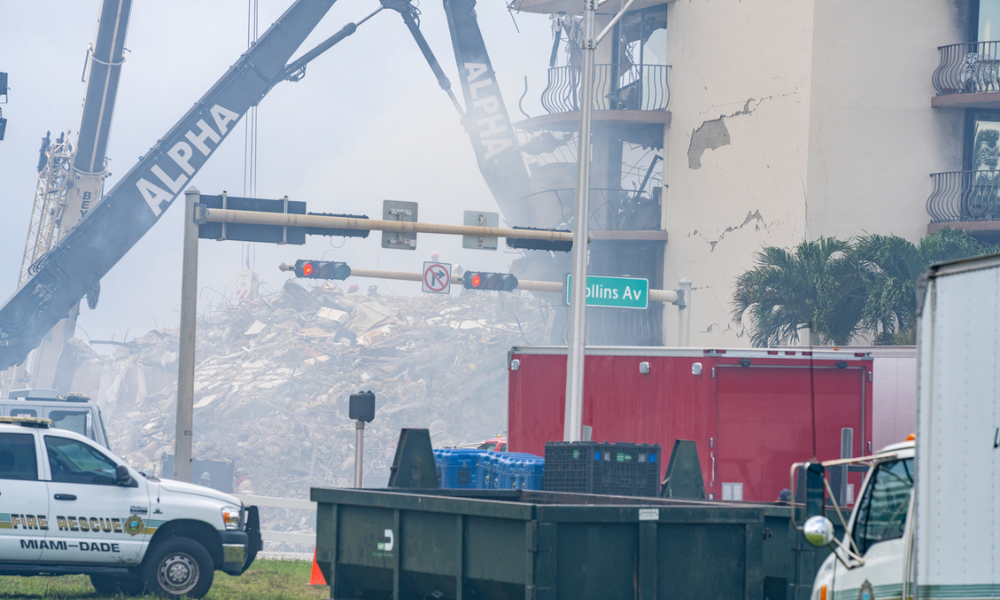 Following the deadly collapse of a condominium development last June, new lending requirements issued this week by the two federally backed home mortgage corporations will make acquisitions of such property exponentially more difficult or impossible for some, one pundit told Mortgage Professional America.
The new requirements from Freddie Mac and Fannie Mae come in the wake of the Champlain Towers condo collapse in Surfside, Fla., last June that left 98 people dead. The two federally chartered corporations have drafted the guidelines to ensure structures are safe for condo borrowers and lenders. While neither institution originates or services its own mortgages, each buys and guarantees mortgages issued through lenders in the secondary mortgage market.
As it relates to condos, it's a hard stance in tragedy's wake. The two now are requiring banks to evaluate the condition of buildings prior to approving loans. Moreover, neither corporation will continue to support mortgages for condos that are in need of major repair. Even buildings that have experienced intrusion of water to seep into them, or those in a state of advanced deterioration due to deferred maintenance, will no longer be considered.
Orest Tomaselli (pictured), president of Project Review at CondoTek, spoke to MPA about the massive impact the new regulations will have on mortgage lenders financing borrowers looking to buy condos and/or cooperatives. CondoTek is a technology and information firm providing lender-focused real estate-related products and services to the condominium space.
Read more: Condos on the up amid pandemic shift and cost of SFRs
Tomaselli noted the last time such impactful regulations were implemented for condos and cooperatives was in response to the mortgage meltdown crisis of 2009 that resulted in thousands of foreclosures in the industry. The new regulations centered on condo and cooperatives stemming from tragedy blamed on lack of focus on ensuring repairs are being made promptly with a regular schedule of maintenance along with proof of financial wherewithal to make needed repairs. But Tomaselli pointed to Fannie Mae's publishing of an "unavailable" list composed of properties with which it will not do business.
"What that means for the industry is, if you're a condo development on that list not only are you not compliant with Fannie Mae's guidelines and lenders can't sell loans to Fannie Mae, but every other underlying mortgage lender for cooperatives and every other lender in the industry – whether it's a non-warrantable, non-QM loan type of lender or investor – they're all looking at this list. And they're also aligning with that list and not lending in those sites," he explained.
It's that chilling effect that makes the set of regulations from '08 pale by comparison: "The point is it's bigger and it's going to happen quicker because those developments are going to be without a resource for mortgage financing," he said.
Non-compliance on any part of the new regulations will result in getting on that list, Tomaselli said. "If you're out of line with any one of those, Fannie Mae is going to put you on this 'unavailable' list that they created," he noted. "That's what's going to make greater changes in the industry, because nobody wants to be on that list."
The emergence of the list will also send shock waves to residents who may have been unaware their buildings were in disrepair, Tomaselli added.
Read next: Discounted condos present opportunities for first-time homebuyers
There is one saving grace to the situation that Tomaselli referenced, and it's the relatively small percentage of projects that fall in non-compliance with the new regulations. He explained that CondoTek assesses more than 2,000 buildings per month. Of the total number of such developments, he estimated some 80% to 90% fall into the "perfect" category with regular maintenance and plenty of capital to support repairs. Another 5% to 10% have some unique issue that may make them ineligible for mortgage financing, Tomaselli said, but can easily become compliant with simple repair work. But around 10% are "devastatingly behind the eight ball," Tomaselli acknowledged.
"Not enough capital, no money set aside," he said. Moreover, many of those buildings are aging – some at least 40 years old. "By the way, that's exactly what happened at Surfside," Tomaselli said, referencing the collapsed condo that claimed nearly 100 lives. "The board knew there were structural issues for close to 20 years. What the board didn't want to do was spend the money to complete those repairs that were necessary. If they did it 20 years ago, it might have been $2 million. Now, you have 90-something people that died as a result of them not setting aside that money. What's the price of a life? It just boggles the mind."