Report measures metro-level environmental risk in commercial real estate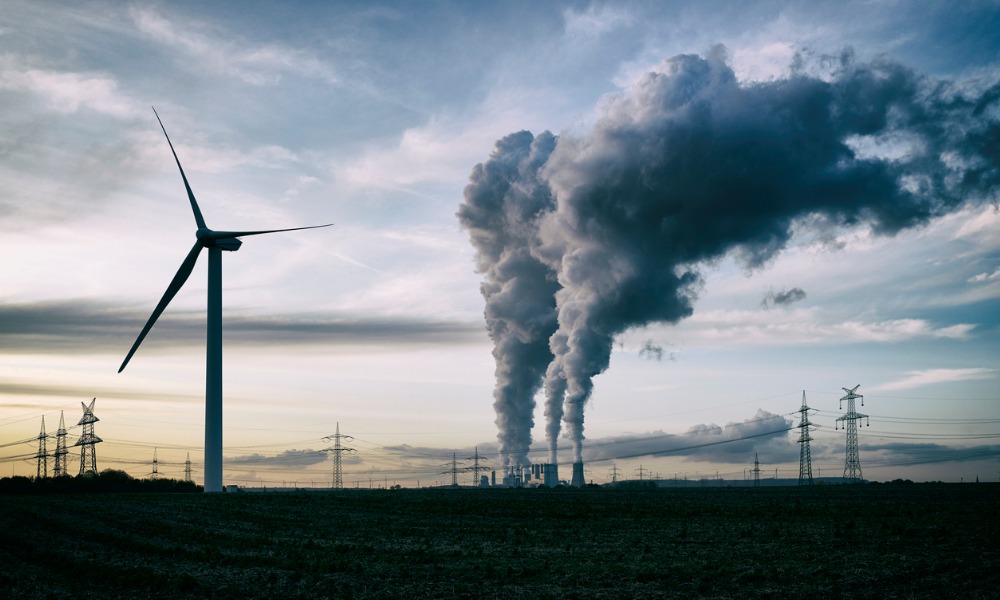 The growing number of weather-related disasters due to global warming have brought environmental, social, and governance (ESG) issues front of mind for investors and experts in commercial real estate, according to Yardi Matrix's new research.
From wildfires to rising sea levels, the study found that climate-related events have created an urgency for businesses to act on ESG criteria. More than 400 weather events caused widespread damage around the globe, totaling $268 billion in 2020 alone, according to insurance broker Aon. This figure included a record $63 billion caused by severe weather events. In 2017, Hurricane Harvey inflicted $125 billion of damage in Houston, while wildfires damage costs in the past three years were estimated at more than $10 billion, Aon said.
"Leading real estate investment managers and institutional investors are increasingly recognizing climate risk as a core real estate issue that is beginning to affect their decisions at the market level as well as at the asset level," the research stated, citing "Climate Risk and Real Estate: Emerging Practices for Market Assessment," a 2020 report by ULI and Heitman.
Read more: CRE Finance Council reveals optimistic outlook for the sector
In the report, Yardi ranked metros by environmental risk (including hurricanes, tropical storms, rising sea levels, and wildfires) to help CRE investors assess both the economic impact as well as the cost and ability of cities to mitigate the effects of climate change through their resilience strategies.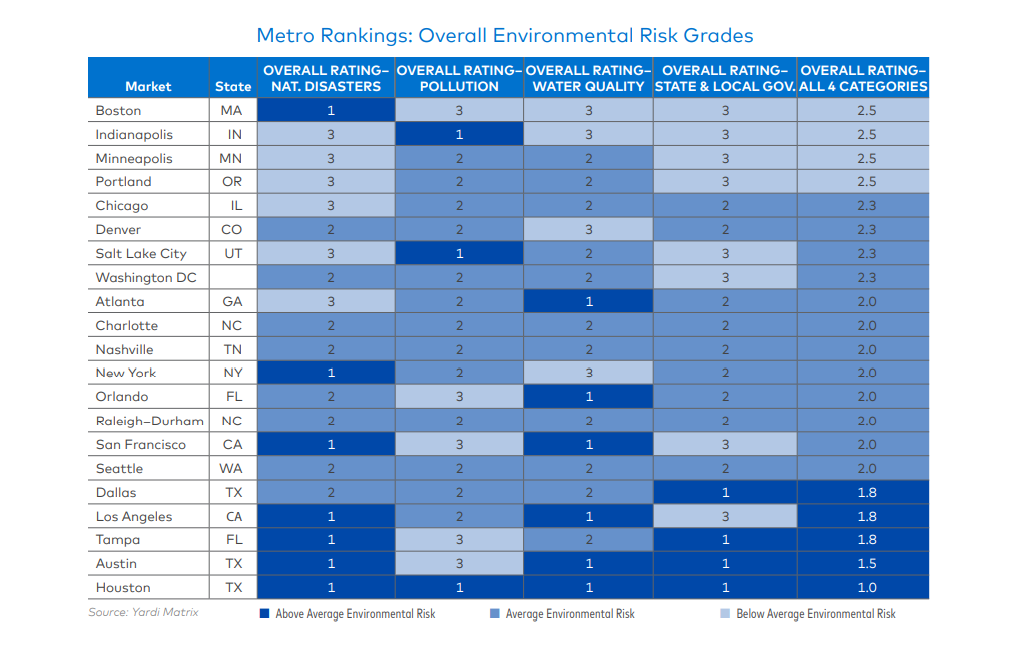 Four metros stood out as having the least environmental risk: Boston, Indianapolis, Minneapolis and Portland.
"The commonality for all was being in states that are taking environmental risk seriously," Yardi said in the report. "Boston and Indianapolis received the highest grades in three categories and the lowest grade in one, while Minneapolis and Portland received high marks for government action and propensity for natural disasters and middle grades for pollution and water quality."
Three Texas metros (Austin, Dallas, and Houston), along with Tampa and Los Angeles, were at the bottom of the list. The Texas metros' grades had low scores in the "natural disasters" and "government response" categories due to the severe winter storm last February that led to the deaths of more than 150 state residents. Around 4.5 million residents also lost power, while many suffered food and water shortages during the storm, and property damages exceeded $20 billion.
Read next: How one Texas broker managed client frustration in the middle of an ice storm
"The Texas storms are a demonstration of the stakes. Texas has reaped the benefits of deregulation and low taxes/utility costs, but utility providers' lack of investment to winterize the power grid left the state unprepared to handle extreme weather," the report said. "Without collective action to mitigate environmental risk, such disasters with high damages will recur."
According to a recent survey by investment manager BlackRock, 88% of 425 investors that control $25 trillion of assets believe that climate change is a risk and 75% plan to account for ESG risks in their portfolios. The respondents also plan to double their allocations to funds with ESG components by 2025.