Jaye Campbell and Jeannett C. Koonce take on new roles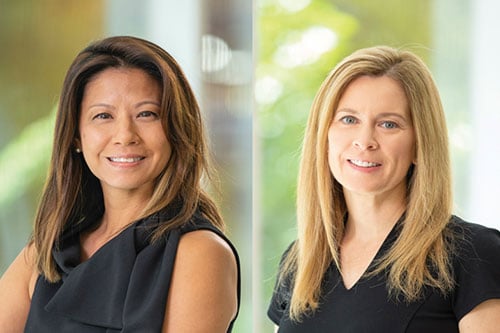 CoStar Group, Inc. (NASDAQ: CSGP) is the leading provider of commercial real estate information, analytics and online marketplaces, has announced the promotion of two executives: Jaye Campbell (pictured above left) has been named general counsel and secretary and Jeannette C. Koonce (pictured above right) was named chief compliance officer.
Campbell will be responsible for leading CoStar Group's legal team and overseeing legal affairs. She joined the Washington, D.C.-headquartered CoStar Group in 2013 and held several legal department positions, most recently as head of litigation.
In a press statement issued by the company, Campbell described her team as "talented, hard-working, and diverse," with a mix of in-house attorneys plus attorneys from law firms. "We're the legal team that helps CoStar Group get to 'yes' in business matters," she said. "We have a track record of identifying legal cases to bring forward to protect CoStar content for customers, shareholders, and our employees who have invested in that content."
Prior to joining CoStar Group, Campbell practiced at the law firm Drinker, Biddle & Reath, where she specialized in intellectual property and technology law. She received her law degree from George Washington University Law School and holds a bachelor's degree in foreign service from Georgetown University.
Koonce joined the CoStar Group team in 2006 as deputy general counsel. In her new role as chief compliance officer, she will be responsible risk management and corporate governance.
Prior to joining CoStar Group, Koonce was an associate at Venable LLP, where she practiced securities, mergers and acquisitions, and general corporate law. Ms. Koonce received her law degree from the College of William and Mary and holds a bachelor's degree in political science from Boston College. Koonce is a graduate of the KPMG Executive Leadership Institute for Women, a year-long program that provided her with a comprehensive understanding of the principles and practical skills necessary to be an excellent leader.
"I look forward to overseeing CoStar Group's international risk management and corporate governance in my new role," Koonce said, adding that she will also continue to be involved with the company's mergers and acquisitions growth strategy.
"Both Jaye and Jeannette possess remarkable expertise and leadership that is invaluable to the continued growth and success of our organization," said CoStar founder and CEO Andrew Florance. "We are incredibly proud of their accomplishments and appreciate the dedication and commitment they bring to their new roles. I know they will continue to play an integral role in the company's achievements."