One broker decided to take commercial lending out of the dark ages and bring it into the light with increased transparency and technology in Queens, New York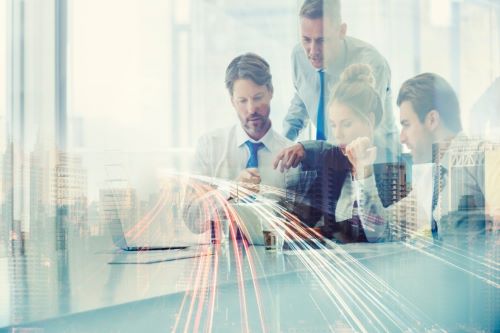 Commercial real estate broker Michael Wang kicked off 2020 by launching a technology-driven real estate brokerage that specializes in Queens, New York.
The brokerage, Project Queens, takes Wang's experience in commercial real estate and leverages it with advanced technology to deliver enhanced market exposure and provide comprehensive support for project developers and investors.
Wang decided to launch this brokerage to bridge the gap between the traditional ways of brokering with a more modern, technologically-based and service-oriented process. Unlike other commercial real estate companies in Queens, Project Queens is the only agency that specializes in commercial leasing based solely in Queens.
"What really sets us apart is our unique personal and professional ties to Queens," Wang says. "There are very few full-time brokers in Queens whose focus is in commercial real estate. Many of the brokers are hybrid, with their primary market in residential. And then to implement new technologies within the brokerage takes a coutique shop that runs lean and can make decisions quickly."
Project Queens utilizes various innovative technologies to market listings and advise clients on future developments. Examples include: using geofencing data of neighborhoods in Queens to better understand the demographics of potential renters/buyers (in conjunction with the Queens Chamber of Commerce) and advising clients on future development projects; using interactive immersive digital displays on properties to increase the engagement of potential buyers/renters; using highly customized lead generation funnels optimized for commercial real estate for marketing automation; planning to use VR and AR technology in listings for their international client base.
Project Queens offers transparency in all of their dealings and is capable of handling some of the biggest project developments in the city. The brokerage recently closed a $10 million industrial portfolio in Flushing. Some of their listings in Long Island City include a 40,000 sq. ft. retail space and a 75,000 sq. ft. mixed use retail and office building. They also added a 60,000 sq. ft. warehouse in College Point, Flushing. Project Queens' recently closed tenants include Chase Bank, Mango Mango, and Code Ninjas.
Wang is also the co-chair of the Real Estate Committee at the Queens Chamber of Commerce.
"As the President and CEO of the Queens Chamber of Commerce, it gives us all great pleasure in supporting one of our own," says Thomas J. Grech, executive director of the Queens Chamber of Commerce.
Project Queens is guided by Wang's expertise within the Queens Chamber of Commerce when it comes to combining his local expertise and strong client relationships. Wang says that understanding client needs is paramount Project Queens' success. Their goal is to bridge the gap between old, face-to-face real estate transactions with a more technology-driven approach to modern commercial real estate.