Presentation from NAHB points to key shifts in consumer preference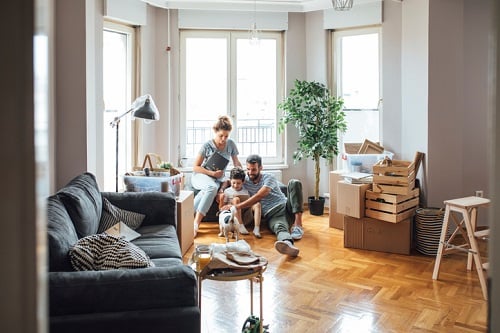 COVID-19 didn't just change where people want to live, it changed the sorts of homes they want to live in. According to survey data from homebuilders released at the National Association of Home Builders' (NAHB) International Builders' Show (IBSx), the 'downsizing' trend of new developments has reversed in the past year. After peaking at 37% in 2015, the number of new homes built with three+ and four+ bathrooms, declined through 2019, before rising again last year. Average house size declined over that same post-2015 peak but remained flat at just under 2,500 sq. ft. in 2020, meaning that buyers seem to want big spaces and spaces that work harder, packing in more amenities.
At the show, Rose Quint, AVP of survey research at the NAHB, and Don Ruthroff, architect and principal of DAHLIN's neighborhood residential sector, explained why buyers and builders are going bigger again. They noted some of the key design trends that buyers are flocking to and how builders are working to fill that particular demand.
"We do expect that [the average house size] is going to increase in 2021 for the very first time since 2016," Quint said. "Why, do we think it's going to increase? The primary reason is that COVID-19 has led a segment of homebuyers to want to desire larger homes and to move out to suburbs."
Read more: Why housing starts could exceed one million this year, despite headwinds
From an architect's perspective, Ruthroff laid out the key design trends underlining that demand. Citing the most recent American Home study of over 3,000 people, Ruthroff noted that over 30% of respondents are now looking for home office spaces, and possibly more than one home office. They're looking, too, for touchless entries into the home and more adaptable spaces within the home to be used for maybe a gym, office, or storage. Entryways have become key trends too, with more desire for vestibules at the guest entrance and a dedicated 'family entrance' either from the garage or via the backyard.
The biggest takeaway Ruthroff noted, however, is that buyers now want more bedrooms and more bathrooms in the same amount of space.
"The space has to work harder, rather than be larger," Ruthroff said.
That trend is being reflected in kitchens, designed for extremely efficient use of space, and bathrooms that combine small space and warm, luxury-style accents. Home offices, too, aren't being built as the old-oak paneled caverns of the past. They're now smaller "hard-functioning" spaces that offer plenty of storage space.
Builders reflecting demand
An NAHB survey of homebuilders showed that builders are reflecting these demand trends somewhat. An efficient open-planned kitchen-family room space, featuring an island, has become a very likely feature in homes. As have more specialty rooms, like the pantry.
Quint closed out the talk by sharing the NAHB's latest survey data on homebuyer preference. The study was a nationwide survey of recent and prospective homebuyers. It found that a quarter of respondents had their housing preference impacted by the pandemic, with that number going up in households with more teleworkers and virtual students. Twenty-one per cent (21%) said they wanted a larger home because of the pandemic, with only 12% saying they wanted to downsize. On average, buyers wanted about 8% more space than they had.
Read more: United Wholesale Mortgage CEO on company's recent stock dip
While preference for new homes over existing homes has been steadily declining since 2003, between 2018 and 2020 the NAHB found a 6% increase in buyer preference for new homes. It also found a 4% increase in demand for outlying suburbs since the pandemic began.
What features do homebuyers want?
The survey also covered the features homebuyers most and least desire in a home. In terms of specialty rooms, laundry rooms topped the desire list, followed by dining rooms, combined 'great' rooms, and home offices. As for the most unwanted features, elevators, glass walls and daycare centers were considered undesirable by at least half of all survey respondents.
While the story remains somewhat mixed around consumer preference, Quint and Ruthroff both agreed that COVID-19 has prompted the reversal of some trends in buyer demand and builder preference. It has shifted the real estate landscape towards a larger home that can do more with its space, reflecting the way so many of us have used our homes this past year.