Analysts believe starts will take a hiatus as homebuilders run up against their near-term production capacity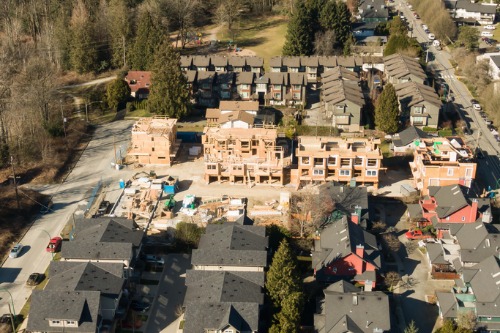 Builders' ongoing struggle meeting demand for single-family homes persisted in November.
Stats from the US Department of Housing and Urban Development and the US Census Bureau showed that overall housing starts were running at a seasonally adjusted annual rate of 1.55 million units, up 1.2% from a year ago.
"Today's new residential construction report from the Census Bureau showed the pace of housing starts continuing to move upward in November, but at a decelerating pace," said Fannie Mae Chief Economist Doug Duncan.
Within this overall figure, single-family starts inched up 0.4% to a seasonally adjusted annual rate of 1.19 million units – the fastest pace recorded since 2007 and represents the seventh consecutive monthly increase. The multifamily sector (includes apartment buildings and condos), which have been more sluggish and tend to be more volatile, according to Duncan, grew 4% to 361,000 units.
"The single-family construction sector appears to be leveling off at strong levels, with permits roughly at a flat level from September to October," said Robert Dietz, chief economist of the National Association of Home Builders (NAHB). "Nonetheless, the growth for single-family construction was a true bright spot amid economic challenges in 2020, with single-family starts up 10% year-to-date and posting the best year since the Great Recession. However, the backlog continues to grow, with the number of single-family homes permitted but not started construction up 16.3% from November 2019 to November 2020 as material delays and higher costs hold back building."
Overall permits were up by 6.2% to a 1.64 million-unit annualized rate in November. Single-family permits rose 1.3% to a 1.14 million-unit rate, while multifamily permits jumped 19.2% to a 496,000 pace.
Regionally, permits were up 5.7% in the Midwest, up 6.9percent higher in the South, up 0.7% in the West, and 4.4% lower in the Northeast.
The Northeast was the only region to experience a decline in housing starts in November. Combined single-family and multifamily starts were 3.3% lower in the Northeast, 14.4% higher in the Midwest, 7.6% higher in the South, and 5.4% higher in the West.
"Though single-family construction continued to be strong in November, builders are unable to keep up with demand due to rising regulatory and construction costs and shortages of lots and labor," said NAHB Chairman Chuck Fowke. "The incoming Biden administration needs to focus on policies to improve housing affordability and to increase supply to help housing continue to lead the economy forward."
Duncan shared Fowke's sentiments, explaining that the rapid rebound in housing construction has likely passed.
"November's single-family starts pace was a little stronger than we had expected, but the comparatively modest increase of only 0.4% over the month (compared to over 7% the prior two months) is consistent with our view that the starts pace will soon level off and even pull back somewhat. We believe the pace of starts has been bolstered in recent months due to fewer homes being in the later stages of construction, a result of the disruptions from the spring.
"Therefore, homebuilders have increased their starts pace to catch up to strong homebuyer demand, and more homebuilder resources have been focused on the early stages of construction. However, this process is likely near its end as it takes on average about seven months to construct a new home. As such, while we continue to forecast strong homebuyer demand next year, we believe the starts pace is likely to take a bit of a breather in the coming months as homebuilders run up against their near-term production capacity," he said.