The organization is spearheading an effort to keep construction industry running during the COVID-19 outbreak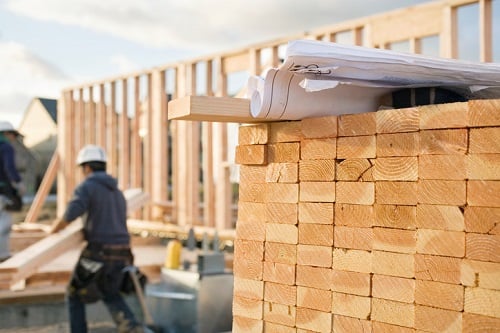 The National Association of Home Builders has petitioned to designate home construction as an "essential infrastructure business" during the coronavirus pandemic.
The NAHB and more than 90 companies called on the Department of Homeland Security (DHS) to exempt the housing construction business from "stay-at-home" orders and allow the construction of single-family and multifamily housing to continue operations during the outbreak.
The NAHB, along with the 99 organizations and suppliers, wrote a joint letter to Acting Secretary of Homeland Security Jack Wolf.
"As cities and states issue declarations and public health orders as a result of the crisis, it is essential that communities have access to our professionals to build and maintain essential services including building, plumbing, residential property management, rental housing operators, roofing, electrical, HVAC systems, waste/wastewater treatment plants and power generations," the letter stated. "Home construction, including those industries listed above, should be designated as 'essential' because it is necessary to maintain safety, sanitation, and economic security. Housing is currently 14.6% of Gross Domestic Product and a major engine of the economy. Keeping the men and women of the industry building must be a priority. If the construction industry and its supply chain is disrupted, it creates a domino effect leading to dire negative economic repercussions for an already-burdened economy."
The NAHB listed actions the DHS should take to keep the housing sector afloat during the economic downturn caused by COVID-19:
Permit government functions related to the building and development processes, such as inspections, permitting and plan review services, to be modified to protect the public health. This can be done in a way that allows these functions to continue and serve the construction of housing, such as allowing qualified private third-party inspections in case of a government shutdown.
Allow supply stores, distributors, and manufacturers of building products necessary to serve the construction, repair, and maintenance of housing to operate.
Let those working in building trades continue to maintain the essential operation of residences and other operating businesses.
A large majority, if not all land development and residential construction job tasks, fall within the Occupational Safety and Health Administration's (OSHA) Lower Exposure Risk jobs. Working on a new unfinished home site occurs primarily outdoors and does not involve going onto a location occupied by residents or a public location, and there is minimal (if any) physical or transactional contact with customers compared to other customer/client relationships.
"As housing goes, so goes the economy," said NAHB Chairman Dean Mon. "Construction of single-family and multifamily housing is essential to the economy and should be allowed to continue under a-remain-in-place order."