Economist explains how key construction input has hit all-time highs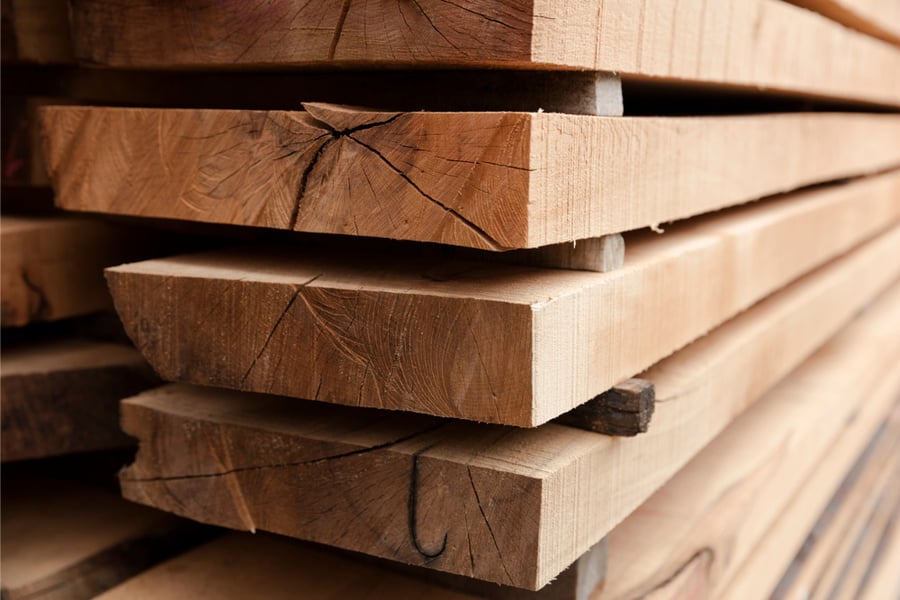 Just when the historic upswing in lumber prices seemed to be coming back down to earth in November of 2020, improving the outlook for homebuilders, prices have skyrocketed yet again. Historically, high lumber prices have underpinned the housing story since the pandemic began. While they haven't managed to prevent homebuilders from breaking records in the past year, one expert believes these high prices and volatile swings have slowed the pace of home construction and could pose a risk to the addition of much-needed new home supply.
"There are always risks when you're dealing with building materials that are commodities," said David Logan, senior economist at the National Association of Home Builders (NAHB), "As far as price fluctuations go, in inflation adjusted terms, fluctuations are the highest we have ever seen for lumber. We know from two months ago that [builders] stopped buying lumber because the projects weren't financially feasible. Well, if prices stay where they currently are, which is very, very close to that record, then yes, we will start to see builders pull back if their customers can't afford the home. And, most likely, simultaneously, we'll see new home prices rise a little bit to cover that possibility of higher input costs."
Logan attributes the ongoing volatility to the resurgence of COVID-19 across America, which has shut down lumber mills for varying stretches of time.
Nevertheless, a huge number of homes did get built, largely because of skyrocketing demand. In addition, Logan explained that many homebuilders obtained permits earlier in the year before shelving their projects due to lumber prices, and, in December, we saw some of those projects go forward, adding to the surprise home start total we saw last month.
Read more: How one mortgage pro is preparing his clients for the Biden administration
Logan, however, doesn't expect lumber prices to stabilize and come back down to reasonable levels for any extended period until COVID is "firmly in the rearview mirror" and the United States Trade Representative negotiates a new softwood lumber arrangement with Canada.
A trade agreement might not be so quick to come for the Biden administration as it was for past presidents. In one of his few departures from Obama-era policy, Biden has promised a relatively protectionist trade stance. He has also just invoked the ire of the Canadian government by cancelling the Keystone XL pipeline. Nevertheless, Logan believes that the special relationship between Canada and the US ought to bring a deal eventually.
While lumber price spikes might force more projects to be shelved in the coming months, Logan is confident that high demand and accommodative monetary policy ought to make sure that these homes are built eventually. They might just be selling at a higher price as homebuilders accept a reality of high, volatile lumber prices. To hear him say it, that might not be all bad news for mortgage pros.
"In 2020, no-one saw the rollercoaster ride of lumber prices coming ahead of time," Logan said. "In 2021, businesses within the construction industry can plan for that. One of the means by which they are likely to do that is by raising prices a little bit, which will push home price appreciation, which in turn will help real estate professionals' commissions."