$20 million loan earmarked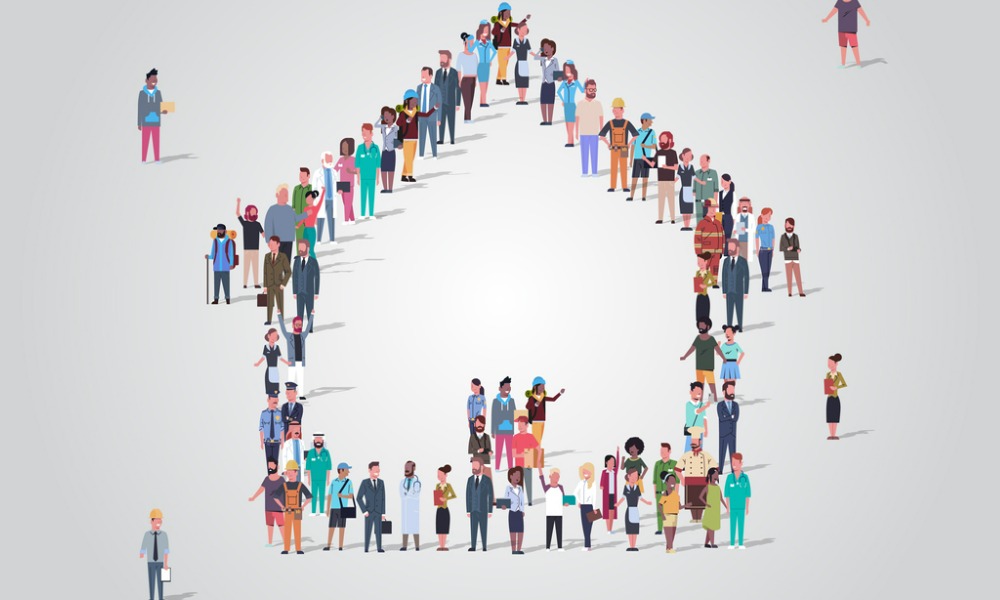 KeyBank Community Development Lending and Investments announced this week it provided a $20 million term loan to Enterprise Community Loan Fund Inc. to support Equitable Path Forward – a $3.5 billion nationwide initiative aimed at dismantling the legacy of racism in housing.
Anchoring the initiative is a $350 million Growth Fund composed of loans, equity, and grants, for Black, Indigenous and people of color (BIPOC) developers to support affordable and workforce housing projects across the US, officials said. The aim targets community development financial institutions (CDFIs) in enabling opportunities to directly invest in projects that support racial equity in underinvested communities of color, officials explained.
"This investment is an opportunity for KeyBank to advance efforts in minority communities through impactful investing and build on KeyBank's successful community benefit plan," Derek Reed, vice president, KeyBank CDLI, said.
KeyBank's community benefit plan focuses on investments in affordable housing, mortgage and small business lending, and renewable energy to improve access to education and workforce development, as well as safe and vital neighborhoods, according to officials.
Read more: Multiple efforts underway to week out appraisal bias
"KeyBank's support is instrumental as we advance racial equity in the housing industry," said Elise Balboni, president of Enterprise Community Loan Fund. "Partnerships like this directly support developers of color whose access to capital has historically been minimized. We appreciate KeyBank's commitment to furthering racial equity."
Derek Reed of KeyBank's CDLI team structured the financing.
The development comes amid heightened interest in leveling the playing field as it relates to serving historically underserved communities. To that end, several mortgage companies have sparked initiatives to weed out cultural bias in home appraisals through the use of artificial intelligence.
One such firm is San Francisco-based HouseCanary – a self-described technology and data-forward national real estate brokerage – which described its tools to Mortgage Professional America earlier this year. As traditional appraisals increasingly encounter backlash for undervaluing minority-owned homes relative to White-owned homes, HouseCanary conducted a statistical study using a Freddie Mac report showcasing bias as a barometer. The aim of the test was to outline the accuracy of the brokerage firm's in-house, automated valuation tools in appraising homes amid minority neighborhoods.
After the analysis, company officials detected no evidence of racial bias in appraisals as compared to traditional methods of assessing property values. "This stands in stark contrast to the results of Freddie Mac's examination of traditional appraisals, which found that 'Black and Latino applicants receive lower appraisal values than the contract price more often than White applicants'," analysts wrote in their subsequent study.
Also in California, Guild Mortgage recently hired its first vice president of marketplace diversity strategy, an appointment coming amid national reports of lending inequities between White borrowers and their minority counterparts. In the newly created role, Victoria Garcia DeLuca will lead the company's initiatives to address disparity issues by promoting diversity, equity and inclusion in lending. "I think there's so many different areas to the role and we're going to continue to build it out as we progress," she told Mortgage Professional America in a recent interview. "But first and foremost is to really start becoming a leader lender in a diverse market space where we want to be the lender to do loans for everyone."
Read next: Mortgage firm aims for diversity in ranks, lending
In April, the Mortgage Bankers Association – the national group representing the real estate finance industry – praised efforts by the federal government in rooting out racial and ethnic bias in home valuations. MBA president and CEO Bob Broeksmit, lauded the efforts of the Interagency Task Force on Property Appraisal and Valuation Equity (PAVE) Action Plan that started last June and that coincided with the Tulsa Race Massacre. The aim: To develop a transformative set of actions to root out racial and ethnic bias in home valuations, White House officials said. Federal officials described the plan as "…the most wide-ranging set of reforms ever put forward to advance equity in the home appraisal process."
In response, Broeksmit lauded the plan's ambition: "MBA welcomes the release of the report of the Interagency Task Force on Property Appraisal and Valuation Equity (PAVE), which provides a detailed and comprehensive action plan to combat appraisal bias," Broeksmit said. "While the role of mortgage lenders in the appraisal process is limited by design, MBA and its members are committed to working with policymakers and other stakeholders, including appraisers, to develop solutions that ensure borrowers receive a fair and accurate estimate of the value of their homes."
The KeyBank Community Development Lending and Investments initiative emerged the same week that Fannie Mae released its Equitable Housing Finance Plan detailing steps to remove barriers faced by underserved communities in achieving homeownership.
Prevailing statistics point to the need for reform. According to the National Association of Realtors, some 72% of White Americans were homeowners in 2020 – more than 30% more than their Black counterparts. To combat the discrepancy, the GSE's plan focuses on a multi-pronged effort to achieve equity ranging from preparing underserved demographics for housing to ensuring an abundant supply of low rental apartment units.
KeyBank Community Development Lending and Investment is in the business of financing projects that stabilize and revitalize communities across the US. As one of the top affordable housing capital providers in the country, its platform brings together construction, acquisition, bridge-to-re-syndication, and preservation loans, as well as lines of credit, Agency and HUD permanent mortgage executions, and equity investments for low-income housing projects, especially Low Income Housing Tax Credit (LIHTC) financing, according to its literature.
For its part, Equitable Path Forward is a five-year, $3.5 billion nationwide initiative to help dismantle the legacy of racism in housing. The effort includes identifying the types of homes to get built, the properties' location, the parties building them and the amount of wealth they would generate. "It's time to invest in housing providers who are deeply engaged in their own communities," Equitable Path Forward officials said in a prepared statement.
To that end, officials outlined measurable steps to be taken:
Filling the capital gap created by decades of systemic racism;
Strengthening providers through advisory services and other non-financial support;
and creating new career pathways to diversify leadership in real estate
The aim of the Enterprise Community Loan Fund – a national non-profit that exists to make a good home possible for the millions of families without one – is to support community development organizations on the ground, aggregate and invest capital for impact, advance housing policy at every level of government, and build and manage communities. Since 1982, the Fund has invested $54 billion and created 873,000 homes across all 50 states, the District of Columbia and Puerto Rico – "…all to make home and community places of pride, power and belonging," officials wrote.