Some 10,000 NAHB members had previously sent Biden a letter calling for cuts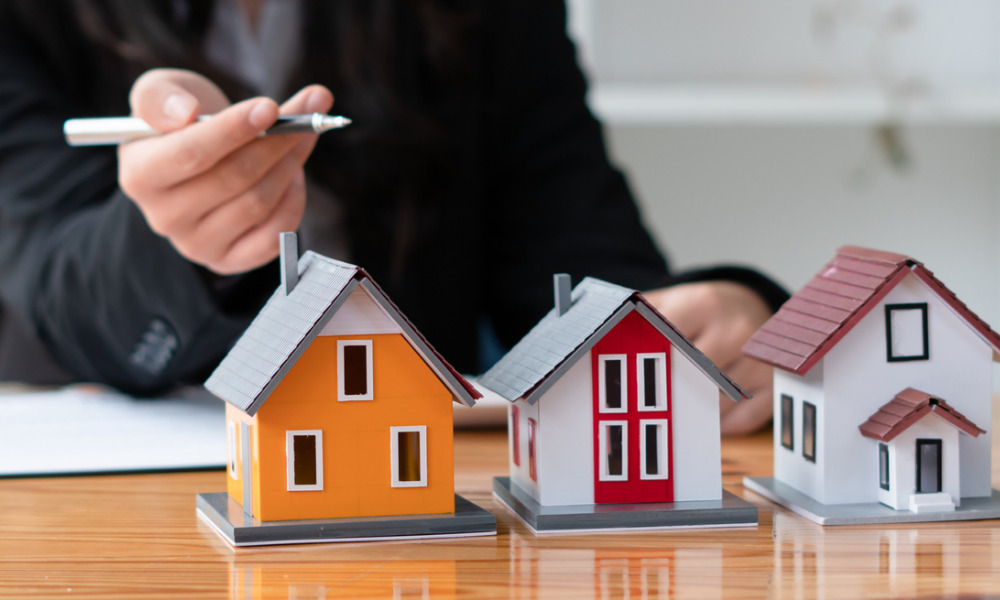 The National Association of Home Builders has formally voiced its displeasure after the Biden administration revealed it would not cut tariffs on Canadian lumber to fight inflation.
"NAHB is extremely disappointed that the Biden administration is turning a blind eye to America's housing affordability crisis by refusing to eliminate tariffs on Canadian lumber at the same time it is considering rescinding tariffs on a wide range of Chinese goods to curb inflation," Jerry Konter, NAHB chairman and a developer from Savannah, Ga., said in response. "Tariffs act as a tax on American consumers and the lumber tariff is particularly onerous, given that it has contributed to unprecedented lumber price volatility that has sharply raised the cost of housing at a time when housing affordability is already at a more than 10-year low."
The reaction comes after reports that Treasury Secretary Janet Yellen said the Biden administration announced no tariffs cuts would be implemented. "To the best of my knowledge, they're not under consideration, at least as part of the things that the president is currently looking at," Yellen said of the anti-subsidy duties of 11.64% on most Canadian lumber imports, as reported by multiple media outlets. She made the remarks to reporters during a recent visit to the Rosebud Sioux Tribe reservation in South Dakota.
Homebuilders have called on an end or reduction in tariffs in order to fight inflation and lower the cost of needed materials.
"Lumber tariffs affect millions of American home buyers and homeowners," Konter continued. "If the administration is truly interested in providing US citizens relief from high inflation by removing costly tariffs, it should ensure that Canadian lumber is among the tariffs it targets for elimination."
Read more: Lumber industry reps plead for tariffs relief – reaction
Canadian Finance Minister Chrystia Freeland recently urged Yellen at a public forum that cutting the tariffs would be one way to ease inflation and end a long-running trade dispute between the North American trading partners, Reuters and other outlets reported. Lumber and building material prices have risen exponentially over the past year amid a pent-up construction demand.
More than 10,000 NAHB members in April sent a letter to President Biden warning of the growing housing affordability crisis they say threatens the economy. Those signing the letter called on the White House to take immediate action as the growing housing affordability crisis is pushing the housing market to an inflection point that threatens to derail the current housing and economic expansion, according to the correspondence.
"Our members in every state across the land are clearly concerned that growing supply chain disruptions and worsening affordability conditions that are harming demand are weakening the housing market," Konter said at the time. "The industry believes these challenges will grow worse if meaningful steps are not taken to allow builders to increase the supply of affordable single-family and multifamily for-sale and for-rent housing. If the housing sector falters, the economy will surely follow."
Further exacerbating affordability woes is the unprecedented price volatility in lumber prices that has raised the cost of a typical single-family home by more than $18,600 and added approximately $10,000 to the cost of a typical apartment since last August, according to the NAHB. Tariffs on Canadian lumber shipments into the US are further fueling price volatility, "acting as a tax on American home buyers at a time when housing affordability is already at a more than 10-year low," officials wrote, citing the latest data from the NAHB/Wells Fargo Housing Opportunity Index.
Read next: Lumber prices 2022 – soaring and adding to housing market woes
Ernie Hofmann, president of New Jersey-based Hofmann Design Build Inc., is among those calling for an end to Canadian tariffs. In a previous interview with Mortgage Professional America, he questioned the need for tariffs on Canadian lumber at all.
"What makes absolutely no sense at all is that the Department of Commerce doubled the tariff on soft lumber imports from Canada, which is framing lumber," Hofmann said. "Framing lumber a year ago in May was five times what it was the year before – the highest in history. In July, it went down to pre-COVID prices for July-August, and then it started to creep up in September. And in November – for God only knows what reason – the Commerce Department doubled the tariff on soft lumber imports. Why would they do that?"