Supply chain issues, logging practices and a beetle among the culprits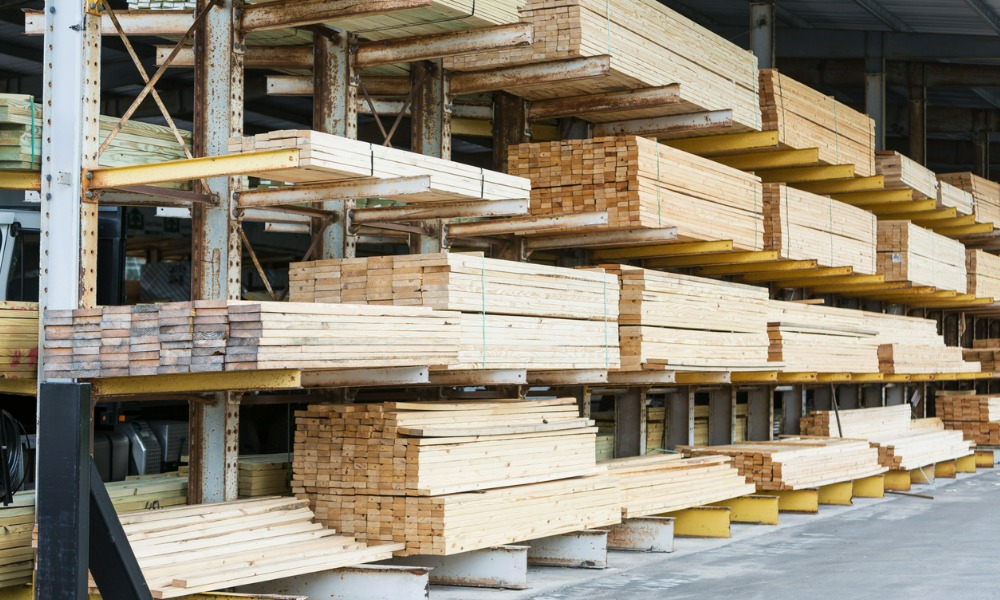 Escalating lumber prices showing volatility not seen since the end of the Second World War have joined a confluence of forces making home ownership, for some, unattainable – and, in some cases, halting home construction altogether.
Brian Leonard, a lumber analyst with RCM Alternative in Chicago, noted the volatility over the past year. "We had an incredibly volatile year," Leonard said during a telephone interview with MPA. "We went up to $1,700, down to $400. In historic levels, $650 was the contract high before. There was a substantial gain."
The price of lumber is calculated based on a board foot as the measurement of volume. The single piece of lumber is the equivalent of one square foot (12" by 12"), and one inch thick. Typically, Leonard noted, a rail car would carry 110,000 board feet worth of the commodity, valued at some $170,000 per car.
But it's not just lumber that's getting prohibitively costly. According to the latest data from the Producer Price Index report released by the Bureau of Labor Statistics, the price of goods used in residential construction rose by 1.5% in December. Building materials prices increased 16% last year, the data shows, and have risen 18.8% since December 2020.
With the pandemic as a looming backdrop, attendant market changes made for the perfect storm, Leonard said. "We just saw a COVID slowdown in construction and a boom in the housing market. The housing market was getting better, and then it just took off. After last year, when it declined to the $400 mark, a lot of the distribution side of it did not want to re-enter the marketplace.
"So even while demand stayed strong, we weren't filling inventories. By December, the market just took off because people needed wood for job sites, and it wasn't available in the distribution chain. So, the distribution goes to the mill and the mill doesn't have the transportation capacity to get the wood over here. It's kind of like the perfect storm."
Mark Fleming, an analyst at First American Financial Corp. in Washington, D.C., echoed similar sentiments but puts the lion's share of the blame on a beetle. That's not a typo: A beetle, as in a bug, is largely to blame for escalating lumber costs that have indirectly affected home prices, by Fleming's reckoning.
"There are the obvious culprits – higher tariffs and increased demand for Canadian lumber for home building," Fleming told Mortgage Professional America. "But that's not the real problem. The supply of Canadian lumber from British Columbia is highly constrained because a devastating beetle infestation killed a large amount of trees about a decade ago, and the dead trees made wildfires more devastating. All of which has resulted in a real shortage of available supply to harvest."
It's not that complicated, by his reasoning: "Blame the supply shortage on a beetle," Fleming reiterated.
Both analysts agree the volatility in lumber cost has had an impact on construction. "Generally speaking," Fleming said, "construction material supply shortages do, at the very least, delay the delivery of finished homes. We can see this impact by looking at the gap between housing starts and housing completions, which has risen significantly."
Yet Fleming doesn't see particular regions of the country being hardest hit by the scourge of rising prices. "It has less to do with parts of the country, as where homebuilders are building and the local construction code requirements," he said. "There are many types and qualities of lumber, and construction codes in the local area dictate what quality levels can be used. I think this is the classic adage – for real estate (homebuilding lumber constraints) it's all about location, location, location!"
His counterpart, however, does see certain local market dynamics across the country affecting some spots more than others. "On the outskirts like San Antonio, Texas, or a couple of towns in Idaho, since they don't have the transportation mechanisms like a Chicago would, they are seeing much more slowdown. The smaller towns are actually booming, so they're catching more of the percentage of the slowdown."
In some cases, the reality is less abstract: "What we found was builders who would normally be building four or five houses on a site at one time started just building two houses on the site," Leonard said.
Blame Canada for good measure, independent of the aforementioned beetle: "It's becoming more and more difficult to log in Canada," Leonard said. "Part of the reason is that the timber is further from the mills than it used to be because they're cutting so much. Second thing is the weather, they've had climate change where they don't have as much time to log as they used to. So you're getting less log supply out of Canada. That's creating a jump in pricing."
Leonard noted the price of lumber has started to go down, suggesting a hopeful sign: "Prices in lumber have actually been dropping in the last week or so. We're seeing things loosen up a bit as far as construction lumber."
Fleming sees it slightly differently, with a less rosy outlook for the short term: "Lower is always better, but I have to point out that the supply constraint is a long-term problem because it obviously takes a long time for trees to grow."
It's hard to get to the root of the problem. But predicting further volatility in the lumber industry is not going too far out on a limb.