One terminated employee says firings occurred via Microsoft Teams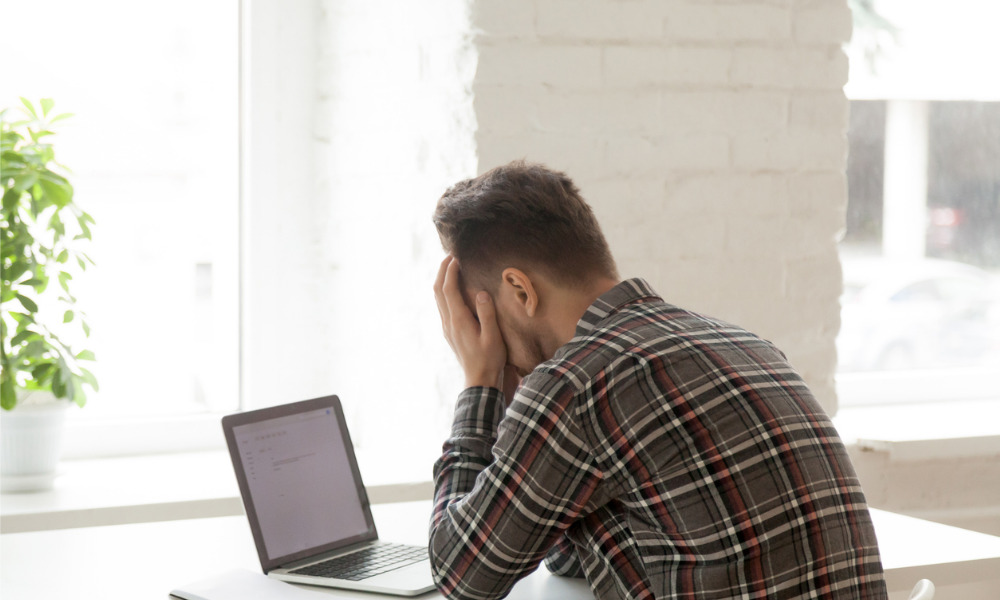 Mere days after revealing it would lay off more than 400 workers – First Guaranty Mortgage Corp. has been hit by class action lawsuits from former employees claiming they were not given adequate notice to the furloughs in seeking back pay and benefits from the company.
In a June 24 letter obtained by Mortgage Professional America to the Texas Workforce Commission, the lender based in the Dallas area alerted regulators of layoffs – ostensibly in compliance with the federal Worker Adjustment and Retraining Notification (WARN) Act designed to provide a 60-day notice of mass layoffs to affected workers.
But here's the rub: The cut workers were terminated the same day they wrote the letter to state regulators, according to complaints. The Texas Workforce Commission filing indicates the agency received the notice on Monday – three days after the June 24 cuts had already taken place.
One worker who spoke to MPA on condition of anonymity said higher-ups unceremoniously dismissed workers via the business communications platform Microsoft Teams last Friday without taking questions from stunned employees taken by surprise by the sudden firing.
As previously reported by MPA, the lender cut 428 of its 565 workers from its hub in Plano, Texas, a suburb of Dallas. In its correspondence to state regulators, the lender noted many of the affected workers reside outside of Texas. A former worker told MPA many of those affected by the layoff worked remotely.
Read more: Mortgage industry stung by more mass layoffs
A human resources official cited market shifts as the reason for the layoffs: "FGMC has experienced significant operating losses and cash flow challenges due to unforeseen historical adverse market conditions for the mortgage lending industry, including market volatility," the official wrote. "In addition, FGMC's recent efforts to obtain funding that could have prevented this layoff have proven unsuccessful."
Jennifer Jackson filed a lawsuit Wednesday over the sudden alert to layoffs, noting the WARN Act violation while seeking damages in the amount of 60 days' pay and ERISA (employee retirement income security) benefits. In a separate lawsuit filed the same day, laid off workers John Slater and Lee Ann Casanova make similar demands. The latter suit names First Guaranty Mortgage as sole defendant, while the latter includes as co-defendant Pacific Investment Management Co. (better known as PIMCO), which owned a significant stake in the company.
Both lawsuits name all those "similarly situated" as additional plaintiffs in the litigation. MPA obtained copies of both lawsuits.
"Prior to their terminations, neither the plaintiff nor the other similarly situated employees received written notice that complied with the requirements of the WARN Act," Jackson alleged in her suit. "Defendants failed to pay the plaintiff and the other similarly situated employees their respective wages, salary, commissions, bonuses, accrued holiday pay and accrued vacation for 60 days following their respective termination and failed to make 401(k) contributions and provide them with health insurance coverage and other employee benefits."
In their part, Slater and Casanova complain the lack of adequate notice left workers in a lurch: "Defendant's mass layoffs deprived plaintiffs and the putative class members and their families of some transition time to adjust to the prospective loss of employment to seek and obtain alternative jobs and, if necessary, to enter skill training or retraining that will allow these workers to successfully compete in the job market."
Instead, the plaintiffs said the cuts were made last Friday: "In fact, on June 24, 2020, plaintiffs and the putative class members were instructed to log on to a company conference call, during which they were informed of their immediate terminations."
Read next: Better.com Zoom firing fallout – the lessons to learn
Another terminated employee who spoke to MPA said the tactic is not unusual for First Guaranty Mortgage. Another round of layoffs – albeit a much smaller one involving some 50 workers – occurred last March after PIMCO pulled its investment in the lender, he said.
The following month, between 30 and 50 people were laid off from the company's retail hybrid department, it was stated. While no notice was given on that round of layoffs, he noted, it didn't fall under provisions of the WARN Act which compels employers to notify to cuts of 100 or more workers, or 10% of the workforce. The fired worker noted the 428 laid off on Friday were in the wholesale, correspondent and retail segments.
"It was absolute panic," the fired worker said in explaining the sudden notice to layoffs after the PIMCO pullout. He requested anonymity for fear of having his own back pay and benefits jeopardized. "We were not told that PIMCO pulled their funding in March, that's number one," he added. "My sense is that when PIMCO pulled their funding in March, after they attempted to sell off a part, the company felt they would be able to get funding elsewhere. But if you look at the changes and the history of rates – rates shifted significantly at the end of March – the paper, as it were, became much less valued as a result of that shift in rates. As rates continued to rise in April, the piece we were looking for investors in became much less valuable, and I think that precipitated this."
The fired worker said the mass termination via Microsoft Teams was reminiscent of the infamous layoff of some 900 workers at Better.com last December.
"It was pretty much the same thing," the fired worker said, noting the only difference was the Better.com workers were fired via Zoom. "It was a surprise to everybody, absolutely. There were no questions; it lasted maybe 10 minutes."
He described the company's modus operandi as it relates to layoffs: "There's been several layoffs this year, and they've all been done the same way. They schedule two meetings on the same day: One group will be invited to one meeting and another group will be invited to another meeting. The group invited to the first meeting [is told]: 'If you're on this call you've been laid off effective immediately.' The people on the other call: 'If you're on this call, then you are still employed by FGMC. Please note there was a layoff today. Please reach out to your fellow employees and tell them that if we can bring them back we will.' That's how did it on Friday as well. That first meeting had the bulk of the people, and the second call had about 100 people."
Those spared will be attempting to close pending loans, he noted. "They were told today they would not be funding any loans between now and July 05."
The fired worker said he hopes to be made whole, but fears it may not come to pass. He said he also fears the company may declare bankruptcy, which would shield them from creditors. For now, he'd all but settle for his unpaid commissions: "Commissions are due July 15, and I'm not sure we're getting them," he said ruefully.
MPA was unable to reach First Guaranty Mortgage for comment, but will update this story should a comment be supplied.