Mortgage industry mourns one of its most visible practitioners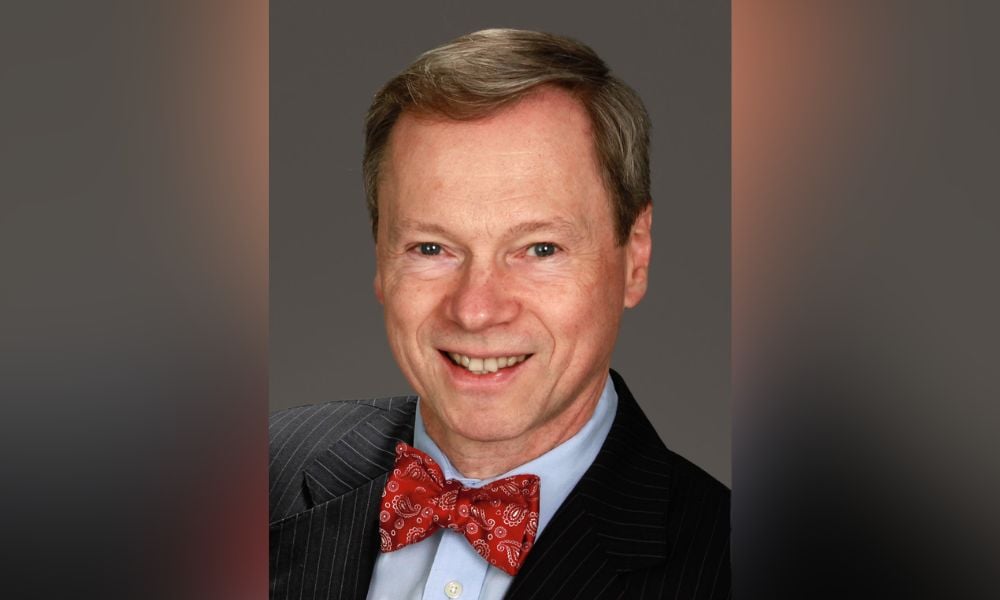 Tributes began pouring in on Monday following the weekend death of Frank Nothaft (pictured), who worked as chief economist at Freddie Mac for nearly 30 years before taking on the same role at CoreLogic. Nothaft reportedly passed away unexpectedly on Sunday at the age of 66.
CoreLogic issued a brief statement on its economist's passing: "We will miss Frank and his great talents, warmth, integrity and friendship. Please join us in keeping Frank's family, friends and team members in your thoughts during this incredibly difficult time."
As word spread of his death, peers and colleagues in the mortgage industry released their own tributes to Nothaft who was known as much for his astute economic insights as for his sartorial elegance. "I loved seeing Frank and his signature bow tie at conferences," Jacob Passy, the New York-based personal-finance reporter for MarketWatch tweeted. "He was always so candid when he chatted with me for stories. A huge loss for the housing industry."
Natalie Campisi, Los Angeles-based reporter covering mortgages and housing news for Forbes Advisor, expressed her sadness on Nothaft's death: "I'm so saddened to hear of the passing of Frank Nothaft," she wrote on Twitter. "I had the pleasure of talking with Frank many times over the years and I was always impressed by his knowledge, curiosity and kindness. He will be deeply missed."
Lance Lambert, housing industry reporter for Fortune magazine, echoed the sentiment: "Frank is one of the nation's top housing economists," he wrote on Twitter. "I'll remember him as someone who was passionate about his work, incredibly kind and insightful."
It's no accident that such pre-eminent financial journalists held Nothaft in such high esteem. Eminently accessible to the Press, he could be counted on for keen market insights informed by institutional knowledge of the mortgage industry. Mortgage Professional America sought him out for insights into the likelihood of a real estate crash – seeking his measured tones on an otherwise easily exploitable topic.
Read more: Real estate crash in 2022 – how likely is it?
Along the way, Nothaft gave this reporter his most-read story – number one a mere week after its publication, with continual momentum in ensuing days – just two months into his new job.
Nothaft offered MPA his brand of dispassionate analysis. While a seasoned – but far from hardened – industry veteran, he was nonetheless not immune to expressing shock and awe over current developments in the mortgage industry like everyone else. "We've had, as you know, a very large increase in home prices – 18% in one year," he said in one of his final interviews with MPA. "It's the largest 12-month increase in home prices in our national index that we have measured in the CoreLogic Home Price Index."
Mark Fratantoni, senior vice president and chief economist at the Mortgage Bankers Association, added his voice in condolence. "MBA is shocked and saddened by this news," he wrote in an email to Mortgage Professional America. "For decades, Frank has been a key voice for the mortgage industry – at Freddie Mac and then at CoreLogic. He was the best housing market analyst in the business, able to clearly and concisely convey information that helped our industry understand the current market and make decisions to prepare for the future. Frank had an inimitable style, both in terms of his presentations and his ever-present bow tie. Our thoughts and prayers are with his family."
The Housing Policy Council (HPC) also expressed condolences: "The Housing Policy Council team is heartbroken to learn of the sudden passing of longtime CoreLogic Chief Economist, Dr. Frank Nothaft," HPC's president Ed DeMarco wrote in a statement sent to MPA. "We are keeping Frank's family, friends, loved ones, and colleagues in our thoughts at this difficult time. It was clear to everyone who worked with Frank that he was an outstanding economist, but his exceptionally engaging style and plain-English explanations also kept him in high-demand as a speaker and public commentator. In the more than two decades that I have known him, however, I have probably most appreciated his genuine warmth and friendliness. Frank was an all-around wonderful human being. He will be missed."
Read next: Which US states are prone to mass foreclosures?
Nothaft has served as senior vice president and chief economist for CoreLogic since January 2015, according to his LinkedIn bio. CoreLogic is a provider of advanced property and ownership information, analytics and data-enabled services for which Nothaft oversaw analytics, commentary and forecasting trends in global real estate, insurance and the mortgage industry.
Formerly, Nothaft spent 28 years as vice president/chief economist at Freddie Mac. He launched his career as an economist with the board of governors at the Federal Reserve system from September 1983 to November 1986.
Nothaft graduated from New York University with a bachelor of arts degree in mathematics and computer science before earning a Ph.D. in Economics from Columbia University.