Higher builder confidence and an improving trend in single-family housing starts point to an increase in homebuilding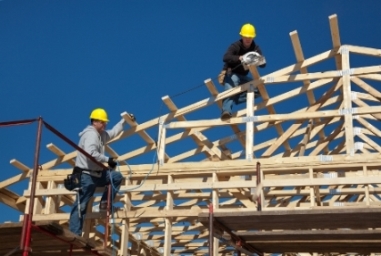 The homebuilding industry continues to face roadblocks to addressing demand, but there are signs that conditions will improve, according to Robert Dietz, chief economist at the National Association of Home Builders.
Dietz, speaking at the 2017 Realtors Conference & Expo, attributed the industry's struggle to construct more homes to a variety of reasons. Aside from the low availability of lots and continuously increasing costs of building materials and land, there is also a shortage of construction workers due to an aging workforce. Dietz also said that builders are facing challenges in obtaining construction loans.
"It's more expensive to build homes, and it's having an effect on supply," Dietz said. "Over the last five years, the total effect of building codes, land use, environmental laws, and other rules have caused regulatory costs to rise 29%."
However, there are signs of hope, according to Dietz. Confidence among builders has surged following the elections, and the pace of single-family housing starts is slowly trending towards normalized levels.
"There's also been the start of a shift to building smaller homes and townhomes," he said. "I'm bullish on townhouses over the next few years. They are the perfect bridge from renting to homeownership for first-time buyers."
Recent years have seen below-average shares of first-time buyers in the market because of low inventory conditions in many areas, according to Jessica Lautz, managing director of survey research and communications at the National Association of Realtors.
"The month's supply of homes continues to be way under a balanced market of six months, home prices have risen year-over-year for 67 straight months, and multiple offers on listings for sale are a common occurrence," Lautz said. "Without enough listings on the market, affordability is decreasing, and buyers are increasingly saying finding the right home is their top struggle."
Related stories:
Builder confidence rebounds in October
We're just not building enough homes says Redfin