Only small increase prevented "across-the-board" contraction, report says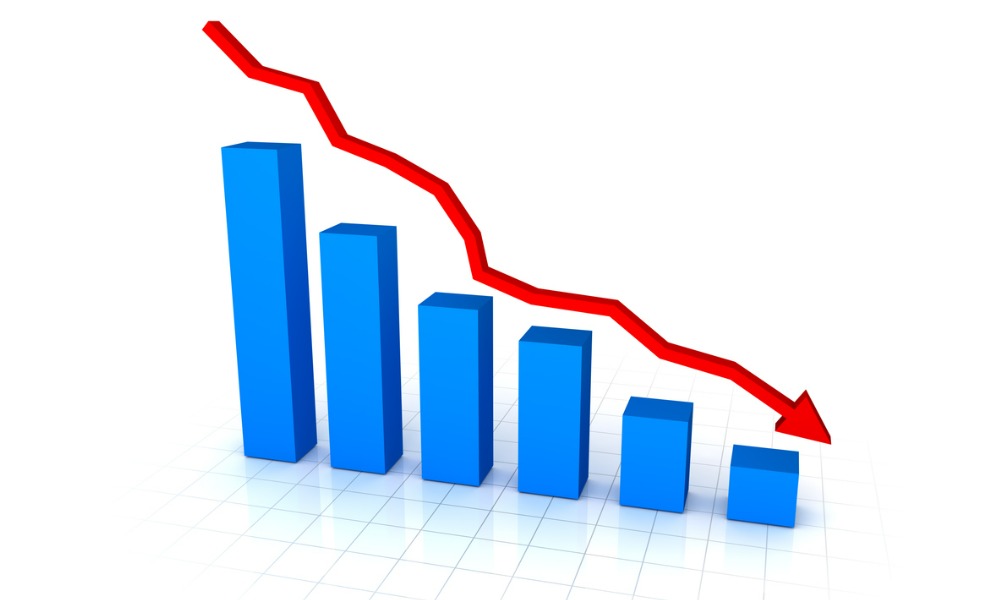 Mortgage lending in the US slumped during the third quarter by 47% year on year, representing the biggest annual drop in 21 years, according to a new report by real estate data provider, ATTOM.
Data shows that it was also the sixth quarterly decrease in a row and down by 19% compared to Q2 this year, a measure of the detrimental impact of high interest rates on the US mortgage sector, which now top 7%.
Both refinance and purchase loan activity also experienced a double-digit drop "that far outweighed another increase in home-equity credit lines", the report added.
Refinance loan activity slumped by 68% compared to the same period in 2021 and by 31% from the second quarter this year (the lowest since early 2019), while the number of purchase loans fell by 33% year on year and by 16% quarterly, representing half of all mortgage activity during Q3.
Refinance activity now represents only a third of overall mortgages, compared to two-thirds as recently as the first quarter of last year, ATTOM noted.
Read more: What is home equity and how does it work?
Purchase lending continued at just under half of all activity in Q3, while home-equity packages made up one out of every five mortgage deals completed.
To compile the data, ATTOM analyzed recorded mortgage and deed of trust figures for single-family homes, condos, town homes and multi-family properties of two to four units.
Dollar volume was calculated by multiplying the total number of loan originations by the average loan amount for those loan originations.
Read more: Housing markets most at risk of downturn
In total, lenders issued $636.5 billion worth of mortgages during Q3. It was also the biggest annual decrease in the dollar volume of mortgages since at least 2001. The report went on to say it was "the latest sign that the 11-year US housing market boom is losing steam".
Rick Sharga, executive vice president of market intelligence at ATTOM, said the figures came as no surprise, due to "the unprecedented jump in mortgage rates" that had "battered" both the purchase and refinance markets.
"Prospective homebuyers have been priced out of the market…and refinance activity will probably continue to decline, since the majority of homeowners have loans with sub-4% interest rates," he said.
Bank lending
The number of residential mortgages issued by banks and other lenders also took a hit in Q3, as they were down by a staggering 46.9% year on year, from the 3.7 million that were issued during the same period in 2021 to 1.9 million.
They also fell by 18.7% from the previous quarter this year (2.4 million).
Overall lending activity decreased from the previous quarter this year in 98% of US metropolitan areas with a population of more than 200,000, down from 210 to 206.
The largest quarterly decreases were in Myrtle Beach, South Carolina (down 52.7%), Knoxville, Tennessee (down 44.5%) and Charleston, also in South Carolina (down 43%).
Among the metro areas with a population of least one million that had the biggest decreases in total loans during the same period were St. Louis (down 35.8%), Miami, (down 30.4%) and Washington (down 30.1%).
Significantly, no metro areas with the same population range aside from Hartford saw total loan originations increase from the second to the third quarter.
Read more: October sees 29% drop in new home mortgage applications
In addition, among homes purchased with financing in Q3, the median loan amount was $315,000, down 4.5% from $330,000 the previous quarter, following 10 straight increases.
Meanwhile, the typical down payment in the third quarter (9.3%) was also down from 10.2% in Q2, although this was up from 8.9% a year earlier.
Warning over HELOCs
The much-vaunted HELOCs (home-equity lines of credit) experienced a small 5% quarterly jump for the third quarter in a row, which kept the industry from seeing an across-the-board contraction, according to ATTOM.
A total of 364,921 HELOCs were originated on residential properties in Q3, which was also up 47.8% year on year, with home-equity packages comprising one out of every five mortgage deals completed.
However, Sharga warned that despite the increased activity of HELOCs over the past few quarters, the growth rate had "slowed down significantly on a quarter-to-quarter basis", raising the question of whether the product was now at "near a cyclical peak".
He said: "Even with the recent increases, HELOC volume is still nowhere near the record level of activity we saw in the mid-2000s during the run-up to the financial crisis."
The largest increases for HELOCs in metro areas with a population of at least one million were New Orleans (home-equity loans were up by 52.8%), Houston (up 47.5%) and Dallas, in Texas (up 35.4%).
FHA and VA loans up
Mortgages backed by the Federal Housing Administration (FHA) rose as a portion of all lending for the fourth straight quarter, ATTOM revealed.
They accounted for 11.4% of all residential property loans originated in the third quarter this year, up from 10.7% in Q2 and by 9.3% year on year.
Residential loans backed by the US Department of Veterans Affairs (VA) also experienced an uptick, accounting for 5.2% of all residential property loans originated during the same period, representing a 5.1% increase from the previous quarter, although this was down from 6.3% a year earlier.