Loan sizes also suffered a year-on-year 'moderation'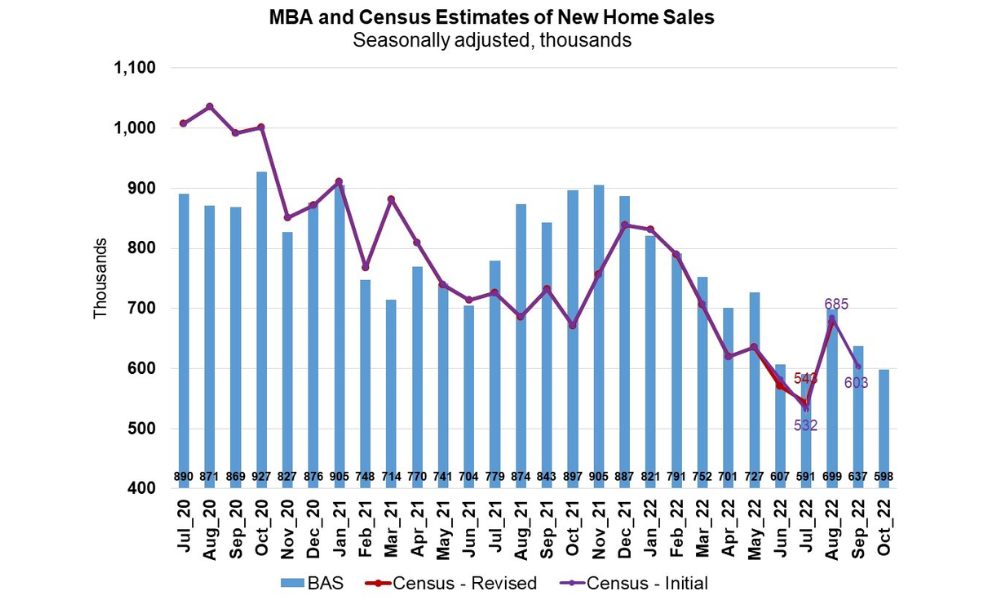 October mortgage applications for new home purchases have slowed down on both a monthly and yearly basis, data from the Mortgage Bankers Association (MBA) has revealed.
The latest numbers from MBA's builder application survey are in, showing even less (-13%) new home purchase activity in October than there was in September, and a 28.6% drop compared to October last year. The data does not reflect adjustments typically made for seasonal patterns.
MBA vice president and deputy chief economist Joel Kan said the sharp rise in mortgage rates to 7% drove down overall demand for new homes as well as the purchasing power of many prospective buyers, resulting in weaker new home purchase results.
Read more: Mortgage rates dip below 7% for first time in months
The average loan size also decreased to $400,616 – an 8% decrease from its peak in April this year, Kan observed, and a 1.51% dip from $406,767 the previous month. The MBA attributed the latest 'moderation' in loan sizes to slower home-price growth and less demand for higher-priced homes.
MBA's measure of new single-family home sales shrank to a seasonally adjusted annual rate of just 598,000 units in October, the slowest annualized pace registered since July 2022 and a 6.1% decrease from September's rate of 637,000 units.
By product type, conventional loans made up 68.6% of October loan applications, FHA loans made up 20%, Veterans Affairs loans made up 11%, and USDA rural housing service loans made up 0.3%.
Read next: MBA offers comments on FHA annual report
MBA's builder application survey tracks application volume from mortgage subsidiaries of home builders across the country to provide an early estimate of new home sales volumes at the national, state, and metro level. Official new home sales estimates are conducted monthly by the Census Bureau by recording sales upon contract-signing, which generally coincides with mortgage applications.