Upswing in existing-home sales and cooling of price increases amid continuing low inventory and first-time buyer struggles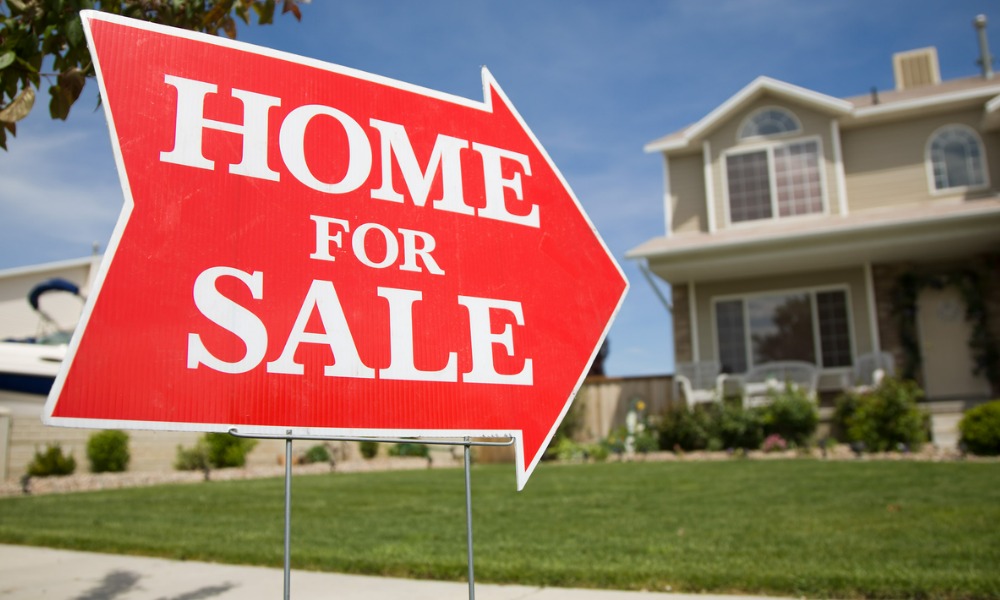 Mortgage experts have expressed optimism in the US housing sector following September's 7% surge in existing-home sales and the slowing down of price increases for the fourth month in a row.
Sales of previously owned homes increased by 7% compared to August, resulting in a seasonally adjusted annualized rate of 6.29 million units sold in September, according to the National Association of Realtors.
That was a better figure than the 6.1 million units economists had been predicting.
Meanwhile, online real estate brokerage Redfin reported that bidding wars for properties were at a record low for 2021.
Read more: Number of bidding wars continues to trend down
According to Redfin, more than one competing bid for an offer is considered part of a bidding war.
It said 59% of home offers faced competition in September – down from a revised rate of 60.8% in August and a peak of 74.3% in April - reflecting a seasonal housing-market slowdown and the small increase in mortgage rates.
Redfin also pointed out that homes "are still selling faster than usual for this time of year", partly due to the ongoing low inventory, reflected by the 9% year-over-year drop in new listings last month.
Redfin deputy chief economist Taylor Marr noted that buyers were not having to offer as much above the asking price as they were in the spring, when competition in the housing market was peaking.
He added that as mortgage rates continued to rise, the market could expect the rate of bidding wars to keep slowing.
Lawrence Yun, the NAR's chief economist, attributed the existing-home sales surge to a brief drop in mortgage interest rates the previous month, as the 30-year average fixed rate fell below 3% before significantly rising again.
The Mortgage Bankers Association's senior vice president and chief economist Mike Fratantoni pointed out that the gain in existing home-sales in September reflected contracts signed earlier in the summer.
He said: "The MBA's purchase application data showed an 8% gain in September, which is evidence of growing demand for buying a home and supports further sales increases in the months ahead."
Fratantoni predicted a year-over-year increase in sales for used homes, while stressing that first-time home buyers were still being edged out of the market. "With inventory at only 2.4 months' supply, and median home prices increasing nationally at 13%, it was not surprising to see the first-time homebuyer share of the market drop again to 28%.
"Depressed inventory levels continue to constrain the market, but MBA still forecasts for existing sales to come in at an annualized pace of 6.07 million this year – a 7% increase from 2020."
Fratantoni also said the MBA expected new home construction to help support growing inventory levels in the run-up to 2022, "which will lead to a deceleration in home-price growth".
In an unexpected fillip for first-time homebuyers, he added: "Demand is strong and wage growth is healthy, and first-timers will have better chances to reach the market as inventory increases."
The view that inventory would increase in the coming months was shared by Yun, who said more homes would appear on the market "as soon as 2022", as mortgage forbearance programs ended and homebuilders ramped up production, "despite the supply-chain material issues".
For his part, Holden Lewis, Nerdwallet's home and mortgage expert, said home sales had been "heartier in September than expected", pointing out that the slowing down of the pace of price increases had been "an even better sign for home buyers".
He said: "The median price of a used home was 13.3% more than a year earlier. That's fast price growth, but not as frightfully inflationary as it was in May and June when year-over-year price increases were over 20%."
Despite the upbeat news, overall sales were 2.3% lower than in September 2020, while first-time buyers made up just 28% of the total - the lowest level since July 2015, according to reports.
Read next: Broking in America's "best cities" to live in
Low inventory also contributed to pushing prices up. The median price of an existing home sold last month was $352,800 - 13.3% higher than during the same period a year ago.
However, sales of homes priced above $1 million were 30% higher, according to CNBC, noting that most of the home sales activity was on the higher end of the market, while the lowest inventory levels were for cheaper properties.
The report also stated that sales of newly built homes in August, were 24% lower year over year, with prices for new homes up by 20%.
Highest bidding wars
Redfin revealed that Raleigh, NC, and Boston had the highest bidding war rates, with the former showing that 73.9% of offers written by Redfin agents faced competition in September.
Earlier this year, Raleigh and Durham came second in a list compiled by US News and World Report of the 150 best places to live in the US in 2021-2022, based on employment prospects, housing affordability, quality of life, desirability and migration flows.