Marketing programs are a dime a dozen these days, but United Wholesale Mortgage allows brokers to "set it and forget it" with new marketing suite Brand 360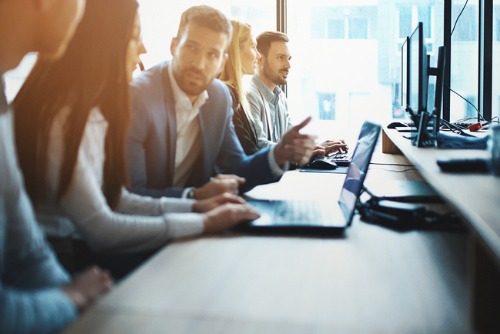 The latest offering from United Wholesale Mortgage (UWM) is Brand 360, a "revolutionary" marketing tool that UWM says will help every loan officer in America close more loans.
UWM President and CEO Mat Ishbia unveiled the product at AIME Fuse, and recently sat down for a discussion about what it is and why it's such a useful tool for brokers at this point in time.
"The system is focused on is minimum client effort, so brokers can just 'set it and forget it,'" Ishbia said.
How does the loan officer know that John's interest rate is dropped or that Jane has enough equity in her house? Some originators have alerts, some discover the information while doing regular check-ins with their clients, but others find that this information slips through the cracks. UWM has created a system that will it for them.
"[We] gave to our brokers all the systems that the largest retail companies in America have and use to stay in front of past clients," Ishbia said. "We're basically helping them do the work for them so they don't have to actually go through and email every single time or call the borrower every time. We're doing it for them and making it so easy so that they can grow their business."
Brand 360 includes personalized marketing materials, relationship manager and marketing calendar, and all of the options are customizable. Brokers can choose whether to post on certain social media channels at certain times with certain topics, they can choose how to message their clients, and how often to do so. Once they make these decisions, the system does the heavy lifting.
UWM previously had some of these components available, but they found that brokers would sometimes get stuck because they still had to do all of the follow up and outreach themselves. The goal with this project, Ishbia said, was to require minimal time and effort from brokers with a system that is so easy, everyone will be willing to use it.
Another big driver was the ability to not just stay in front of and connect with past clients, but also to use Brand 360 as a was to capture future prospects. Marketing has become so important these days and yet, a lot of top producers stress that the best marketing that they have available is past client or partner referrals. Ishbia said that there's no reason why brokers can't have the best of both worlds: the robust marketing options that thenallow them to focus on the relationships with those clients and referral partners. Saving time with the follow up and outreach means that brokers can do what they do best: getting out in their community and becoming known for helping people.
"We think we're going to accelerate these brokers' growth by so much because of these changes," Ishbia said. "If I was doing it for someone that was already using social media and already on top of their clients and already using these huge, awesome CRMs, it wouldn't be that cool of a project. But the difference is, I'm doing it for people that don't do this and they're already winning. They're already growing their business. Now take that and double it up—that's what's going to happen with Brand 360."
UWM is the fourth largest mortgage lender and the top wholesale lender in the country, and is expecting to post another record year: their projection is to finish 2019 at $105 billion and 34% market share, up from $41 billion at the end of 2018. They've added an additional 2,000 people to their team in order to handle their increase in volume and to plan for future expansion. They're growing in part because they're "doing a great job," Ishbia said, but also because they're experiencing the momentum from the growth of mortgage broker channel. Broker market share isn't anywhere near pre-recession levels, but the amount of options and choices available have increased dramatically, and the industry is sitting up and taking notice.
"We feel great about what UWM has done, but the real story is the broker channel is shifting," Ishbia said, adding that he speaks to top producers "all the time" who ask about moving to the broker channel. Because of this shift, UWM is focused on putting the supports in place to continue building systems tailored to brokers' needs.
"The technology in the broker channel is just as good—actually even better than the retail channel, and five years ago I couldn't say that. Everyone always knew brokers were cheaper and they had more options. The problem was, you didn't have the support or the technology. We've taken those off the table and provided the support and technology. We are helping the broker channel grow and we're even prouder of that than our own growth."