He married the woman who recruited him into the mortgage industry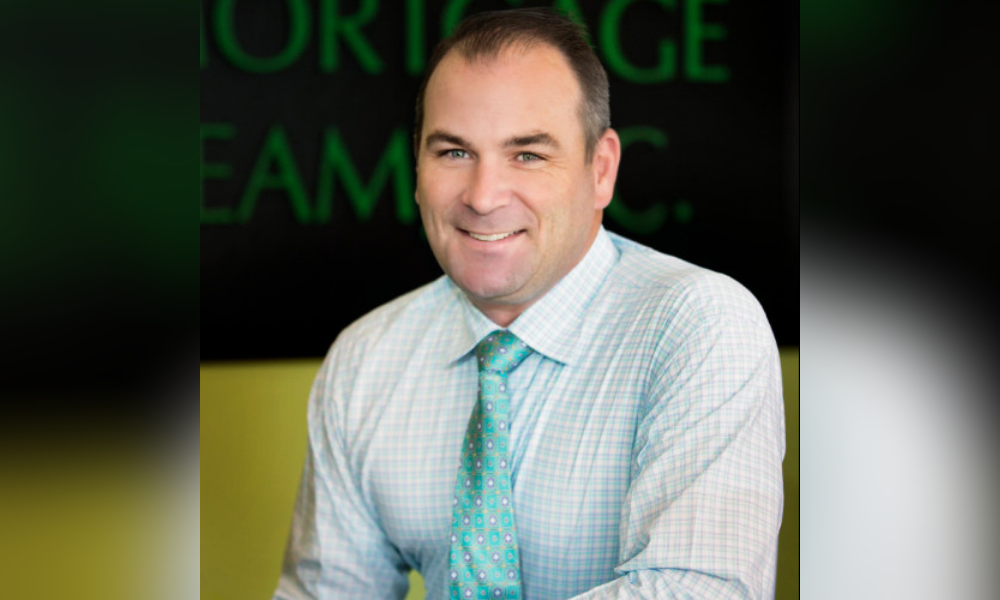 Matt Oliver entered the mortgage industry at the most "perfect time," he says sarcastically. It was October 2007, and the economy was just about to tank.
"Originally, I worked at Chase Bank on the retail side for home equity lines of credit (HELOCs) which are obviously really popular now." His girlfriend at the time convinced him to join her and her father at a fledgling brokerage they were setting up.
"I didn't know anything about the mortgage or broker side at all," he recalled. He remembered once asking his girlfriend: "'Why would anyone go to you as a broker? Why don't they just go to Chase or Wells Fargo?' I didn't understand the broker concept."
But then again, he was only 24 years old at the time. He joined that start-up firm, Arizona-based Lund Mortgage, in October 2007. For good measure, he also got the girl – Lisa Lund runs the firm to which she recruited her now-husband from Chase.
"The story she likes to tell is that she stole me from Chase Bank where I was working on the retail side. That's how I got into the industry. And it couldn't have been a more perfect time – October of '07, and then Bear Stearns collapses and the markets absolutely crushed."
Lessons learned from the Great Recession
Yet it was the same youth that once failed to grasp the broker concept that shielded him from the most corrosive effects of the Great Recession brought about by the mortgage meltdown: "I didn't have anything," he joked. "I can't lose anything if I didn't have anything."
But he remembers witnessing indignities endured by others as the economy all but collapsed: "I remember seeing people buying crazy cars – Lamborghinis, Ferraris and all that stuff – and then saw them all give them back a year or two later."
Seeing that yielded something of a cautionary tale for Oliver. "I never want to go through that feeling again," he said, recalling those past uncertain times.
He pointed to today's challenges amid fluctuating rates as the Fed attempts to curb inflation as another challenge facing today's crop of brokers. "Everybody is struggling in today's market, but not struggling as much as others because we went through the '08 collapse and we remember it vividly."
His advice to those now struggling under a different albeit less severe market shift: "Remember these hard times and appreciate the love you have for the industry. As long as you can make it through the hard times, it's an amazing industry in general."
Other keys to success
Another lesson learned from his early years is to not go nuts once the money starts coming in. In other words, no Lamborghinis or Ferraris. "If you do the right thing for the client, the money will always follow," he said "Treat clients like you'd want your family members treated. That's one thing I live by. [If] I have to make nothing on a deal to make the loan go though, I don't care because it does pay dividends down the road and that's how I would want others to treat my family."
Like many in the industry, Lund Mortgage has had to pivot to other business lines after the refi wave dried up. The changed focus was more acute given the company's longtime specialty in refinancing, Oliver suggested.
"We always have been a predominantly refi-heavy business," he said. "We advertise on radio stations out here – talk radio stations in Arizona. Lisa's dad has been doing that since 2001." As a result of the refi wave ending, the company now deals in purchase and reverse mortgages as well, he said.
Key to the success of the changed focus is a strong database, he said. "That's another huge thing," he said. The company's branding, coupled with a continually updated database have helped navigate through the choppy waters: "And treating people like family has helped," he added. "We've massaged our clients the entire time.
"We've really worked our database up from 2012 to today. Even if my client isn't buying a home, the son or brother are buying a home. We definitely pivoted to purchase and reverse mortgage. We always knew reverse mortgages pretty well but that was definitely another product we had to master or understand better when the market was falling apart. I guess you could say we just transitioned that world."
The differences in his personal volume from one year to the next reflect the softened market. In 2021, he posted volume of $378 million across 1,347 loans. Last year, volume fell to 522 loans for $173 million.
But he's far from panicked.
"There will be another shift, and on the other side of the hill is going to be possibly just as good as 2020 or 2021. So you really have to hone in and master your craft as much as you can because the competition will heat up again once we hit that downward slope. But if you think about it, if we're locking people at 6.99%, if it gets to 5.99%, we're going to refinance them. If we get to 4.99%, we'll refinance again. And in that rare circumstance that we get to 3.99%, we'll refinance them again."
In that respect, he takes his own advice: "Hang on as much as you can but also while you're in this slow productive time, you have to get all your technology systems ready for battle. It is going to be another booming year when the tide shifts."
Plus, you probably won't see the mature family man go on crazy shopping sprees. It's unlikely you'll see him tooling around Arizona streets in a Lamborghini or Ferrari.