Redfin report reveals most homes built this decade face fire risk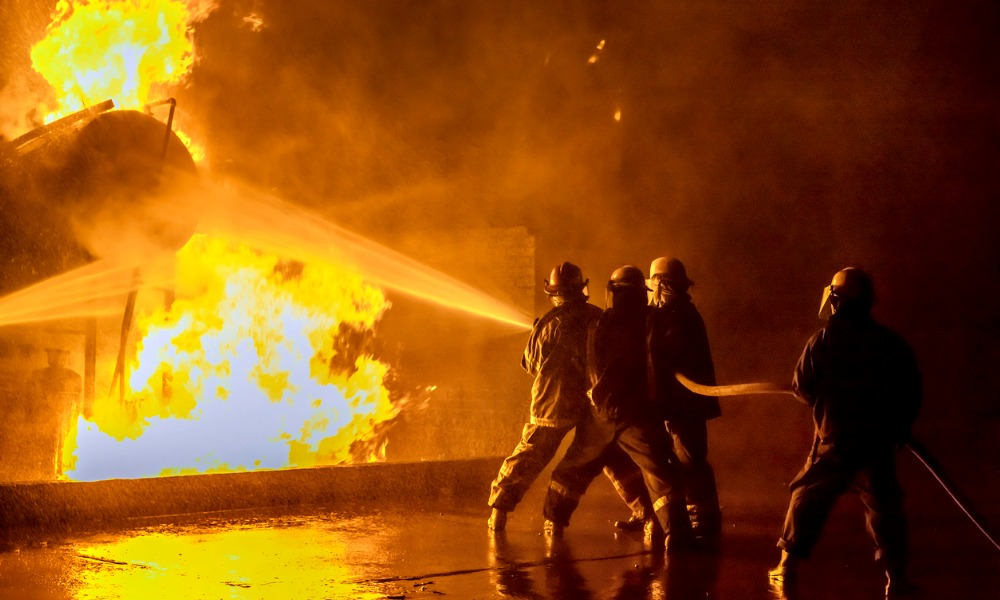 An increasing number of homes in the US are being built in disaster-prone areas, with more than half (55%) constructed in the last two years facing a fire risk, a new report by real estate brokerage Redfin has found.
In stark contrast, only 14% of homes that were built around the first half of the 20th century, between 1900 and 1959, face a fire risk.
The data was taken from an analysis of climate-risk scores from ClimateCheck - a science, real estate and conservation-focused technology firm – as well as county records on single-family homes built since 1900 that still exist.
In Arizona, nearly all homes (97%) built this decade face fire risk, followed by Oklahoma (96%), Arkansas (94%), Wyoming and Montana (93%).
The report also revealed that 45% of homes built this decade are in drought-risk areas compared to 37% that were built between 1900 and 1959. That percentage was likely to increase, it added, as builders were expanding in the Sun Belt, a huge area comprising 15 states, including California, Florida and Texas.
Read more: Report – 1.5 million properties across the US at "extreme" risk
Phoenix Redfin real estate agent Heather Mahmood-Corley said homebuilding had "exploded" in Arizona over the last few years in response to a growing population.
"Builders are going to the more rural, drought-prone areas because that's where there's available land," she said, adding that in Casa Grande - a city just south of Phoenix - builders were selling homes despite warnings that there may not be enough water to go around.
Risk types
Heat risk, based on the typical number of extremely hot days one could expect in the future, was listed as the most common danger, affecting almost all the homes built in the last two years.
Next came storm-risk, affecting 78% of mostly older homes, principally in the northeast of the country, followed by fire, drought and flood, with 25% of the nation's homes at risk.
The sobering findings, showing scant regard for climate change warnings, also reveal that the US is building and subsidizing homes in the wrong places, according to economist Jenny Schuetz.
She told Redfin that homes were being constructed farther out from urban areas because the easy-to-use land had already been built on.
"Increasingly, we have to build new housing farther and farther out from downtown areas because the easy-to-use land has been built out and it's often difficult to add more housing in the urban core," she explained.
"In the West, the wildfire-prone areas are in the undeveloped lands, and so the farther we push toward the undeveloped lands, the more houses are going to be at risk."
She warned that Fannie Mae and Freddie Mac could charge higher rates or even refuse to securitize mortgages on risky homes, which might disincentivize lenders from writing loans in disaster-prone areas.
COVID and house prices
Redfin noted that more than half of Americans now live in the suburbs, up from 37% in 1970 and 13% in 1940, pointing out that the COVID pandemic, which encouraged remote working, and surging house prices over the last couple of years had intensified the shift from inner cities to suburbia.
Salt Lake City in the state of Utah was cited as an example of what happens where there is no longer room to build in urban areas.
Read more: More Americans consider moving due to climate change threat – Redfin
Redfin market manager Ryan Aycock was quoted as saying that developers were moving into the surrounding mountains, "which are more prone to wildfires and drought".
He said: "Herriman—a city just south of Salt Lake City that's right up against the mountains—is attracting tons of builders. Fires were never that big of an issue when Herriman was mostly vacant land, but now scores of people are moving into harm's way."
In 2010, Herriman suffered a devastating fire that destroyed more than 4,000 acres of land, as well as several homes.
The report found that properties located in disaster-prone areas were more attractive to homebuyers because they tend to be cheaper, "have lower property taxes, more housing options or access to nature".
However, it added that some buyers were simply not aware of the risks, partly due to a lack of information, but also because people "don't often see the full cost of disaster when it does occur".