One login, one portal, one platform for independent mortgage brokers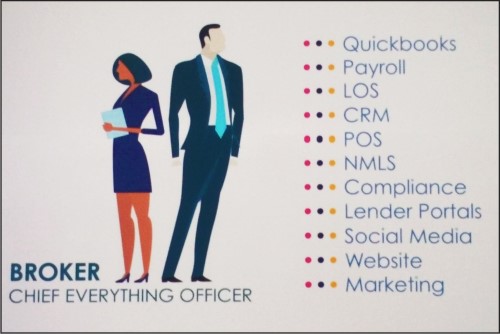 The game changes on January 1st, 2019.
At AIME Fuse 2018, AIME Chairman Anthony Casa revealed Arive, the new platform designed exclusively for independent mortgage brokers. Arive is a fully-integrated user experience, filling the role of an LOS, POS, CRM, pricing engine, and more, with lender connectivity and digital document storage, all in one tidy package.
The platform was designed for and by today's mortgage broker. With one login, a broker can transact in one place, eliminate manual data entry between systems, and eliminate the plethora of lender portals that exists today.
"The game has changed. We have 35,000 people, 16% of the market, acting as one. One voice. One authority, to be able to hold every single participant in this channel accountable. This is the new game."
The announcement received a standing ovation.
Arive promises more than the streamlining of the origination process. Independent brokers don't benefit from economies of scale in most cases, and one of the goals behind Arive is to bring cheaper services to the independent broker. If 35,000 brokers are able to operate as one unit and shop the market, Casa said, the results would be much cheaper services for the individual broker. This doesn't just apply to loan-related services, either; it applies to everything from website development to health insurance.
"This is an end-to-end platform. This isn't end-to-end mortgage transaction vehicle, it's an end-to-end everything. I mean everything," Casa said.
As the president of Garden State Home Loans and a practicing broker himself, Casa is able to identify with the frustrations of brokers nationwide who don't have—and can't afford—the tools they need to compete with the big retail shops. With Arive's fully-automated features for everything from ordering appraisals to onboarding new employees to payroll, everything is designed to reduce the time brokers spend on administrative tasks and free up more time for origination.
Another ground-breaking featureof Arive is that of peer-to-peer crowdsourcing, leveraging the nationwide broker network to get answers and advice on everything from working with certain lenders to troubleshooting a file. Brokers will also have the ability to pass along referrals to other brokers for loans that they can't close for whatever reason (such as not being licensed in a particular state), thereby keeping borrowers in the broker channel and promoting the growth of broker business.
"Think about that," Casa said. "You have turned somebody you can't help into a situation where they're working not only with a broker so you know they're going to get a great deal, but you've just helped one of your fellow brokers grow their business. That is a big deal."
Arive launches in January 2019. Brokers can pre-register at Arive.com, and if you're an AIME member, it's free.
Casa acknowledged that brokers may initially pine for the systems they already know, but in order for brokers to seize the opportunity that the market is presenting at the moment, they need to master the system, and convince every other partner to get on board as well.
"You have to understand that it's going to be a big change from what you're used to. I get it. Be patient. Learn the system. Execute, and make sure you pound your lenders, everyone that you work with, to make sure that they understand that if they're not in this user experience, then they're not going to get loans from you," he said.
There was one bombshell: originators will not be able to export a 3.2. That decision was made to drive lender connectivity, as the ability to export a 3.2 removes any urgency on the part of lenders to engage with the platform.
"You want the best user experience, you have to hold them accountable, so there's no exporting a 3.2. As of right now, we have 10 lenders that make up 47% of all market share in the system," Casa said, and are working on the non-QM and the reverse mortgage lenders. "If you want this user experience, you have to demand it."
Moises Carlos, president and founder of Escala Financial, saw the presentation at AIME Fuse and said that bringing all of those things together in one platform is a very powerful—if ambitious—tool.
"[Casa] hits the nail on the head with all the problems [experienced by] brokers and how to make our lives easier, and be able to take our business to the next level which is social media, marketing, and playing on the same level playing field that the big guys can play on, which, for the small guys, is hard to do. How can I spend money on social media if I don't know what the ROI is? If I don't know I'm hiring the best company to do that for me? Am I wasting my money, or am I actually doing something that's going to benefit me? So to be able to have a platform that brings the best in the business and the best tools for us to do that would be heaven-sent."
He said that it could be a bit of a tough situation with lenders when it comes to holding out on the ones who aren't on the platform, but hopefully they'll be able to work through it.
"I would like to stay committed to having the lending relationships that we have, having them join the platform. I hope some of those people are there already, which, if there's a good number of them, I think we can hold the other ones to that."
Niesha Veasley, is a new mortgage broker with Best Rate Home Loans. She couldn't hide her excitement for Arive, having been faced not only with the difficulty learning so many different systems at once, but of buying them at once, which cost thousands upon thousands of dollars.
"I am super pumped because this was the very thing that made me cry when I came into the industry last year," she said, having paid for numerous platforms. "I hadn't originated one loan and I had to have all of these things. And I'm just so glad that it's over."
Veasley also is thrilled about her future potential as a broker if Arive takes off in the market.
"Here I am, able to take myself to the same level as Quicken. January 1, 2019, I will be on the same level as Quicken Mortgage. And I'll kick their ass, by the way."